The following is reprinted with permission from Quadrant Skew Capital's latest investor letter:
Market complacency is, or rather, was at an all-time high prior to a blistering selloff in US equities over the last two weeks, when indices fell for six straight days. The recent market mini-crash saw the Dow Jones lose over 2,000 points, the S&P 500 lose over 200 points and the NASDAQ lose over 600 points all in a period of seven days! The rout was so severe that all indices year-to-date return turned negative. If it wasn't for a blistering rally at the tail end of the six-day decline, US equities would be in the midst of an unprecedented downturn reminiscent of the chaos surrounding the 2008 meltdown.
Judging the reaction of market prognosticators, finance media personalities and seasoned investment managers, the investment world was caught off guard and in complete shock. However, as painstakingly outlined in our previous article, anyone paying attention to fundamentals and macro data should not have been caught off-guard. Rather, Quadrant Skew Capital's investors should have been well-prepared for this type of correction if they heeded our advice and analysis.
While we focused on fundamentals in our last article, this article will focus on a technical indicator which was sounding the alarm well before the recent selloff - market breadth.
Market breadth is technical measure of market strength. Market breadth is measured by a ratio of the total number of rising stocks to the total number of falling stocks. Thus, a ratio above 1 indicates there are more rising stocks than falling stocks, while a ratio below 1 indicates the opposite. A strong bull market is supported by an increasing market breadth ratio, while a weak bull market is marked by a falling market breadth ratio.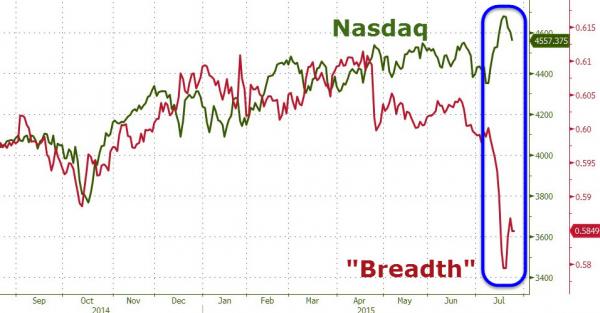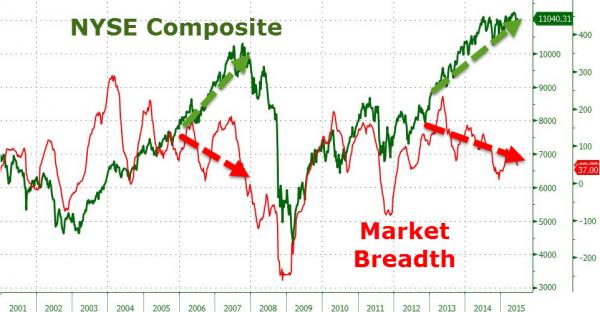 Source: ZeroHedge
The current bull market masked a weak undercurrent of market breadth, indicating a rally supported by fewer and fewer stocks.
In fact, breadth was so weak in US equity markets that a mere six stocks were driving market gains. The Wall Street Journal reported that Amazon.com Inc. (NASDAQ:AMZN), Google Inc. (NASDAQ:GOOG) (NASDAQ:GOOGL), Apple Inc. (NASDAQ:AAPL), Facebook Inc. (NASDAQ:FB), Netflix Inc. (NASDAQ:NFLX), and Gilead Sciences Inc. (NASDAQ:GILD), accounted for more than half of the $664 billion in market cap added to the NASDAQ year to date until July 2015. Additionally, Amazon, Google, Apple, Facebook, Gilead and Walt Disney Co. (NYSE:DIS) accounted for more than all of the $199 billion in market capitalization added to the S&P 500 until July 2015.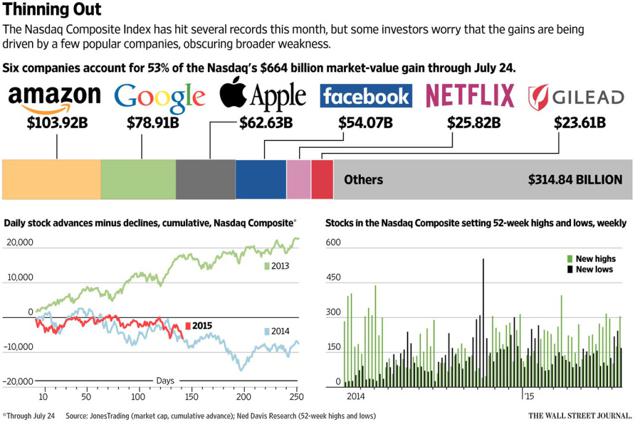 Source: ZeroHedge
A bull market driven by a few select companies is a red flag to all investors with expectations of a sustained bull market trend. A healthy viable long-term bull market would be supported by strong market breadth, where gains in market capitalization are driven by a long list of diverse companies. The current companies driving this bull market would not be able to fill all the seats at a poker table!
Ironically, instead of warning investors of a weakening bull market, financial media outlets herald gargantuan companies driving markets higher as a sign of new found prosperity.
Why you need to own the Four Horsemen of Tech - USA today (July 2015)
"Giddy up! The Four Horsemen of Tech - Google, Apple, Amazon, and Facebook - helped push the NASDAQ to an all-time high Friday morning.

These Four Horsemen dominate the NASDAQ. They are the tech equivalent of Triple Crown winner American Pharaoh. Or his jockey, Victor Espinoza? He's the actual horseman after all. Either way, these four are collectively worth nearly $1.7 trillion and are expected to report sales of more than $425 billion this year."
Even more ironic, these stories are prevalent at market tops, where the emergence of stock market "monopolies" are paraded as can't miss investments.
Cramer's Four Horsemen of Tech - Jim Cramer CNBC (September 2007)
"Take Cramer's 'Four Horsemen of Tech,' for instance. Apple, Research in Motion, Google and Amazon.com are up 31% as a group since he recommended them back on June 6. Despite the market being down today, each of these four stocks hit new highs."
The Four Horsemen of The New Economy - Bloomberg Business (October 2000)
"Meet the new bosses: the Four Horsemen of the New Economy. More than any other collection of companies, Oracle, Sun Microsystems, EMC, and Cisco Systems represent the building blocks of Net business. Chances are, every company moving online will buy a piece of hardware or software from one of these four giants."
The parallels here are uncanny; a workshopped parody scripted by cynical investors uncanny. However, this is very much a work of non-fiction. When it comes to finance, investors morph into goldfish with 10-second memories where the last bear market is a distant fable passed down generation to generation from a lineage of traders. If Mark Twain was a financier, he might have said history not only rhymes but keeps singing the same damn lyrics to a melody that never changes.
If you're an investor caught in the recent selloff, be prepared to hear all too familiar financial tropes:
"Buy the dip!"
"The economy remains strong. Pay no attention to short-term selloffs"
"This is a buying opportunity"
"Time to add to positions"
"Don't panic!"
My advice to those expecting this bull market to continue:
"Don't hold your breadth"
Disclosure: I/we have no positions in any stocks mentioned, and no plans to initiate any positions within the next 72 hours.
I wrote this article myself, and it expresses my own opinions. I am not receiving compensation for it (other than from Seeking Alpha). I have no business relationship with any company whose stock is mentioned in this article.