While we believe that the correction has come and gone, we do expect more volatility over the next few months and stocks are likely to trade in a range before moving higher by year end. That said, we believe there are pockets of value everywhere and investors should definitely start putting money to work.
Our investment plan is simple: Buy great stocks at good prices! And the current sell-off has already presented some fantastic opportunities in some great high-quality dividend stocks.
As a quick overview, we use a combination of fundamental and technical analysis to determine which stocks to buy and when to buy them. For dividend stocks in particular, we have a proprietary rating system that ranks over 500 U.S. dividend stocks on a weekly basis. Our ratings are derived by ranking each stock based on 30 key fundamental and technical data points across four rating categories: (1) Dividend, (2) Safety, (3) Value, and (4) Momentum. This rating system helps us quickly screen for great stocks (i.e., stocks with high Dividend, Safety and Value ratings).
In addition, we scan the charts of our top-rated stocks daily looking for strong levels of support and resistance, which ultimately helps us determine a target "Buy Zone" for each stock. We believe that patiently waiting for a low-risk entry point for a given stock will drastically improve your long-term investment results. We focus on four key levels of support when determining a "Buy Zone": (1) Key Technical Support, (2) Stock-Specific Volatility, (3) Valuation, and (4) Yield.
Measuring Value
Investors can measure value in a number of ways. One obvious way is to use traditional valuation metrics like Price/Sales, Price/Earnings, Price/Book, or EV/EBITDA. Our "Value" looks at these metrics and ranks stocks based on where they are currently trading compared to 5-year average multiples (the higher the Value rating, the higher the perceived value).
Another value metric that dividend investors should also look at is to compare a stock's current yield with its 5-year average yield. Investors that focus on generating income place a significant amount of value on that income stream and will likely jump at the opportunity to buy a great stock with a higher than average dividend yield.
That said, we recently scanned our entire dividend stock universe and came up with our current "All-Value" Team. This team is made up of 35 dividend stocks that currently have a dividend yield higher than their respective 5-year average yield (that also meet the parameters below):
Dividend Yield >= 2.5%
Yields with Consecutive Increases >= 10 years
5yr Dividend CAGR >= 3.0%
Value Rating >= 50
Safety Rating >= 15
Momentum Rating >= 15
Note: Often times we utilize our Safety and Momentum Ratings to rule out "Value Traps". We believe that stocks with Safety and Momentum Ratings in the bottom 15% of all the stocks in our universe should generally be avoided.
We will highlight each of these stocks over the course of a 7-part series. Below is a schedule of the entire series. Please make sure to "follow" us so that you will be notified when each new article is published.
Part 3: Fifth Team (stocks #21-25)
Part 4: Fourth Team (stocks #16-20)
Part 5: Third Team (stocks #11-15)
Part 6: Second Team (stocks #6-10)
Part 7: First Team (stocks #1-5)
The All-Value Team: Fifth Team
On average, our 35 All-Value Team stocks currently have yields that are 35% higher than their respective average 5-year yield. This article highlights the 5 stocks that made our Fifth Team (stocks ranked #21-25). The tables below summarize some of the key data points that we analyze when ranking our dividend stocks.
#25 Eaton Vance (NYSE:EV)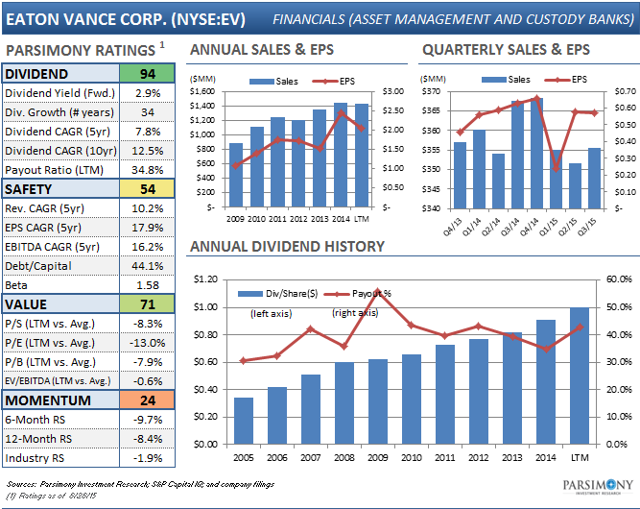 Founded in 1944. Eaton Vance Corp. offer individuals and institutions investment products and wealth management services of investment funds. EV generates a dividend yield of 2.9%, which represents a 15.9% premium to its 5-year average yield of 2.5%. Over the last 10 years the Company has increased its dividend at a CAGR of 12.5% and it has a low payout ratio of 47%.
#24 3M Company (NYSE:MMM)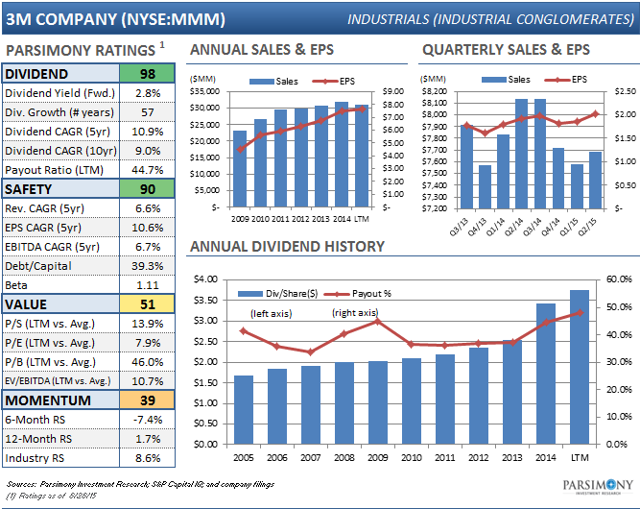 Founded in 1902, 3M Company is a diversified technology company that sells a variety of products worldwide and boasts a tagline - "Science. Applied to Life." The Company's products include: tapes, adhesives, traffic safety products, cleaning products, healthcare products. MMM generates a dividend yield of 2.8%, which represents a 16.1% premium to its 5-year average yield of 2.4%. In addition, the Company has a low payout ratio of 45% and has increased its dividend for 57 consecutive years.
#23 Texas Instruments (NYSE:TXN)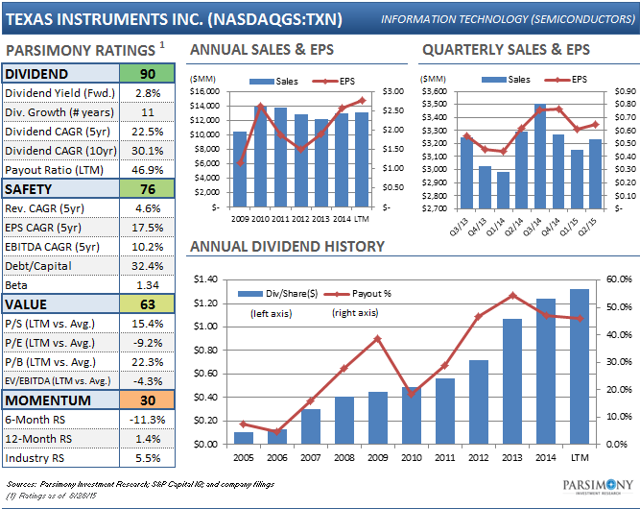 Founded in 1930, Texas Instruments Incorporated designs, manufactures, and sells semiconductors to electronics designers and manufacturers worldwide. TXN generates a dividend yield of 2.8%, which represents a 17.2% premium to its 5-year average yield of 2.4%. The company has increased its dividend yield for 11 consecutive years. Over the last five years the company has increased its dividend at a CAGR of 22.5%. While the semiconductor market is somewhat cyclical - over the last 10 years the company has increased its dividend at a CAGR of 30.1%. The company's sub 50% payout ratio helps dampen some of the potential volatility in the dividend during a recession.
#22 Proctor & Gamble (NYSE:PG)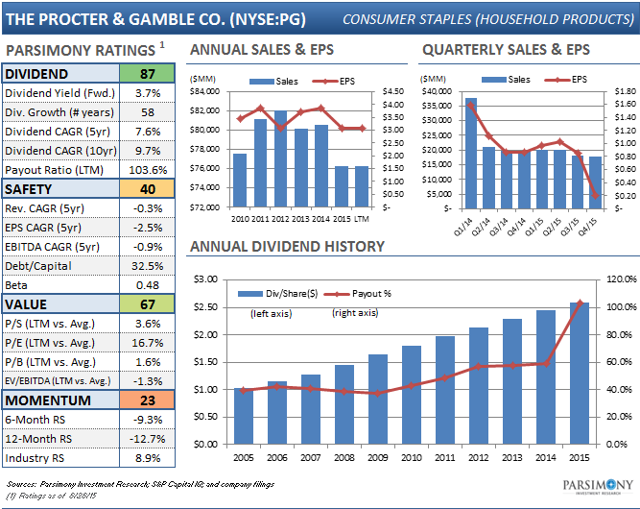 P&G was founded in 1837 and today sells products in 180 countries with over $80 billion of sales annually. The company actually has 23 individual products with each doing over $1 billion of sales annually. It's hard to imagine not using at least one of the company's products each and every day. Brands include Pampers, Tide, Bounty, Charmin, Gillette, Oral B, Crest, Olay, Pantene, Head & Shoulders, Ariel, Gain, Always, Tampax, Downy, and Dawn.
PG generates a dividend yield of 3.7%, which represents a 17.7% premium to its 5-year average yield of 3.2%. The company has increased its dividend to shareholders every year for the past 58 years! Yes, the velocity of growth has slowed in recent years, but we expect the dividend to grow well in excess of inflation for the foreseeable future.
#21 HCP, Inc. (NYSE:HCP)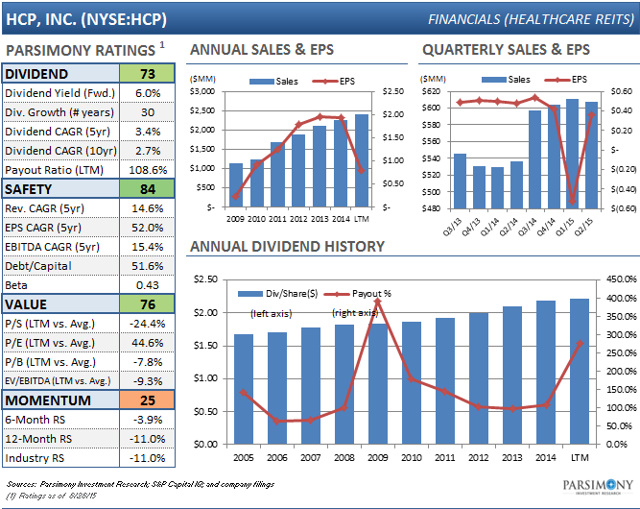 HCP is a Real Estate Investment Trust ("REIT"), which is why its historical payout ratios are so high (due to a REITs requirement to distribute the majority of its earnings to shareholders). HCP was the first healthcare REIT selected to the S&P 500 index, it has increased its dividend per share for 28 consecutive years, and it is the only REIT included in the S&P 500 Dividend Aristocrats index. HCP generates a dividend yield of 6.0%, which represents an 18.4% premium to its 5-year average yield of 5.1%.
Summary
If you are looking to generate safe and stable income in a volatile market environment, the All-Value Team is a great place to start your diligence. We believe that any of these 35 "Value" stocks would make a nice addition to a long-term dividend growth portfolio.
Disclosure: I am/we are long PG, HCP.
I wrote this article myself, and it expresses my own opinions. I am not receiving compensation for it (other than from Seeking Alpha). I have no business relationship with any company whose stock is mentioned in this article.