If you're a little uneasy about the recent thousand-plus point drop in the Dow Jones (which can be tracked using SPDR Dow Jones Industrial Average ETF (NYSEARCA:DIA) as a proxy) you're not alone. I've been asked many a time in the week or so that's passed since "the flash crash 2.0" about where to hide money if we enter into a no growth/slow growth/slightly negative GDP environment. It's a great question because if the broader markets aren't driving EPS multiple expansion on the valuation side investors are going to need to be positioned where contra-cycle growth is occurring (read: growth that occurs even without tailwinds of an expanding GDP) to realize equity growth. I think there are several spaces to find this (biotech, IPO markets or newly public markets, cannabis, etc.) but the lowest risk of the group might just be HCM or Human Capital Management.
HCM is basically the necessary but very specific processes that take place in the HR offices at most business', such as time and labor tracking, benefits, and talent management. These processes are labor intensive for the personnel charged with their care, require a great attention to detail, constant continuing education, and can have expensive consequences if done incorrectly.
Companies in the space that HCM players target have several built in characteristics that magnify the already dangerous list of problems in HCM. First, these companies often times have overworked or dual position personnel that handle HCM, which stresses the infrastructure of the company and allows for lapses in process management and continuing education of the ever changing regulatory environment. Another typical norm if a company stays in-house with HCM is that they often have to purchase platforms from several different vendors which makes implementation and use much harder than it would be with a comprehensive solution. That's if companies keep these services in-house. If a company decides to outsource the responsibilities to third parties they subject themselves to a whole different set of issues. Outsourcing's main issue is obviously an added expense for something that potentially could be done under the normal umbrella of labor costs, usually the processes are broken up and allocated to multiple providers (further complicating management by forcing the central manager at the company to communicate across platforms and vendors, learn several different operating structures/demands/inputs needed for the outsourced company to operate said platforms, etc), and the company exposes themselves to the risk that the outsourced company could fail to provide adequate services.
I should mention this is if the company even uses a technology platform/outsourcing at all. Yes, the overwhelming majority of companies that don't have adequate in-house HCM are still using productivity suite software (read: Excel and Word) and or hand derived HCM solutions. Shocking in 2015, but true. Think about if you've ever worked at a mom and pop shop how unsophisticated the time keeping and other HCM was. Most of those reading this have been in this situation.
So, the broader point to be made here is that this space isn't one that is anywhere near saturation AND it isn't a winner take all situation. That's right, a handful (likely many more) of HCM companies can be successful in that the majority of the spatial growth won't be coming from competitive market share take but market share creation. That matters in a big, big way. I believe this will lead HCM into a continued, multi-year bull that powers companies of all sizes to a generally higher valuation. I believe in the interim that this outsized growth and EPS visibility should lead to multiple expansion from a pure valuation standpoint. This, coupled with the above mentioned overall rising tide of growth, should be doubly beneficial to those long the space.
And it has been dating back to 2014 (adjusted for the IPO names) and that's taking into account the larger incumbent players of the space (I use four companies as examples: Automatic Data Processing, Inc. (NASDAQ:ADP), Paychex (NASDAQ:PAYX), Paycom (NYSE:PAYC), and Paylocity ) like ADP that are just now figuring out how to chase this growth.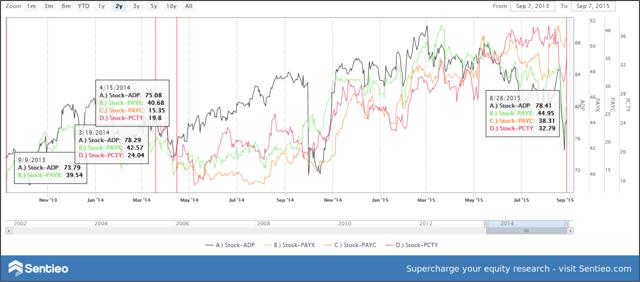 Those are nice trend lines for sure but like I said in the intro to this article, they've been assisted in part by the rising macro markets as well. I've used the benchmarks SPDR S&P 500 Trust ETF (NYSEARCA:SPY), DIA, and iShares Russell 2000 ETF (NYSEARCA:IWM) as comparables: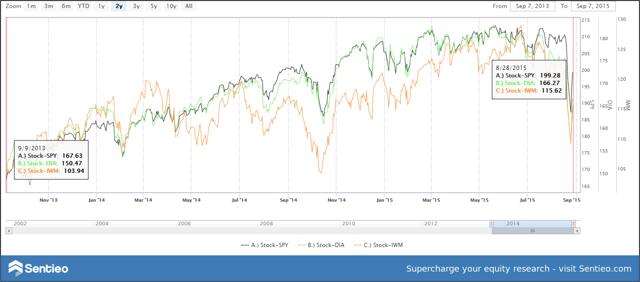 But even when looked at independently, and again please keep in mind the largest player in the space has been a laggard in that its management hasn't been innovative in chasing the shift to SAAS selling until recently, the HCM players have done well in relation to their macro index cousins: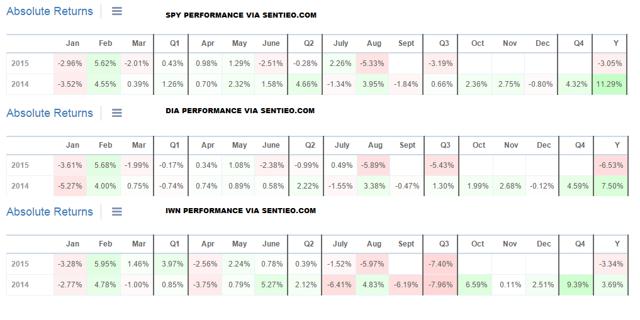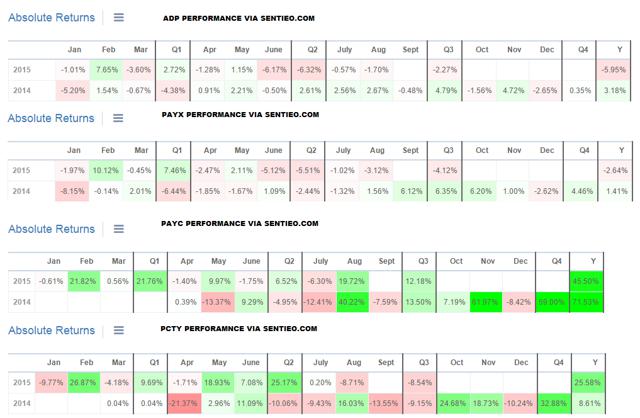 Even a vanilla 33% weighting to each of the macro indexes and a 25% weighting to each of the HCM names would show a huge outperformance for the HCM players. Anybody informed about the HCM space wouldn't have had near that high a weighting to ADP in light of the agility of the smaller names and the clear valuation rocket the smaller names were sitting on because of the secular bull of the space but out of fairness and for simplicity I'll assume that was the weighting. It doesn't change the outcome of my argument.
So, if you're looking for the next place to hide some cash for the next few years HCM is a place you should consider. If the macros die down or if the macros stay hot it shouldn't matter much when it comes to HCM outperformance to the benchmarks. I like that and I like HCM.
Good luck everybody.
Disclosure: I am/we are long PAYC, PCTY.
I wrote this article myself, and it expresses my own opinions. I am not receiving compensation for it (other than from Seeking Alpha). I have no business relationship with any company whose stock is mentioned in this article.