Tesla Motors (NASDAQ:TSLA) started selling the Model S in Europe a couple of years ago, and within a short time, the car has made a reasonable impact in this market. In fact, in 2014, Tesla reportedly sold 8,800 Model S units in the continent, taking the third spot behind the Nissan Leaf and Renault Zoe in the electric vehicle segment. More importantly, considering that Tesla sold an estimated 31,700 units in all of 2014, it becomes evident that the car accounts for almost 28% of its overall sales.
Thus, Europe has turned out to be a key market for Tesla Motors, and the company has maintained its momentum over here. It is estimated that its sales in Europe in the first seven months of the year stand around 8,666 units, which means that it has almost achieved its 2014 numbers already.
Now, Europe is slated to become the second-biggest EV market this year, accounting for 27% of the overall market, according to Frost & Sullivan. In fact, Europe is expected to be a bigger EV market than China. This means that it is important for Tesla to make aggressive moves in order to improve its performance in this market. The good thing is that the company is already taking aggressive steps to enhance its performance over here.
Enhancing the supercharger network
By the end of next year, Tesla's supercharger network in Europe is expected to grow in leaps and bounds. This can be gauged from the following two images: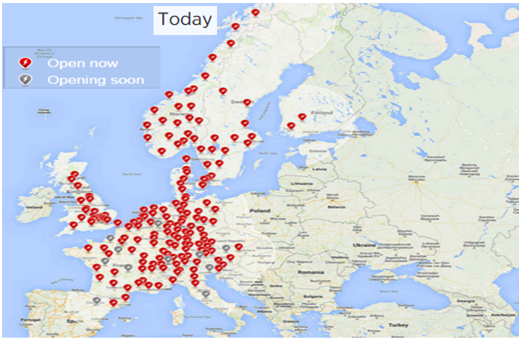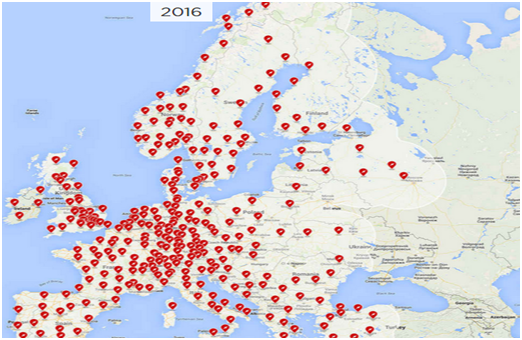 Source: Tesla Motors
More specifically, the company is targeting key growth markets such as the U.K., where it has recently augmented its supercharger network. All in all, Tesla has already put in place over 900 superchargers in Europe in under two years, and the company is now coming up with fast charging stations to make long distance travel easier. For instance, the recent units that Tesla installed in the U.K. can charge half of the Model S' 310-mile range in just 20 minutes. As a result, range anxiety will come down and help Tesla attract more customers going forward.
Competition
The good thing for Tesla is that it doesn't face much resistance in the European market as its rivals are busy working on plug-in hybrid electric vehicles. In comparison, Tesla is a pure-play electric vehicle company, and this seems to have worked in its favor. With premium rivals such as BMW, Audi, and Porsche trying to crack the code with plug-in hybrids, Tesla is already enjoying the first-mover advantage. As reported by Forbes:
"In a lot of markets we are seeing Tesla doing better than the BMW 7-series, Mercedes S-class, Audi A8 and Porsche Panamera. Tesla can boast real innovation and customers with big money are trying it. I think in the next 10 years Tesla will have medium and compact cars. We are seeing the next generation of batteries with the Nissan Leaf possibly getting 500 kilometres (300 miles)."

Tesla's Model X SUV is scheduled for launch next month. The smaller Model 3 will follow in 2017. Other models are expected. Earlier this week Audi announced its new Q6 battery only-powered SUV. It will be launched in 2018, three years behind the Model X."
Now, Tesla was outselling its German competition even two years ago, and the trend has continued as research from Germany's Center for Automotive Research shows us. A little research will reveal that Tesla has outsold the BMW 7 Series and the Mercedes S Class in Europe in 2015. In the first six months of the year, the BMW 7 Series has sold 2,284 units in Europe, while sales of the Mercedes S Class total just over 9,100 units. Now, as mentioned earlier in the article, Tesla has sold close to 8,700 units of the Model S in Europe so far this year, which means that it has BMW hands down and is fast closing in on the S Class.
Thus, Tesla is eating at the market of bigger and established rivals in the luxury segment in Europe. I can say this because sales of the Mercedes S Class have remained flat from last year in Europe, while sales of the 7 Series have declined almost 18%.
Looking ahead, the trend could continue as Tesla works on expanding its portfolio of cars with an affordable Model 3 and the Model X SUV. The reason why Tesla has been able to make a move over its luxury rivals is because they have been working on plug-in hybrids, and are late to the electric game.
Plug-in hybrids don't bring much benefit as far as CO2 emissions are concerned since they eventually use an internal combustion engine and their battery doesn't last long anyway. As a result, it is not surprising to see why Audi is coming up with a battery-powered model, but it is still behind the curve. By the time Audi brings the Q6 in 2018, Tesla's Model X will be running on the roads already.
As far as BMW is concerned, the company is currently "contemplating" a purely electric vehicle to compete with the upcoming Model X. However, BMW's board hasn't given approval to the plan yet, since the company is waiting to see how the Model X performs. Thus, it is evident that BMW is following Tesla in this market as the American car maker has set the pace early with 20,000 booking for the Model X.
On the other hand, Tesla doesn't have a direct competitor for the Model 3 as well, which will go up against BMW 3 Series, the Mercedes C Class, and the Audi A4. By direct competition I mean that none of its rivals are purely-electric offerings. Of course, Tesla's rivals do offer plug-in hybrids, but as discussed above, plug-in hybrids are not finding success since they ultimately rely on internal combustion.
For instance, the Mercedes C Class hybrid has an electric range of just 18.6 miles, which means that it doesn't do much good to the environment. On the other hand, the purely-electric B Class that Mercedes sells has a range of only 87 miles, which is nowhere near Tesla.
Battery technology could be another catalyst
Apart from cars, Tesla could also benefit from its ancillary power products in Europe as it is a big market for renewable sources of energy. Last quarter, Tesla had introduced its battery storage products - Powerwall (for homes) and Powerpack (for businesses and utilities). These products are expected to go on sale in the continent by the end of the year or early next year. In Europe, Germany will become Tesla's first export market for batteries.
The differentiating factor about Tesla's Powerwall product is that one of its variants is capable of operating for 10 years with daily cycling. As Greentech Media points out, this 7-kilowatt-hour variant "appears to be made specifically for European markets where falling feed-in tariffs and high power prices are boosting interest in self-consumption."
Hence, Tesla is making smart moves by trying to augment its revenue opportunities with ancillary products, as these will help it tap strong demand for renewable energy in Europe.
Conclusion
In the first half of 2015, EV sales in Europe increased 78% year-over-year, driven by demand from France, Germany, and the U.K. Now, Tesla is among the leaders in EV sales in the continent, so it looks well-placed to tap the increasing demand for EVs over here. More importantly, Tesla doesn't face any real competition from luxury car makers in Europe. Thus, investors can expect Tesla to continue doing well in Europe and this will have a positive influence on its financials.