SS&C Technologies Holdings (NASDAQ:SSNC) is software products and financial services providers company operating globally. The company in addition to software products offers operations and accounting services to alternative fund managers including hedge fund and private equity funds.
SSNC has been a high flyer over the last 52 weeks with shares up more than 50%. The company initiated its first dividend and has grown earnings over the same period. While the company has executed well, we believe the pace and quality of recent acquisitions leave the shares overvalued.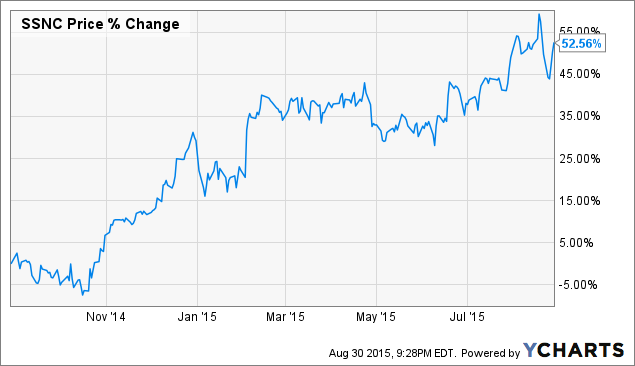 SSNC has made several acquisitions in its recent past including GlobeOp, Advent Software and most recently announced the purchase of Citi's Alternative Investment Servicing business. SSNC purchased Advent for $2.6 Billion in total considerations. Advent was well known for its Geneva portfolio accounting systems utilized by many of the leading alternative funds and fund services providers. One key area of concern is Advent's touted dominance of the fund administration market, which SSNC competes with many of the existing Advent clients. These clients are likely to be concerned given not only SSNC's purchase of GlobeOp but also Citi (NYSE:C) Hedge Fund services that will make it the largest such provider in the space. Looking at the industries league tables large Advent customers such as JP Morgan (NYSE:JPM), SEI (NASDAQ:SEIC), and numerous second tier players are likely to be concerned. According to a Waters Technology article Advent competitors indicated SSNC paid more than twice what others would be willing to pay.
While the Advent acquisition had some synergies given GlobeOps reliance on the platform and SSNC's own position in the space the recent Citi acquisition is a head scratcher. C had been rumored for some time to be shopping the business including a move of the business into its Bad Bank framework. The lengthy time has been rumored to make the existing clients subject to poaching by competitors, not the least bit has been fueled by their refusal to update legal table numbers since the acquisition. In the same Waters technology article no one is really sure what SSNC is buying here. Industry publication Hedgeweek shortly after Citi's intention to exist the business was announced was quoting industry sources calling the Citi book the "old hag" and wondering if their was any value at all. The top Citi clients have already solicited request for proposals (RFPs) from other competitors so SSNC is going to find itself defending the client base for the ones that remain by the time the transaction closes. Many of these clients may be throwing in the towel given Citi itself bought the business by acquiring BISYS, who itself consolidated several small players.
The acquisitions likely played a part in SSNC's recent trip to the equity markets to raise additional capital selling a substantial number of shares to raise process of more than $700 million according to the company's 10-Q.
Final Thoughts
SSNC will be under pressure to execute flawlessly on their recent acquisitions particularly as the share count as increased and is likely to dilute shareholders on a per share basis. This will be a tough mountain to climb given the above acquisitions face challenges from client attrition, uncertainty and in the case of many of the longstanding Citi clients a transition to yet another provider. Given the execution risk and run-up in the stock we recommend selling the shares.
Disclosure: I/we have no positions in any stocks mentioned, and no plans to initiate any positions within the next 72 hours.
I wrote this article myself, and it expresses my own opinions. I am not receiving compensation for it (other than from Seeking Alpha). I have no business relationship with any company whose stock is mentioned in this article.