The Util­i­ties sec­tor ranks eighth out of the ten major sec­tors as detailed in our sec­tor roadmap. It gets my Dan­ger­ous rat­ing, which, like my fund rat­ings, is based on aggre­ga­tion of stock rat­ings for each of 86 com­pa­nies in the sector.
Fig­ure 1 does not present a pretty pic­ture for Util­ity stocks, and it is worse for the funds. There is only one Attractive-or-better rated stock mak­ing up only 3% of the mar­ket cap of the sec­tor. There are 30 Neutral-rated stocks mak­ing up 50% of the mar­ket cap of the sec­tor. All of the 48 funds in the Util­ity sec­tor are rated Dangerous-or-worse.
When funds are not rates as well as the stocks from which the fund man­ager can choose, the man­agers are not per­form­ing well. They are cer­tainly not deserv­ing of any man­age­ment fees.
Investors are bet­ter off pur­chas­ing the sin­gle Attractive-rated stock than pur­chas­ing a fund that spreads their cap­i­tal across a bas­ket of Dangerous-or-worse-rated stocks.
Investors should sell funds in this sec­tor because the cost of port­fo­lio man­age­ment (active or pas­sive) is not jus­ti­fied. Investors can out­per­form by pick­ing bet­ter stocks on their own while also avoid­ing the costs of putting money into a fund. The best sec­tors for find­ing funds and stocks are Tech­nol­ogy and Con­sumer Sta­ples.
Fig­ure 1: Util­i­ties Sec­tor Land­scape For Funds & Stocks

Sources: New Con­structs, LLC and com­pany filings
If you must take a posi­tion in the Util­i­ties sec­tor, know that all 48 funds are very dif­fer­ent. Per Fig­ure 2, the num­ber of hold­ing varies widely (from 23 to 85), which cre­ates dras­ti­cally dif­fer­ent invest­ment impli­ca­tions and rat­ings. Here is the full list of 48 funds.
How do investors pick the right fund out of the sea of choices that will deliver the best returns?
Fig­ure 2: Funds with Most & Least Hold­ings - Top 5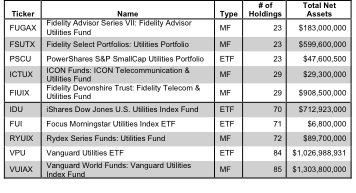 Sources: New Con­structs, LLC and com­pany filings
To iden­tify the best funds within a given cat­e­gory, investors need a pre­dic­tive rat­ing based on analy­sis of the under­ly­ing qual­ity of stocks in each fund. See Figure 3.
Our pre­dic­tive fund rat­ings are based on aggre­gat­ing our stock rat­ings on each of the fund's hold­ings and all of the fund's expenses. Investors deserve forward-looking fund research that is com­pa­ra­ble in qual­ity to stock research.
Investors should not rely on backward-looking research of past per­for­mance for invest­ment decisions.
Fig­ure 3 shows the five best and worst-rated funds for the sec­tor. Every fund allo­cates over 30% of their value to Dangerous-or-worse-rated funds. In addi­tion, my rat­ings account for the total annual cost of invest­ing in a fund or ETF.
The only Attractive-rated stock in the Util­i­ties sec­tor is Pub­lic Ser­vice Elec­tric & Gas (NYSE:PEG), which gets my Very Attrac­tive rat­ing. It gets and Attrac­tive rat­ing because it has pos­i­tive eco­nomic earn­ings, not just pos­i­tive account­ing earn­ings, and because it has a cheap val­u­a­tion, a rar­ity among Util­ity stocks (and funds). Given the rabid search for dividend-paying stocks, too many Util­ity stocks are over­bought. PEG is an excep­tion. Its cur­rent stock price (~$30.34) implies the company's prof­its will per­ma­nently decline by over 20%. The mar­ket is set­ting the bar low. The no-growth value of the stock is about $39. The fund that allo­cates the most (4.7%) to PEG is Dangerous-rated Fidelity Select Port­fo­lios: Util­i­ties Port­fo­lio [FSUTX].
One of my least favorite Util­i­ties stocks is NiSource Inc. (NYSE:NI), which gets my Very Dan­ger­ous rat­ing. The company's ROIC is a dis­mal 2%, which inspires lit­tle hope of it ever achiev­ing true eco­nomic prof­itabil­ity. Yet the val­u­a­tion seems obliv­i­ous to this fact. The cur­rent stock price (~$22.73) implies the com­pany will grow its after-tax cash flow (NOPAT) at 12% for over 10 years com­pounded annu­ally. Has a util­ity com­pany ever grown its cash flows over 10% for any extended period of time? I think the ratepay­ers (and the reg­u­la­tors) would demand a cut in prices before allow­ing a util­ity to be so prof­itable. The company's his­tor­i­cal growth rate is much lower than 12%. I also rec­om­mend investors avoid Flex-funds Trust: Util­i­ties & Infra­struc­ture Fund [FLRUX], which makes NI it largest hold­ing and I rate as Dangerous.
Fig­ure 3: Funds with the Best & Worst Rat­ings - Top 5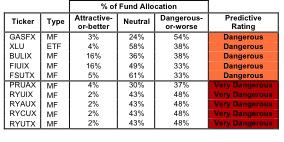 * MF des­ig­nates Mutual Funds and ETF des­ig­nates Exchange-Traded Funds
Sources: New Con­structs, LLC and com­pany filings
Fig­ure 4 shows the rat­ing land­scape of all ETFs and mutual funds in the Util­i­ties sector.
Our Sec­tor Roadmap report ranks all sec­tors and high­lights those that offer the best investments.
Fig­ure 4: Sep­a­rat­ing the Best Funds From the Worst
Sources: New Con­structs, LLC and com­pany filings
Fig­ure 5 lists our Pre­dic­tive Fund Rat­ing for the 5 largest and most pop­u­lar Util­i­ties funds.
Fig­ure 5: Five Largest Util­i­ties Funds
* MF des­ig­nates Mutual Funds and ETF des­ig­nates Exchange-Traded Funds
* Analy­sis uses the top-ranked class for each fund
Sources: New Con­structs, LLC and com­pany filings
Disclosure: I have no positions in any stocks mentioned, and no plans to initiate any positions within the next 72 hours.
Disclaimer: I am not removing the duplicate language as requested because these reports are not to be read by the same person every time. Each report should stand on its own.Where is the ticker box for adding tickers? I do not see that in your new system.The images may be small, but they are legible. Several other articles with the same size images have been published by you. In fact, my articles on Best & Worst Funds for the technology, Consumer Disc, Consumer Staples and Industrials have all been published already without any changes by me.