Name the band that sung this article's title.
Obviously I'm not here to discuss 90's pop culture but rather the up-coming FOMC policy meeting on September 16th-17th when the world will be watching to see if we finally get an end to the era of zero interest rates and easy money. This past week provided no shortage of talking points: global stock markets went on a wild ride with the sort of volatility not seen since the great recession; the world's central bankers gathered in Jackson Hole for their annual discussion on issues shaping the world economy (although there were some notable absentees); not to mention the slew of economic data points to mull over.
The head of the New York Fed, William Dudley, held a press conference on Wednesday where he stated that the argument for a September liftoff seems "less compelling to me than it was a few weeks ago." Now, considering Fed Chairwoman, Janet Yellen's, repeated rhetoric that the Fed is 'data dependent', it would reason that there should be hard numbers to back up Mr. Dudley's assertion and not just the manic-depressive swings of global market volatility, however this does not appear to be the case.
The domestic economy appears healthy and is growing, albeit slowly. Tuesday gave us new home sales for July and although this came in marginally below expectations at a seasonally adjusted 507,000 units, this was still a 5.4% increase over the prior month and points to continued strength in the housing market that should help to underpin economic growth for the rest for the year. Wednesday presented the turn of the durable goods report, which showed strong growth of 2% in July. This was the first time we've seen positive growth in successive months (see chart) for over a year, which provides an encouraging indication of third quarter GDP in a category that serves as a proxy for business investment. It is worth noting that this sector is not without its headwinds, including a strengthening dollar and China's sputtering growth (more on this shortly).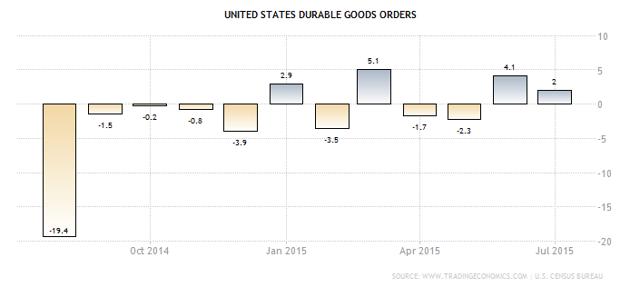 (Source: Tradingeconomics)
We got the second estimate of Q2 GDP on Thursday - revised growth of 3.7%, up from an initial estimate of 2.3%. The report showed strong upward revisions to business investment and nonresidential fixed asset investment, although growth was also boosted by a build-up in inventories, which may lead to a softer third quarter report as firms curb production. Initial jobless claims also beat expectations on Thursday, with 271,00 for the week ending August 22nd. Fed officials looking for a reason to hike will be hoping that this show of continued labor market strength carries over to next week's non-farm payrolls report. Even Friday's consumer spending report did not provide anything that would be reasonably expected to give a 'less compelling' argument for liftoff from a few weeks ago.
Given that William Dudley's comments came as U.S. equity markets had just fallen into correction territory (broadly defined as drop of >10%) and the VIX was at its highest level in 3 years, it seems it was this, rather than data dependence, that was the motivation for his shift in position. I find this concerning, as history has proven that the markets are hardly rational or data dependent themselves.
There is general consensus that the catalyst for this week's market drama can be attributed to China, and the growing concerns that the communist regime will not be able to prevent a hard landing as it shifts from an investment based economy to one fuelled by consumption. This is indeed a concern for economies whose growth has been so dependent on China's insatiable appetite for commodities over the last decade. However, the United States does not fall into this category. The U.S. has the world's most diverse economy and derives over two-thirds of GDP through personal consumption. Just eight percent of U.S. exports, worth less than one percent of GDP are bound for China; even a dramatic slowdown in China's growth would have only a modest affect on U.S. GDP.
So what got the markets so spooked? While no one can pretend to understand the irrational swings of equity markets, I believe there were a few factors that contributed to the volatility - all completely independent of economic fundamentals. First, the S&P 500 has been looking for its first correction in over four years. There have been many comments from media about questionable valuations and on August 21st, when China reported that factory activity had fallen to a six and a half year low, it prompted the wobble of the first domino in a chain that would ultimately reverberate around the globe. After the Shanghai composite tumbled on Monday and Europe (who is somewhat more exposed to China that the U.S.) followed suit, the S&P saw its excuse for a correction and took it. As the first correction since the great recession, this was always going to test investors' nerves; and based on the wave of mutual fund sell orders being executed at Tuesday's close, there were a lot of 'F' grades being handed out. Additionally, the rise of high frequency trading still poses risks to the markets when algorithms don't perform the way they are intended to, as witnessed by the sudden 1,089 point drop in the Dow Jones Monday morning, largely driven by odd lot selling. The fact that the market rebounded to the extent that it did, and was even able to post a gain for the week, underscores that it was emotions, rather than fundamental factors, driving the wild swings. Therefore, it should give little cause for the data dependent Fed to conclude a 'less compelling' argument for raising rates.
If the Fed does decide to stall next month, they will be backing themselves into a corner that will risk damaging their credibility and ultimately intensify whatever 'rate-hike rumble' the markets have in store when they are eventually told the era of unprecedented easy money is over. Many will recall the 6.5% unemployment rate benchmark set by Yellen, as a likely time for the first hike - only to backtrack when we hit that target in early 2014. Today we stand at 5.3% unemployment and are apparently equally hesitant.
Earlier this year, Yellen stated we would likely see the first hike this year. If she doesn't move in September, I foresee a tense December meeting where she will be faced with the option to either hike or blow through yet another of her self established targets - a concoction that will likely make last week's volatility seem mild.
It's 25 basis points, Janet. It's time.
Disclosure: I/we have no positions in any stocks mentioned, and no plans to initiate any positions within the next 72 hours.
I wrote this article myself, and it expresses my own opinions. I am not receiving compensation for it (other than from Seeking Alpha). I have no business relationship with any company whose stock is mentioned in this article.