This article is the second of three discussing three trends that teenagers actually like. As I wrote in part one, there are trends that people think teenagers like, and then there are trends in which we actually participate. It's important to decipher these two, because trends supported by teenagers are ones that are built to last.
Once a certain product or style of living becomes ingrained in a teenager's life, it sticks with them. For example, once one turns to natural and organic products, odds are that this style of eating will remain with them for a very long time. So long, in some cases, that their kids will be raised eating natural and organic products and know no different.
But natural and organic products are not the only lucrative trend in today's market. Another trend wildly popular among people my age is that of innovative products and companies.
Under Armour (NYSE:UA) is a company - one of many - that creates innovative products. Of course, "innovative" and "cool" are relative, though I think that many will agree that these Under Armour's products are deserving of the adjectives. Under Armour has a line of clothing designed specially for athletes who are trying to stay warm or cold. Called Heat Gear and Cold Gear, the long and short sleeve shirts are clothing that my friends and I train with. The reason why we love the clothing line so much is because it actually does as it's advertised! Consumers falling in love with the clothing has a domino effect, making them associate with the brand and become eager to see what else the company can come up with.
Speaking of dominoes, the pizza chain never fails to amaze the youth. I speak for the masses when I say that no teenager likes talking on the phone, and Domino's (NYSE:DPZ) capitalizes on this reality. Using the company's app, pizza-lovers can simply select which foods they'd like, input the address, add any notes and within the hour their order reaches their door. They can even pay for the order right after they're placing it. People love this type of stuff, which is a leading reason why Domino's stock chart looks as delicious as its food tastes!
From a valuation side of things, Under Armour trades at a steep premium to Nike (NYSE:NKE), its major competitor. Under Armour is valued at 51.45 times 2017 earnings, while Nike trades at 20.59 times 2017 earnings. This metric isolated from the broader picture would lead almost any investor toward Nike and far away from Under Armour. However, this has not been the case over the last 10 years.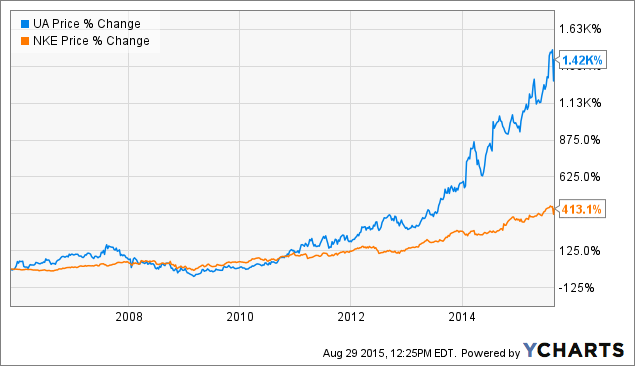 Shown above, both stocks have performed amazingly well over the last 10 years. If you could go back in time and choose just one, though, you would choose Under Armour.
Unlike Nike, Under Armour continues to offer much higher earnings growth, which is what attracts a lot of investors. Under Armour is projected to grow its earnings by 32% in 2017, while Nike is forecast to deliver 13% EPS growth. While neither is bad by any means, this growth rate helps Under Armour investors justify the stock's lofty P/E multiple.
As for Dominos, the company isn't necessarily cheap; it trades at 23.33 times 2017 earnings. Comparatively, Papa John's (NASDAQ:PZZA) is valued at a slightly higher 24.87 times 2017 earnings.
I like Domino's more due to the company's innovation and slightly cheaper multiple. That said, I think that both stocks can go higher from here due to lower prices at the pump. If you're a believer that oil is going to remain low, this may be the derivative play for you.
With more money in their pockets, hungry consumers are going to feel a little better about ordering delivery. On the other side of that is Domino's, who saves money in the delivery process. Couple that with decreased transportation costs, and you have a company that is poised to decrease their costs and increase their revenue: a sure recipe for success.
Back to apparel for a moment: like Under Armour, Sketchers (NYSE:SKX) is a company that has a strong focus on innovative products. The company's two CEOs constantly talk about upcoming designs and shoe-types and are expanding well beyond the Sketchers Shape-Up shoe. This shoe was the company's product that officially removed its branding of a "dad-shoe-company." Again, its ability to produce "cool" shoes has produced a stock chart that is nothing short of incredible.
While many think that Nike dominates the shoe market, I beg to differ. Like I said, Sketchers' shoes are no longer just for dad. I see more and more people my age wearing the company's shoes than ever before. I believe this is highly attributed to Sketchers' strategic advertising. Sponsoring celebrities like Demi Lovato, Sketchers is able to reach a younger demographic.
Even after the stock's monstrous run over the last few years, SKX trades at just 17.77 times 2017 earnings. The company's expected EPS growth for 2017 of 30% is comparable to Under Armour's, leading me to believe that SKX can go even higher.
If the aforementioned stocks seem too risky for your taste, perhaps you should take a look at one of the three major consumer staple companies: Colgate-Palmolive (NYSE:CL), Unilever (UL, UN) and Procter and Gamble (NYSE:PG). Colgate-Palmolive is known for dominating the tooth-care aisle, bombarding shoppers with an overwhelming number of toothpastes and brushes. It, like the other two companies, produces and distributes dozens of products and has exposure all over the world, which makes all three a safer bet. And, just because they're safer bets doesn't mean that they're boring. Colgate-Palmolive makes an extremely innovative electric toothbrush that you shouldn't knock until you try. Unilever and P&G are the creators of the ever-popular Axe and Old Spice brands, respectively. There is always room for innovation when it comes to consumer products - all it takes is for one company to up the ante on, for example, their hair gel products, promising that even the most violent gust of wind won't misplace one hair. Now that is a product everyone would buy!
Also a derivative play on lower oil, I think that each of the above companies has a place in a long-term, conservative portfolio.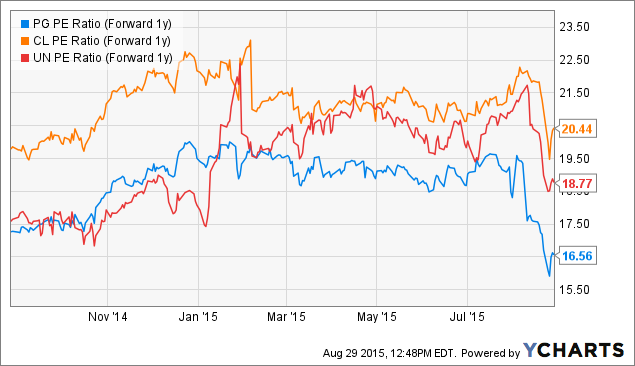 PG PE Ratio (Forward 1y) data by YCharts
Each benefits from lower oil because of shipping and manufacturing costs. All three have so much exposure and produce on such a large scale that the price of oil really makes a difference in their day to day operations.
Of the three, I think that Procter & Gamble could see the most upside from here. The stock has really been crushed over the last six months or so, making it rather cheap relative to its peers.
My next article on Seeking Alpha will discuss the other last trend that teenagers actually like. You can get a preview of it by reading the original article on my website.
Disclosure: I/we have no positions in any stocks mentioned, and no plans to initiate any positions within the next 72 hours.
I wrote this article myself, and it expresses my own opinions. I am not receiving compensation for it (other than from Seeking Alpha). I have no business relationship with any company whose stock is mentioned in this article.