The past year has been rather brutal for Europe. With concern over another downturn imminent, the European Central Bank approved easing measures. Then, the Greece crisis brought European public market indices to lower lows. And during all of this, the continent had to battle threatening deflationary concerns due to declining oil. Yet now, it appears the worst is behind - at least this is the story being told by the growth in Belgium, Denmark, and European inflation.
Starting with inflation, after months of deflationary concern, it seems that the currency is finally showing strength: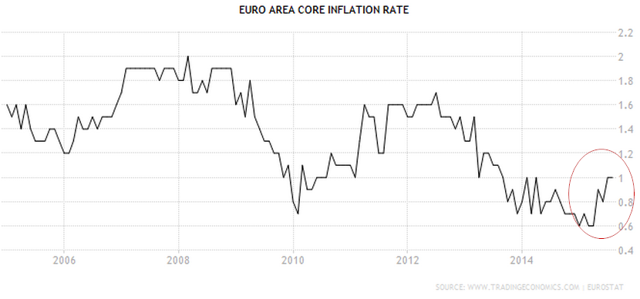 This is a low rate, but the increase is a sign of hope. The ECB has shown investors that it can do more to help the economy outside of easing, and it seems that consumers and investors alike have faith. This number, however, is still distant from the continent's goal of 2% inflation growth, and it will be important to watch where inflation rates go from here.
Belgium, a country with a population of 11.2 million, saw a tremendous decline in GDP in 2011. Since then the country has been licking its wounds, but quietly has grown since 2012: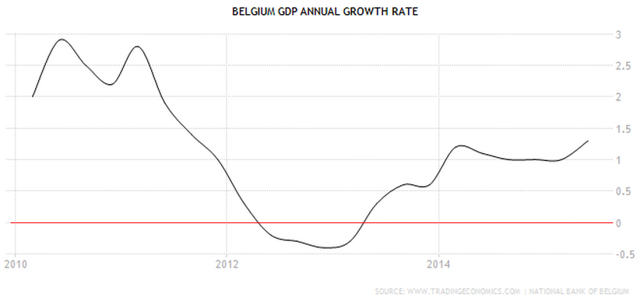 This is great news for a country that has always stood in the shadow of the likes of Netherlands and Germany, and a potential sign that the northern region of Europe is seeing some recovery. This is reinforced by data coming out of Denmark.
Unemployment in the country is falling: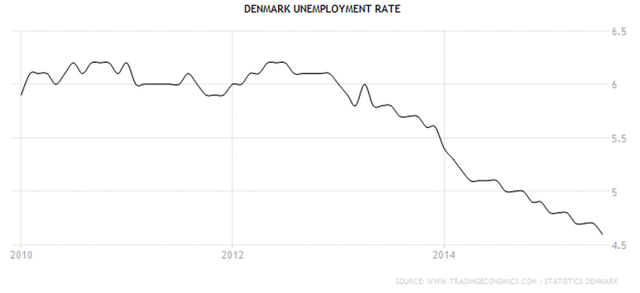 This is seeming to have a very material - and highly correlative - effect on the country's GDP: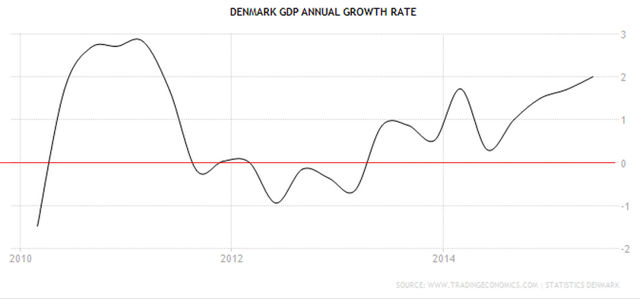 As of 2013, Denmark only had a population of 5.6 million. Obviously, it is much easier to decrease unemployment with a smaller population sample. Larger countries the likes Germany and France will have a much tougher time facing unemployment in their countries.
Speaking of France, Wall Street is taking a much more grim position on the country's outlook. Ricky Sandler of Eminence Capital, a $7.2 billion hedge fund, had this to say about the country:
"France is a country that, quite frankly, has a balance sheet that looks closer to Greece. It has got fiscal deficits that are much closer to Greece... and it is priced at a 30 basis point premium to German bonds which are extraordinarily too low at 1 percent. You can short French government debt at a cost of 1.3 percent per year."
Does France really have the potential to drag down the rest of Europe? Considering that it is the third largest GDP producer for Europe, we think so. Both France and inflation rates are integral to the health of the eurozone, and if they stay healthy, there is a reasonable chance the continent rebounds strongly. And while the entire population of Belgium and Denmark only represent about 2% of the overall European economy, it is a great sign of things to come.
Disclosure: I/we have no positions in any stocks mentioned, and no plans to initiate any positions within the next 72 hours.
I wrote this article myself, and it expresses my own opinions. I am not receiving compensation for it (other than from Seeking Alpha). I have no business relationship with any company whose stock is mentioned in this article.