The market had another quiet day, but this time it slowly moved to the upside as Greece and earnings were the main catalysts for the market. The market first got a boost as Greece seemed to be moving toward a resolution intraday, but no deal was done. Additionally, the market got a nice boost from a good round of earnings from Coca-Cola (NYSE:KO) as well as Toyota Motors (NYSE:TM). Both companies had nice reports that definitely were bullish for the market.
Moving into tomorrow, the market still has not broken down despite issues with Greece, but Greece continues to delay and not get a deal done...inching closer to default. Additionally, the S&P got a hard rejection at 1350. Some catalyst is needed to break out. Therefore, we think it is a good time to start to look at some potential short candidates.

Two stocks on our radar for that are Amazon.com (NASDAQ:AMZN) and Electronic Arts (NASDAQ:EA). Amazon had fairly weak earnings that showed dropping profitability, and with its very lofty PE, the company has limited upside in our opinion without some help from the market or help from itself with some new announcement that can spark interest. The stock has definitely showed decent support since its gap down, but if this market turns sour we believe a retest of the 170s is definitely likely. A break of 175 may signal some more weakness is on the way. EA had a fairly unimpressive report, especially in comparison to the strength of the likes of Take-Two (NASDAQ:TTWO) and THQ (THQI) in their software sales. We believe the stock is headed for 18.00 then 17.50 in the near-term. Fundamentally and technically, EA is very weak.
Click to enlarge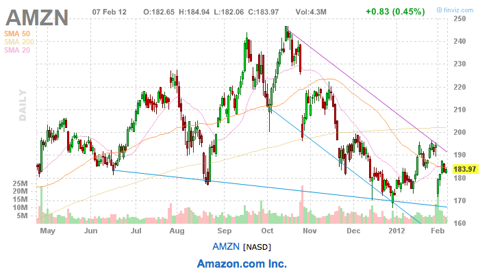 For tomorrow, we will continue with our Greek watch. We get crude inventories to add a small amount of economic data. Finally, we have earnings from Disney (NYSE:DIS), Hanesbrands (NYSE:HBI), Polo Ralph Lauren (NYSE:RL) and Time Warner (NYSE:TWX). Those reports will be important with light news, and we definitely are bullish on DIS and RL's reports.
We had a solid day as we got an 11% gain in our 95/92.50 bull put spread in EOG Resources (NYSE:EOG) for the first 50% of our position at 0.05. Further, we got a nice 1% gain on half of Activision Blizzard (NASDAQ:ATVI) that we entered yesterday.
Chart courtesy of finviz.com and businessinsider.com.
Disclosure: I am long ATVI.
Additional disclosure: We have the following positions. In our Short-Term Equity Portfolio we are long Monster Beverage (NASDAQ:MNST) and ATVI. In our Options Portfolio, we are long Apple (NASDAQ:AAPL), Priceline (PCLN), Dollar Tree (NASDAQ:DLTR), SPDR Gold (NYSEARCA:GLD), Weight Watchers (NYSE:WTW), Nordstrom (NYSE:JWN), Bed, Bath, and Beyond (NASDAQ:BBBY). We are short Deckers Outdoor (NASDAQ:DECK) and SPDR S&P500 ETF (NYSEARCA:SPY). In our Earnings Portfolio, we are long CF Industries (NYSE:CF), VF Corp. (NYSE:VFC), EOG Resources (EOG), OIS, and Fossil (NASDAQ:FOSL). We are short AOL (NYSE:AOL).