By DailyAlts Staff
The Hatteras Alternative Multi-Manager Fund (MUTF:HHSIX) initially debuted on May 2, 2011. The fund, which has only been available to "select institutional clients," returned a cumulative total return of more than 12% in its first four years through the end of July 2015, easily outperforming Morningstar's Multialternative category average. Now investors from beyond the "select" few will have an opportunity to invest, as Hatteras has opened up access to the fund.
Alternative Multi-Manager Fund
"With uncertainty and volatility facing both stock and bond markets, financial advisors are looking for tools to help manage risk within their portfolios," said Hatteras Funds CEO David Perkins, in an August 25 press release. "The Alternative Multi-Manager Fund is designed to complement a traditional portfolio of stocks, bonds and cash."
The fund, which generated three-year annualized returns of 4.11% as of July 31, will continue to be managed by Michael P. Hennen and R. Ty Powers. Its objective, to achieve consistent returns with low correlation to traditional financial market indices and high correlation to the HFRI Fund of Funds Composite Index, has not changed.
The Hatteras Alternative Multi-Manager Fund is diversified by four hedge fund strategies with a concentration in long/short equity and event-driven strategies, as seen in the below allocation chart from the fund's web page: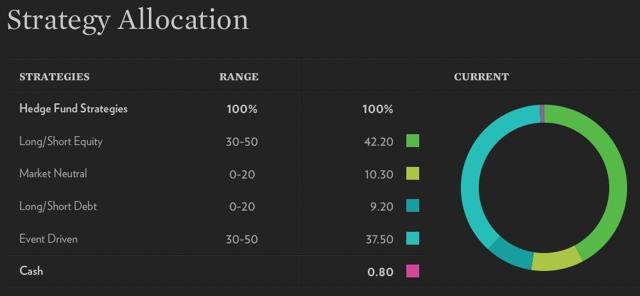 The purpose of this concentration is to generate higher returns, but the fund remains diversified across 20 experienced hedge fund managers using unique alternative strategies. "The fund provides diversified alternatives exposure in a single investment," said Mr. Perkins. "We believe it can help reduce volatility and dampen the impact of a market drawdown."
Other Hatteras News
In other Hatteras news, the firm recently announced the launch of the Hatteras Market Neutral Fund (MUTF:HMNAX), which is designed to diversify equity portfolios by pursuing absolute returns regardless of market conditions. Similar to the Alternative Multi-Manager Fund, the Market Neutral Fund also employs a multi-manager structure. At inception, the fund employed three sub-advisors.
For more information, visit hatterasfunds.com.
Past performance does not necessarily predict future results.