Micron (NASDAQ:MU) is my biggest disappointment. After calling the stock a buy at $17-$22, the stock then traded in the high-$35s before collapsing. The semiconductor cycle is on a downward phase of product demand, and should be played as such.
Micron and stocks in this sector are strategically important, but this does not mean you should average down. There is still a premium priced in semiconductor stocks, based on hope. That hope is:
1. Smartphone upgrade cycle due to back to school seasonality
2. Back to school seasonal strength for PC refresh
3. Windows 10 upgrade cycle
Microsoft's (NASDAQ:MSFT) Windows 10 is a success. In just four weeks, 75 million users installed the operating system. In theory, this means end users would buy more DRAM (memory), a faster data disk (called "SSD" which boosts booting times substantially, by around ten times), and buying a new Intel (NASDAQ:INTC) or AMD (NASDAQ:AMD) chip.
There are problems with the above assumptions. Windows 10 runs more efficiently than Windows 7, 8, or 8.1. It is less bloated, so for computers as old as six years, there is really no hardware upgrading required. Assuming old PCs have enough RAM (4GB), speed (1.2 GHz or more), and graphics to run Windows 10, end users need not spend a cent on the upgrade. Even Windows 10 is free for the first year.
The PC market also competes for the dollars spent on tablets and smartphones. Demand in this segment is dropping, too. Devices are simply getting too expensive. Older models are holding up, unless it's a Samsung (OTC:SSNLF). Samsung habitually updates its operating system, adds bloatware, and slows down the performance. It is no surprise that Samsung's profits fell for five straight quarters. Worse for Samsung is that its latest device refresh asks for more money: the base model for the Note 5 is $750 and $800 for the S6 Edge+.
Samsung also failed to make the battery removable, a move that will improve profit margin but will alienate customers. There is no external SD option.
Samsung anticipates its product refresh will compete effectively with Apple's 6S launch on September 9. Unfortunately, Samsung update falls short. It will miss the opportunity for winning over consumers using Apple's iPhone 4, 5 and 5S. This group of users will likely choose Apple's 6S due to the comparable pricing. The new Force Touch technology and the camera upgrade will also mean a big boost for iPhone sales this fall. Offering users to switch to Samsung from an iPhone for just a dollar will have limited success.
Samsung's price cut ahead of its Galaxy product refresh also indicates competition is high and demand is weak for its high-end product.
The lack of budget smartphones coming out this fall is bad news for the PC market. Consumers must decide between an unnecessary computer upgrade and getting a new phone. They will likely choose the former option.
Markets already expect tepid demand for DRAM, SSDs, and chips. Micron's stock underperformance reflects the market's expectation that PC sales growth will fall in the negative single digits as a best case scenario. IDG forecasts an 8.7 percent decline for 2015.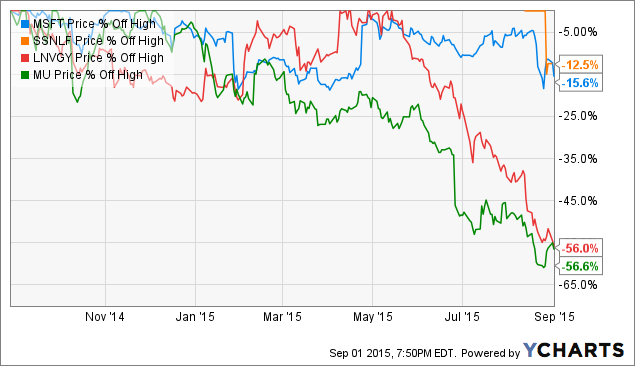 Micron's stock is inexpensive. Its P/E is just 5.32 and its forward P/E is around 7. Micron is an attractive value play, but investors should not expect an improvement in its business until 2016.
Portfolio management
For premium subscribers, I suggested investors initiate a position in Micron at higher prices, but reversed that call and pared my allocation when the stock was around $21. ChipMOS (NASDAQ:IMOS) remained a more favorable investing idea as the DRAM tester simplifies its corporate structure. The stock dipped recently but is bouncing back.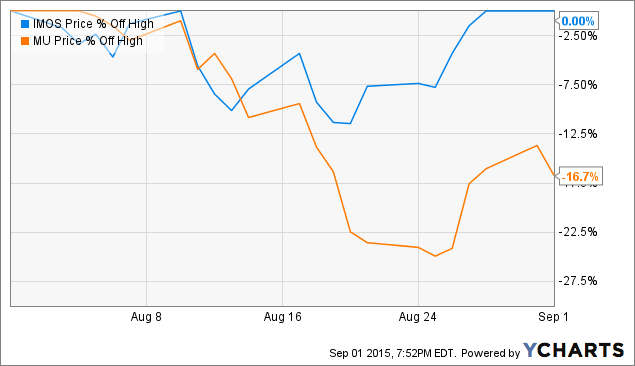 When complete, the ChipMOS should outperform Micron and other semiconductor companies. By early 2016, semiconductors should rebound, provided the headwinds Micron mentioned ends after its third quarter.
Disclosure: I/we have no positions in any stocks mentioned, but may initiate a long position in AMD, IMOS over the next 72 hours.
I wrote this article myself, and it expresses my own opinions. I am not receiving compensation for it (other than from Seeking Alpha). I have no business relationship with any company whose stock is mentioned in this article.