Upon the completion of the S&P 500's earnings for 1Q of 2015, we at GrowthIncome took a bearish approach on the U.S. stock markets, which is reflected in our report published on June 1st, 2015 ["S&P 500 1st Quarter and Beyond: Bearish" (6/1/15)].
We took this position for the following reasons:
1. S&P 500 was selling at a P/E of 18.4x toward 2015's forward earnings
a. The average P/E between 1942 and 2015 is 15.4x;
2. NYSE margin debt was peaking and had coincided with the aforementioned overextended valuations;
3. The dollar's appreciation had pushed down the price of commodities and oil, hurting material and energy firms around the globe. In addition, the dollar's high value was already showing signs of impacting earnings for multinational corporations based in the US.
Based on data released by Standard and Poor's, the S&P 500's earnings per share between the end of 2014 and estimates for 2015 will have fallen 1.0% from $113.01 to $111.89. The last time we saw a decline in EPS was in 2008: a pull back of 40% from $82.54 to $49.51. YTD, the S&P 500 index has fallen 5.8% (August 26).
S&P 500's 2Q 2015 Earnings: Using the EPS (bottom/up) estimate for 2015 ($111.89) and the closing price as of August 26, 2015, we get a P/E ratio of 17.3X for our current report (9/1/15). This compares to our previous report where the P/E ratio was 18.4X (6/1/15). This P/E amounts to a decrease of 6.0%.
As for 2016, Standard and Poor's estimate an EPS of $131.46 for the S&P 500, which is a bit troublesome. This would require a 17.5% growth rate in EPS between 2015 and 2016. Considering the current economic conditions, which we will discuss later, we feel a growth rate between 6% and 10% would be a more appropriate estimate for 2016. Using an earnings growth rate of 8.0% (EPS of $120.84) and a P/E of 16.5X, we then see the S&P 500 ending 2016 at 1993.88, a gain of only 2.8%. Using a P/E of 15.4X (average of 1942-2015), we would see the S&P 500 ending 2016 at 1860.93, a decline of 4.1%. This helps illuminate just how critical earnings will be in the year to come.
U.S. Stock Market: Below is a chart containing our current analysis for the next 16 months for the capital-appreciation of the S&P 500 in 2015 and 2016 ("S&P 500 Outlook & Estimates"). This analysis will continue to be updated quarterly. The items we focus on are: Economic Climate, Stock Market Direction, U.S. Policies Changes, and Investor Sentiment.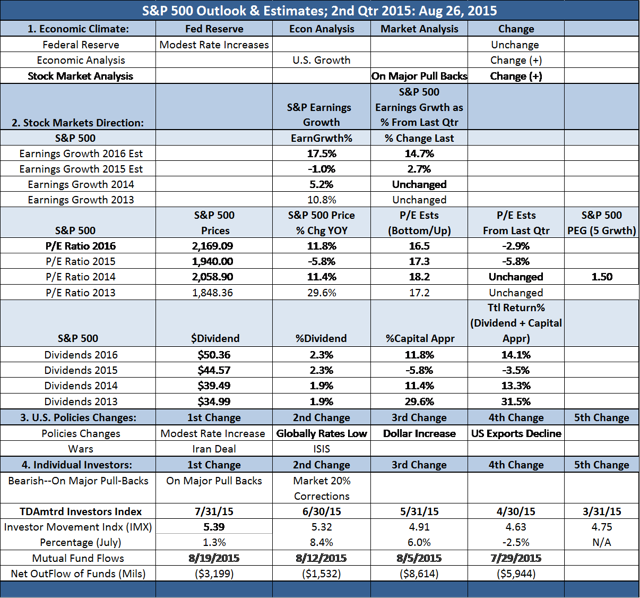 US Economic Climate: The U.S. economy is improving!
a. GDP has expanded at a 3.7% seasonally adjusted annual rate in 2Q. This was faster than the initial estimate of a 2.3% growth rate. However, inventories also rose at a $121.1 billion pace in the second quarter. This may have a negative effect on GDP in the 3rd quarter.
b. Home building and improvements spending advanced at a 7.8% pace, compared with a previous reading of 6.6% and a first-quarter gain of 10.1%. This will be carried over to the 3rd quarter.
c. Caving oil prices have helped to keep gasoline prices low at the pump, spurring demand for fuel. Yet, refiners are pushing capacity and have been plagued with unexpected problems that have kept supply out of the markets, putting a cap on the benefit to consumers. This can be seen in figure 1 which shows the divergence between the price of WTI (West Texas Intermediate Crude) and automotive fuel production between the middle of 2014 and 2015.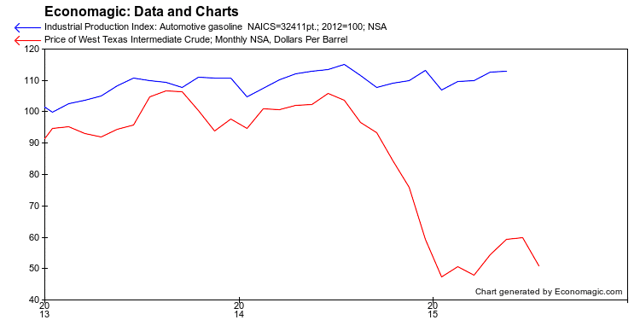 Additionally, figure 2 shows the average price of regular grade gasoline from the beginning of 2014. We can see that the supply problems leadings up to the summer pushed gasoline prices up slightly towards the middle of 2015. Still, relative to the prior year, consumers are certainly seeing some relief at the pump.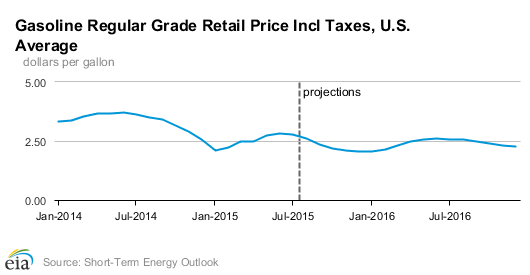 d. This discount at the pump has helped boost consumer spending, which grew at a 3.1% rate in the second quarter, up from the initially reported 2.9% pace. That is a marked improvement from the first quarter's 1.8% rate. Consumer spending accounts for two thirds of US GDP.
e. Business investment, which reflects spending on construction, equipment, and research and development-are especially welcome. The category rose at a 3.2% pace in the second quarter, compared with an earlier estimate of a 0.6% decline, suggesting a degree of optimism about future demand.
What has really held back economic growth has been low-productivity and slow wage growth. While business investments have increased in the 2nd quarter, technology has taken the lead in "production" and "services", thereby, stripping-out wage growth.
Stock Market Directions: Get a neck brace because you are bound to get whiplash in these markets! After about 6 months of trading in a 100 point range on the S&P 500, we are experiencing high levels of volatility that has instilled moments of panic in almost every active market participant. This volatility has mostly been imported from China due not only to a market selloff (about a 40% decline for the Shanghai Composite), but also weak economic data that has revived fears of a global economic slowdown. This has put even further pressure on the Federal Reserve at what could be considered the worst time.
For a market that has been propped up by the easy monetary policy of the Federal Reserve, the prospect of higher interest rates alone was enough to fill up the airwaves with analyst "guesses" as to when the first move would occur. But since falling into "correction territory," the markets are ever more interested in what the Fed will do: and rightfully so.
The prospect of global economic weakness in the face of relative strength for the US economy could make a rate hike even more damaging than before. A boost to US interest rates would incentivize global investors to buy dollars and invest in US markets, further exacerbating meteoric rise to the value of the greenback. This would then amplify the already destructive effects not only to earnings of US based multinational corporations, but also to commodity prices, including crude oil. This in turn would compound the strain of resource rich exporters, such as Brazil, that have already felt the sting of falling Chinese demand, further devaluing their currency and stimulating even greater demand for dollars. So this raises the stakes even higher for the Fed as it risks creating a snowball that could tumble down the mountain along with global economic activity, demolishing foreign currency along the way.
Yet, the Fed has painted itself into a corner of which they desperately want to get out. They don't have much left in their arsenal to stimulate the economy other than pushing rates into negative territory, or reengaging quantitative easing. These are very dangerous options that could very well eliminate all investor confidence or kick start excessive inflation.
This leaves us at GrowthIncome to sense that volatility will be here for some time and that the possibility of a 20% correction increases every day as market participants not only hang on every word regarding the Fed and the Chinese economy, but become ever more irrational actors in an already fragile system.
U.S. Policies Changes: The election shenanigans have the Iowa caucuses surging for both Donald Trump (Republican) and Bernie Sanders (Democratic), two biggest anti-establishment candidates. The voters are fed up with Democratic and Republican politicians that fight with each other and make it policy to keep things from getting done. Trump's tag line is "Make America Great Again." However, given Obama's anti-established credentials, it's hard to believe that any president will be able to control the partisanship of Congress.
The Iran Deal will likely go through. It is expected that if the deal fails on the first attempt through Congress that President Obama will use his veto, therefore sending it back to Congress for another vote. At that point, those against the bill would need to achieve a 2/3rds majority to block it, which seems difficult to secure. This will add more than 1 million brls/day to crude oil markets as Iran, in the words of its Oil Minister Bijan Zanganeh, "will be raising [its] oil production at any cost." However, OPEC renewed its willingness to sit down with other producers to discuss cutting back output, as long as it is on an even playing field. This means involvement and cooperation from Russian, who has so far declined to lower supply.
ISIS's destroyed the incredibly important Baal Temple in Syria. The U.S. is on the ground in Turkey (Incirlik Air Base) with armed drone missions against ISIS. Turkey is also fighting back with smart bombs to attack ISIS positions in Syria. As was our view of the situation during our previous quarter's report, this will be a long and drawn out engagement.
Investors Sentiments: The IMX rose to 5.39 in July as TD Ameritrade clients were net buyers while slightly increasing their exposure to the equity market. However, by August total Mutual Fund Flows data declined from July 29, 2015 by a tune of $19.3 billion. Domestic equity declined by $19.9 billion and World equity funds increased by $15.8 billion. Total Taxable bond funds decreased by $14.0 billion.
Sectors of the S&P 500: Below is a chart containing the 9 sectors of the S&P 500, sorted by their current operating P/E (S&P 500 Oper P/E) from (22.3X - 14.0X).
We have taken each sector's current operating P/E and their projected annual earnings growth for 2015 ("S&P 500 Projects Ann Growth") and calculated their current PEG ("S&P 500 PEG"). The lower the PEG ("PEG Ratio [1/PEG]"), the more undervalued the stocks, or sectors, in this instance.
Converting Yields: In order to take the dividend yields into account, we have converted each sector's PEG into a "PEG Ratio" ("PEG Ratio [1/PEG]") and multiplied it by their respective dividend yield resulting in the "PEG-Ratio x YldDiv". These numbers (where a higher number is better) allow us to see how projected earnings growth and P/E will affect dividends and the overall return for each sector.

Dividend Growth: If you want a big distribution, you might want to invest in Utilities (NYSE: XLU), which has a 3.5% yield. However, GrowthIncome also takes into account the sector's projected growth rate and P/E while examining its dividend. As can be seen, a relatively large yield may not have the overall desired effect on total return (stock growth and distributions). The rows in "red" are the sectors that we favored in our last projections. We projected that Information Technology (NYSEARCA:XLK), Financials (NYSEARCA:XLF) and Materials (NYSEARCA:XLB).
Last Session (5/29/15): On our previous example, both Financial (-3.7%) and Materials (-13.7%) was picked. This is with a decline of -5.6% for the S&P 500. We are remaining with these groups for the 3rd quarter.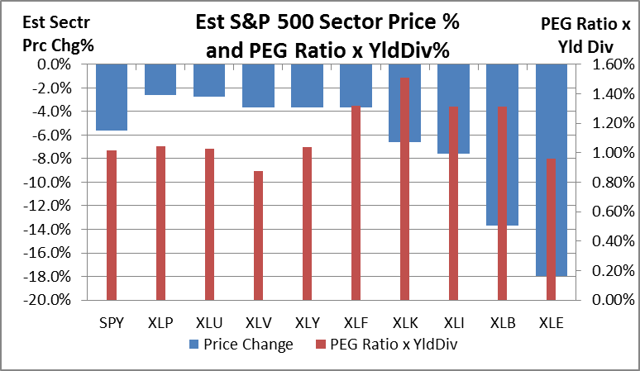 ---
Disclosure: I/we have no positions in any stocks mentioned, and no plans to initiate any positions within the next 72 hours.
I wrote this article myself, and it expresses my own opinions. I am not receiving compensation for it. I have no business relationship with any company whose stock is mentioned in this article.