With the recent market correction knocking down stock prices, it is time to get bullish on a selective group of stocks. There is still room for growth in housing and mortgage sectors.
The data suggests underlying strength. A recent mortgage applications report showed strong activity in the prior week. Notably, total applications grew 11.3% and purchase applications were up 25% versus the prior year. The domestic housing supply is also showing higher prices with the Case-Shiller 20-city Index reporting 5% gains for the month of June. Most importantly, July Housing Starts were close to 1.2 million units. This level of construction is near the 1.3 million units that is considered healthy for the market and well off of the post-financial crisis lows.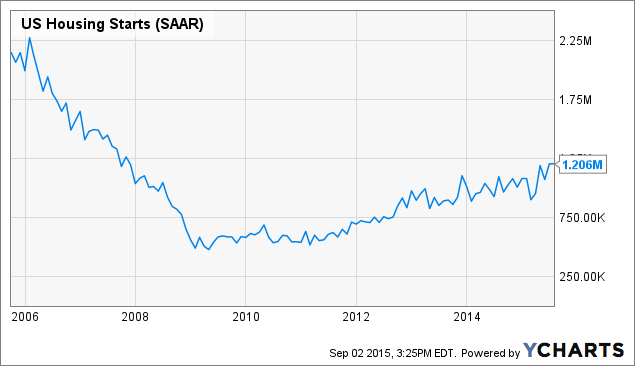 US Housing Starts data by YCharts
Recent market turbulence has knocked overall equity prices down and that includes the iShares US Home Construction (BATS:ITB) ETF. At $27.60, this ETF is about 7.5% from recent highs, but 11% higher than the start of the year. The top two components, DR Horton Inc. (NYSE:DHI) and Lennar Corporation (NYSE:LEN) might be a good buy on this pullback (each near 16 times trailing earnings).
In the recent pullback, DR Horton performed strongly, bouncing off of the 50 day moving average, while most stocks crashed through the 200 day moving average floor.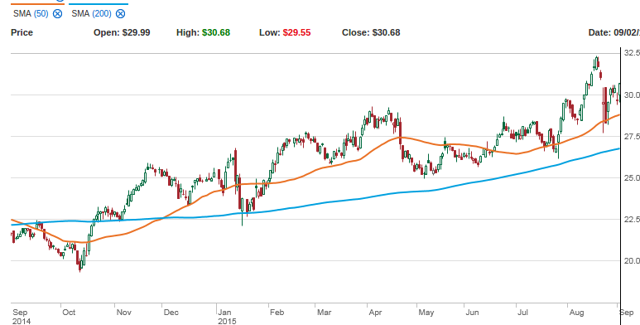 In that same time period, Lennar bounced solidly off of the 200 day moving average. This stock is potentially showing more upside.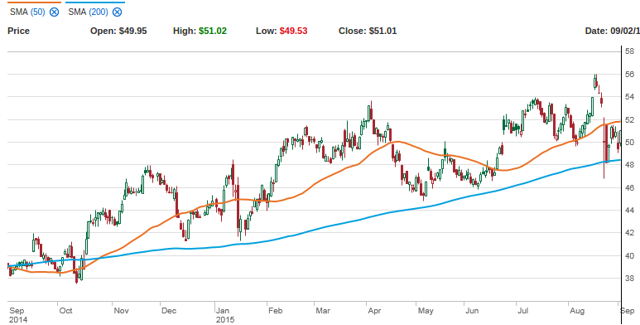 Get Ready for a Really Big Quarterly Report from Impac Mortgage
Impac Mortgage (NYSEMKT:IMH) has had a great year so far in 2015. With an acquisition in the 1st Quarter of 2015, they significantly increased mortgage origination volume. As a result GAAP earnings in the 1st Quarter of 2015 were larger than the entire loss booked for 2014.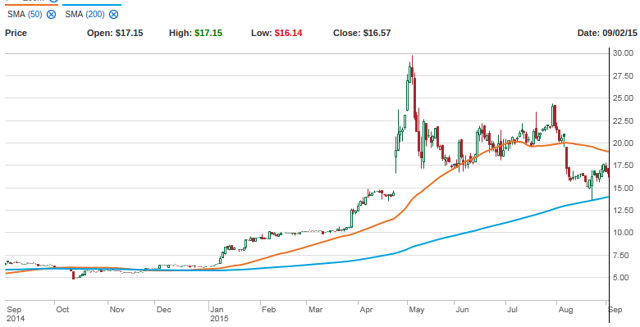 The 2nd Quarter followed with a slight increase in total volume and another period of profitability. However, operating margins were compressed due to an uptick in interest rates during the period.
The good news came at the annual meeting and during the 2nd Quarter conference call. The company pre-announced full-year 2015 mortgage originations of $10 billion and a strong pipeline heading into the 3rd Quarter of 2015, possibly showing $2.5 billion in originations for the period.
If the company matches performance from the 1st and 2nd Quarters in the 2nd half of the year, then they will book an additional $4.00 in GAAP EPS, bringing the total GAAP EPS to $8.00 per share. This puts the stock's valuation at about 2 times forward earnings. If they reach this level of profitability, one has to assume that they might also recognize their deferred tax asset, which is nearly $10 per share. This indicates that the stock is potentially trading at 1x Forward P/E.
The companies future growth prospects come from a nationwide expansion to 45 states, as well as a non-Qualified Mortgage (alt-QM) product. The Alt-QM product has an abundant level of consumer demand and the investment bank Macquarie has agreed to purchase all of these loans, meaning that Impac has a large amount of potential supply. The key to success will be ramp up of a product that meets the stringent requirements of the Consumer Financial Protection Bureau (CFPB).
The future growth in housing and mortgage finance will come from several sources primarily. First-time Millennial buyers and Boomerang Buyers will drive home purchase growth and household formations, and higher sales at homebuilders. This should also fuel some growth in the resurgent Alt-QM mortgage market, which Impac is in position to serve.
Disclosure: I am/we are long IMH.
I wrote this article myself, and it expresses my own opinions. I am not receiving compensation for it (other than from Seeking Alpha). I have no business relationship with any company whose stock is mentioned in this article.
Additional disclosure: Holding Impac preferred and common for self, family, and clients.