The Rhuematoid arthritis (RA) market is currently dominated by large-cap pharmaceutical and biotech companies such as AbbVie (NYSE:ABBV), Amgen (NASDAQ:AMGN), Roche (OTCQX:RHHBY), and Johnson and Johnson (NYSE:JNJ). Sales of RA medications topped $22 billion worldwide in 2014. While the currently available therapies are effective at alleviating the symptoms of RA, almost all of them are associated with serious adverse side effects, thus representing an opportunity for safer therapies to enter the market. Highlighted below are two such RA drugs currently in development that have differentiated mechanisms of action compared to the top-selling RA therapies along with greatly improved safety profiles: PRTX-100, which is being developed by Protalex, Inc. (OTCQB:PRTX), and CF101, which is being developed by Can-Fite BioPharma Ltd. (NYSEMKT:CANF).
Background on RA
RA is a chronic, systemic, autoimmune inflammatory disease that manifests as joint pain, stiffness, and swelling. Peripheral joints, including the wrists, hands, shoulders, elbows, hips, knees, and ankles are most commonly affected, with a bilaterally symmetric distribution of relapsing and remitting symptoms. Systemic symptoms include early morning stiffness of the affected joints, generalized afternoon fatigue, anorexia, generalized weakness, and fever.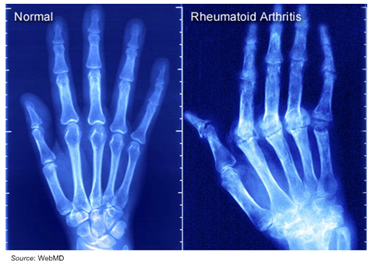 RA is characterized by synovial inflammation and hyperplasia, autoantibody production, cartilage and bone destruction, and systemic features including cardiovascular, pulmonary, psychological, and skeletal disorders. Joints become swollen, tender and warm, and stiffness limits their movement. As the pathology progresses, the inflammatory activity leads to tendon tethering and erosion, with eventual destruction of the joint surface. This impairs range of movement and leads to deformity of the joints. The disease progresses most rapidly during the first six years. More than 1/3rd of patients eventually become unable to work, with 20% not working 2 years after diagnosis.
The detailed cause of the disease is poorly understood, although a strong genetic component has been identified. RA may occur at any age, with the most common onset of illness being between the ages of 25 and 50. Women are two to three times more likely to be affected with RA than men. RA afflicts between 0.5-1% of the general population (Silman et al., 2002) with approximately 1.5 million adults in the U.S. having the disease (Sacks et al., 2010). Life expectancy is reduced by 3 to 5 years, predominantly due to the development of systemic disease and treatment-related adverse events, including infections and tumors. Additionally, patients with RA are at 50% increased risk of heart attack and have a 2-fold increased risk of heart failure.
A variety of scales are available for assessing the progression of RA, among which the Disease Activity Score in 28 joints (DAS-28) and the Clinical Disease Activity Index (CDAI) are among the most commonly applied. The DAS-28 assessment is a composite score derived from the number of swollen joints, the number of tender joints, an assessment of general health, and a serum marker such as erythrocyte sedimentation rate (DAS28-ESR) or C-reactive protein (DAS28-CRP). The raw data from these assessments is combined to give a single score of disease activity using a mathematical formula. The CDAI is calculated simply as the sum of the number of swollen joints, the number of tender joints, the physician's assessment of global disease activity (on a scale of 1-10) and the patient's assessment of disease activity (also on a scale of 1-10). Cutoff values for qualitative assessments of disease activity with these scales are summarized in the following table.
| | | | | |
| --- | --- | --- | --- | --- |
| Scale | Remission | Low Activity | Moderate Activity | High Activity |
| Clinical Disease Activity Index (CDAI) | <2.8 | 2.9 to 10.0 | 10.1 to 22.0 | >22.0 |
| Disease Activity Score in 28 Joint (DAS-28) | <2.6 | 2.7-3.1 | 3.2 to 5.1 | >5.1 |
In addition to these static measures of disease activity, the American College of Rheumatology (ACR) has established standard measures of treatment outcome that are widely used in clinical trials. The most common of these, ACR20, refers to the achievement of a 20% improvement in:
Swollen joint count
Tender joint count
Three of the following measures

Patient global assessment of health
Physician global assessment of health
Pain
Disability
An acute phase reactant (a serum marker such as C-reactive protein)
Analogous definitions apply for the more stringent clinical improvement benchmarks, ACR50 (a 50% improvement in symptoms) and ACR70 (a 70% improvement in symptoms).
Current Treatment Options
Historically, the first-line of treatment for RA has included non-steroidal anti-inflammatory drugs (NSAIDs) and steroids. NSAIDs treat symptoms of RA and decrease inflammation, but do not alter the course of the disease, and dose is limited by side effects including headache, confusion, increased blood pressure, decreased platelet function, and the possibility of renal damage or gastrointestinal bleeding. Systemic corticosteroids decrease inflammation and slow bone erosion but do not prevent joint destruction. Prednisone at a dose of less than 10 mg per day is common. Long-term adverse effects include weight gain and diabetes.
With more aggressive treatment goals now in place, disease-modifying anti-rheumatic drugs (DMARDs) are increasingly being used earlier in the treatment paradigm. The DMARD class consists of a variety of older, small molecule drugs that share no common mechanism of action, but which have been found empirically to alter the progression of RA. They exert minimal direct, nonspecific anti-inflammatory or analgesic effects and thus are commonly administered with NSAIDs. The appearance of benefit from these drugs is usually delayed for weeks to months. Members of this class include methotrexate (MTX), gold salts, leflunomide, minocycline, penicillamine, hydroxychloroquine, and sulfasalazine among others. Methotrexate appears to have the best ratio of efficacy to adverse effects and is the most widely used.
Patients with negative prognostic features or failing to achieve minimal disease activity at 6-12 months will typically receive step-up therapy involving one of several biologic agents approved since the mid-1990's, usually in combination with methotrexate. The use of biologic therapies is strongly dominated by the TNF-α blockers Humira®, Enbrel®, and Remicade®. Other approved drugs include CTLA-4 agonist Orencia®, IL-6 receptor antagonist Actemra®, and anti-B-cell agent Rituxan®. Among the most important recent advances is the availability of the first highly efficacious oral drug, Xeljanz®. Xeljanz® is an inhibitor of the enzyme janus kinase 3 (JAK-3). The proportion of patients achieving ACR50 in the Xeljanz® clinical trials was similar to and possibly a bit greater than that seen in clinical trials of TNF-α blockers.
All of the TNF-α inhibitors' labels warn against severe infections and malignancies associated with their broad immunosuppressive effects, as does the oral agent Xeljanz® and the IL-6 receptor antagonist Actermra®. TNF-α is a broadly pro-inflammatory cytokine that recruits leukocytes to the site of infection or injury, activates neutrophils, and stimulates the liver to produce proteins that increase the effectiveness of the immune response. In contrast to the TNF-α blockers, which prevent TNF-α from binding to its receptor, the JAK inhibitor Xeljanz® inhibits the functionality of TNF-α by inhibiting the downstream signaling cascade that occurs after TNF-α binds, while the function of IL-6 is to stimulate the liver to produce proteins that support the immune response and to stimulate the growth of antibody producing B cells. The only biologic agent for the treatment of RA that does not carry a black box for increased risk of infection and/or malignancy is Orencia®, which acts specifically on the activation of T-cells.
RA Market Overview
The RA market is currently dominated by the TNF-α inhibitors Humira®, Enbrel®, and Remicade®. These drugs contributed to a combined total of approximately $14 billion in revenues worldwide in RA in 2014. Based on their common mechanism of action, these drugs provide similar efficacy and adverse event profiles. The relative market shares of these three products correlates roughly with their convenience of administration, with market leader Humira® self-administered (subcutaneous dosing) at 2 week intervals, followed by Enbrel® which is self-administered every week, and Remicade® which is infused in a doctor's office at 2 month intervals. More recent market entries, Simponi® and Cimzia®, allow for self-administration with somewhat longer dosing intervals than Enbrel® or Humira®. The top-selling non-TNF- α inhibitors are Actemra®, Orencia®, Rituxan®, and Xeljanz®. The following table contains data for the top-selling RA medications. While not discussed in this article, it is worth pointing out that a number of the top-selling RA drugs will be going off patent over the next few years, thus allowing for the biosimilar therapeutics to enter the market.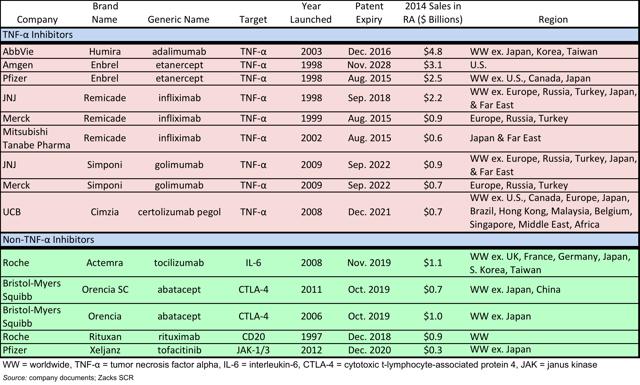 The following table describes RA therapeutics that are currently in clinical development and represent the next wave of medicines that are set to hit the market over the next several years.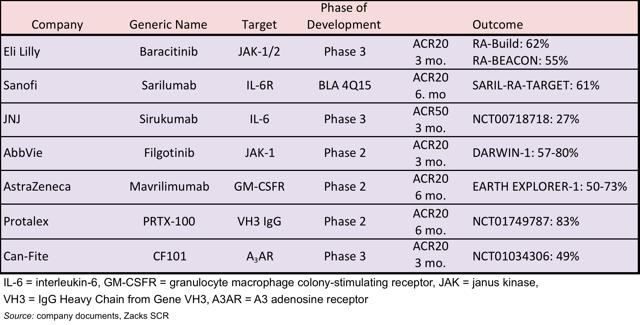 The following sections highlight two of the RA therapeutics under development by small-cap companies, each of which has a novel mechanism of action and improved safety profile: PRTX-100, which is being developed by Protalex, Inc. , and CF101, which is being developed by Can-Fite BioPharma .
PRTX-100
PRTX-100 is a proprietary, highly purified form of Staphylococcus aureus protein A (SPA). SpA is a 42 KDa bacterial membrane protein composed of 5 nearly identical domains. Each of these domains has the ability to interfere with the activity of antibodies and B-cell receptors (BCRs). B-cell receptors are antibody-like proteins displayed on the surface of B-cells. The B-cell receptors found on the surface of each B-cell have the same antigen specificity as the antibodies it produces. SpA interferes with the protective immune response by binding to sites on the antibody or BCR other than the antigen binding sites antibodies normally use to bind pathogens. Specifically, SpA is known to bind almost exclusively to human antibodies derived from the VH3 gene family (Graille et al., 2000), which represents most of the B-cells producing auto-antibodies.
PRTX-100 was previously evaluated in RA patients in study PRTX-100-104. The primary endpoint of the study was the safety and tolerability of PRTX-100, with secondary objectives examining the effects of PRTX-100 on disease activity, assessing the immunogenicity and evaluating the pharmacokinetic (NYSE:PK) parameters after repeated doses, and determining possible relationships between the immunogenicity of PRTX-100 and safety, PK, and efficacy parameters. Study PRTX-100-104 was designed to test five weekly doses of PRTX-100 at 1.5, 3.0, 6.0, and 12.0 μg/kg in Cohorts 1 through 4. A fifth cohort of patients was dosed with five weekly doses of either 420 μg PRTX-100 (12 patients), 240 μg PRTX-100 (3 patients), or placebo (5 patients) and then continued with four monthly "maintenance" doses at weeks 8, 12, 16, and 20. For comparison sakes, a 70 kg patient in Cohorts 1 through 4 would have received 105 μg, 210 μg, 420 μg, or 840 μg of PRTX-100 per dose.
PRTX-100 Alters Disease Activity
While difficult to ascertain any clear signals of efficacy from Study PRTX-100-104, as the numbers of patients treated was quite low, it is still useful to examine the data and compare it to results that are seen with the top-selling biological treatments of RA (e.g., Humira®, Enbrel®, and Remicade®). The following analysis focuses on patients from Cohort 5 that were administered 420 μg PRTX-100 per dose, as this group comprised most of the patients in Cohort 5 and they appeared to have the most interesting results.
The following table shows the two month ACR20, ACR50, and ACR70 values for Cohort's 1-5 along with the ACR20 data for up to six months.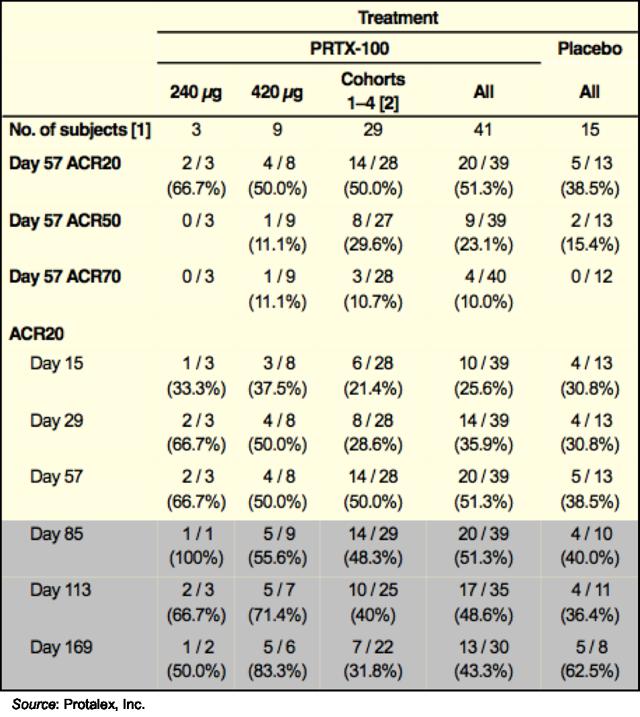 Fifty percent of patients from Cohort 5 who were dosed with 420 μg PRTX-100 achieved ACR20 two months after treatment began (Day 57). Perhaps more importantly, this number increased as the patients continued on monthly "maintenance" doses, increasing to 71% by 4 months and 83% at 6 months. This is quite comparable to ACR20 response rates seen in patients treated with Humira®, as shown in the following graph.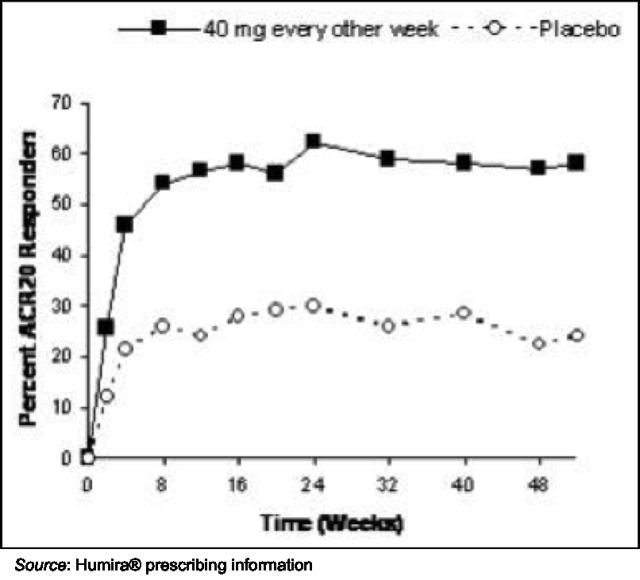 In addition to comparing quite favorably to the Humira® ACR20 response rates at two months, the six month ACR20 response rate for Cohort 5 patients dosed with 420 μg PRTX-100 is quite similar to the ACR20 response rates seen with Humira®, Enbrel®, and Remicade®.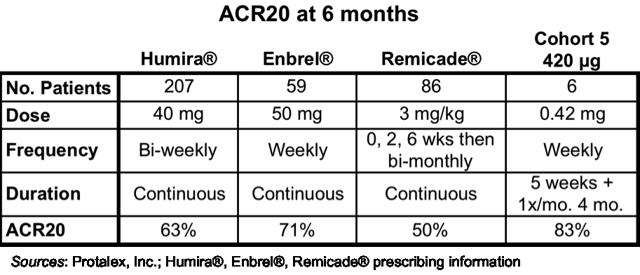 There are a couple of points to keep in mind when comparing the data between PRTX-100 and the leading biologic treatments for RA:
The number of patients treated with PRTX-100 was very small (n=6). This is in comparison to the Phase 3 trials for Humira®, Enbrel®, and Remicade® that contained 207, 59, and 86 patients, respectively. In addition, each of the biologics was tested in at least one other Phase 3 trial that showed very similar results for each of those products.
Keeping in mind that it was a very small number of patients, it is still quite encouraging to see such a high ACR20 response rate in the PRTX-100 Cohort 5 group.
The amount of drug needed to achieve the ACR20 response rate at six months in the PRTX-100 treated patients is at least two orders of magnitude less than the amount of drug needed for ACR20 responses when treating with Humira®, Enbrel®, or Remicade®.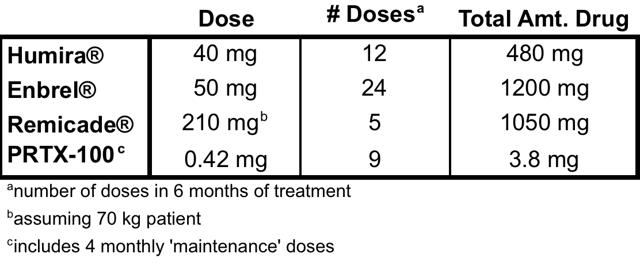 In addition, the cost of goods to produce PRTX-100 is going to be at least 100 times less than for Humira®, Enbrel®, or Remicade®, which means that a) PRTX-100 could be brought to market in less developed areas of the world where most individuals can not afford the $10,000 or more per year it costs to be treated with Humira®, Enbrel®, or Remicade® and b) PRTX-100 could be utilized in conjunction with Humira®, Enbrel®, or Remicade® as an inexpensive add-on therapy.
Potential for personalized medicine approach to RA therapy
Additional data from study PRTX-100-104 was collected on a post-hoc analysis of patient samples from Cohorts 1-4 utilizing the Vectra DA score. Vectra DA is a quantitative laboratory test that is validated to assess RA disease activity and was developed by Crescendo Bioscience, which was acquired by Myriad Genetics (NASDAQ:MYGN) in February 2014. The test uses the concentration of 12 biomarkers in the blood and a proprietary algorithm to derive a score from 0-100. These 12 biomarkers were found to have the best ability to evaluate RA disease activity in multiple studies of over 1,100 patients. The Vectra DA score classifies RA into low (1-29), intermediate (30-44), or high (45-100) disease activity.
Protalex performed post-hoc analysis of data from Cohorts 1-4 to show that by grouping patients according to Vectra DA score they could improve trial efficacy outcomes. The Vectra DA score was determined using a blood specimen collected when the patients first entered the trial. Specifically, the data showed that three patients entered the trial with low Vectra DA scores (12, 19, 21; all three patients had DAS28-CRP scores > 5) and that none of these three patients responded to treatment with PRTX-100. In contrast, 66.7% of patients with Vectra DA scores > 30 (intermediate or high disease activity) had at least an ACR20 response, as shown in the following graph. Grouping patients by c-reactive protein (CRP) value did not result in the same outcome.

While this data does look rather encouraging, the fact remains that the Vectra DA test was only able to remove three patients from Cohorts 1-4 who did not have a score ≥ 30. In addition, this was a post-hoc analysis that may be identifying a pattern that only exists in this cohort of patients and may not be replicated in a larger clinical trial.
Were this trend to hold up in a larger, prospective analysis we can foresee the Vectra DA test being utilized as a screening tool to predict whether or not a patient is likely to respond to treatment with PRTX-100. There is currently no personalized approach to RA treatment; in essence a patient is started on one treatment and if they do not respond they are transitioned onto another treatment option until their disease is under control. We can envision how having a validated test that could predict who is most likely to benefit from PRTX-100 treatment moving it to front-line status. This would be all the more likely if future clinical trials continue to show PRTX-100 to be safe, well tolerated, and efficacious, particularly when compared to Humira®, Enbrel®, or Remicade®.
PRTX-100 Not Associated With Increased Severity of Infection
In October 2013, Protalex presented data that compared the severity of infection arising when mice pretreated with saline control, etanercept (Enbrel®), PRTX-100, or anti-mouse TNF-α antibody were challenged with the intracellular bacteria Listeria monocytogenes or the fungal pathogen Candida. This study was designed to test the hypothesis that mice treated with PRTX-100 would be less susceptible to these opportunistic pathogens. The doses of PRTX-100 examined were chosen to reproduce (50 ug/kg) or exceed (250 ug/kg) the exposures observed in previous clinical trials.
In the Listeria challenge studies, 15 mice per group were treated with test drug and challenged with Listeria 4 hours later. All of the mice treated with anti-mouse TNF antibody died by Day 6. No mice treated with Enbrel® died. The lower mortality in this group compared to the anti-mouse TNF-α group likely reflects weaker binding of mouse TNF-α by Enbrel®, which is designed to bind to human TNF-α. Two deaths were observed in the saline group while no deaths were seen in PRTX-100 treated mice. Similar results were obtained in a repeat experiment using 30 mice per group.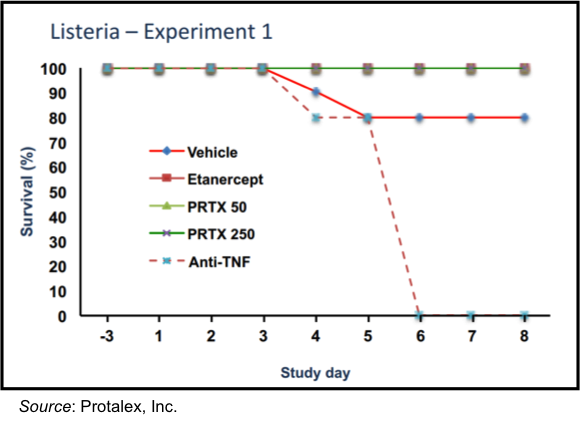 Mice in the PRTX-100- and saline-treated groups lost weight after the Listeria challenge, but regained their baseline weight by Day 8. The surviving mice in the Enbrel®-treated arm remained below normal weight for at least a full week.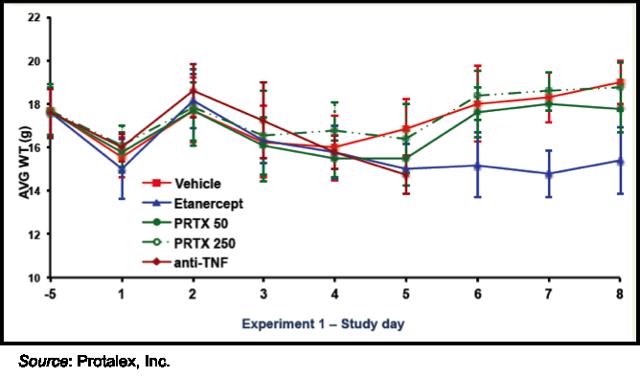 A similar study conducted using a Candida challenge in place of Listeria showed higher mortality in the anti-mouse TNF-α and Enbrel® groups relative to the PRTX-100 and saline groups.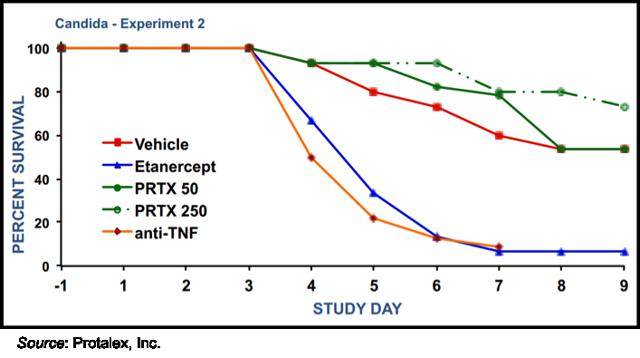 Overall, these data support a more selective immunomodulatory profile for PRTX-100 relative to anti-TNF-α drugs, and are suggestive of a potentially superior safety profile. When examined in combination with the efficacy data presented earlier, it is clear that PRTX-100 could become a safer and just as efficacious treatment option for RA patients.
Next Step for PRTX-100 in RA
Protalex is currently conducting an extension study with PRTX-100 (PRTX-100-105; NCT02330445), which is a continuation of the -104 study. The company has already finished dosing 8 patients with 4 weekly doses followed by 5 monthly doses of 6 μg/kg PRTX-100 with an additional 3 patients likely to begin dosing shortly. All 11 of the patients participated in the -104 study, and the purpose of the -105 study is to evaluate the safety of 6 μg/kg PRTX-100 administered for an extended period of time, since it may be required for RA therapy. Secondary objectives of the study are to evaluate clinical response to PRTX-100 treatment and what effect anti-PRTX-100 antibodies have on clinical activity. We anticipate results from this study being available in the first half of 2016.
With the final analysis of the company's Phase 1b trial complete, Protalex is now turning its attention to designing the Phase 2 clinical protocol, which we anticipate will be finished before the end of 2015. The final analysis of the Phase 1b trial confirmed the previously reported safety and tolerability of the drug and also suggested that weight-based dosing and monthly maintenance doses are an important aspect of the protocol and should be considered for future trials with PRTX-100. In addition to working with outside consultants, the company will also speak to various "Big Pharma" companies in order to obtain feedback on the design of the Phase 2 trial such that the results will be of interest to potential partners at pharmaceutical companies. We feel that PRTX-100 is not far enough along in clinical development for a large pharmaceutical company to want to enter into a partnership yet, thus Protalex wants to be sure that whatever data is generated in the Phase 2 trial will be sufficient for a large pharmaceutical company to decide whether or not PRTX-100 is worth pursuing further.
CF101
CF101 is a small molecule derivative of adenosine that is selective for the A3 adenosine receptor. The adenosine receptors (A1, A2a, A2b, A3) belong to the superfamily of G-protein coupled receptors (GPCRs) through which adenosine and other molecules (including caffeine) exert intracellular biological affects. The ARs ultimately exert their effects through inhibition (A1 and A3) or stimulation (A2a and A2b) of adenylyl cyclase, which controls formation of cyclic AMP (CAMP). cAMP controls the activity of protein kinase A and B, which in turn modulate a variety of intracellular signals (Filippa et al., 1999). CF101 is a selective agonist for the A3AR receptor, as shown by the Ki values in the following table.

The A3AR is found in very low levels in most normal tissues, however it is overexpressed in peripheral blood mononuclear cells (PBMCs) of patients with various inflammatory conditions including rheumatoid arthritis, psoriasis, and Crohn's disease (Ochalon et al., 2009). The activation of A3AR appears to inhibit the production of TNF-α (McWhinney et al., 1996) and ameliorates the clinical and histopathological features of arthritis in three murine models (Baharav et al., 2005).
CF101 has been evaluated in a number of preclinical and clinical studies. No safety issues related to toxicology have been reported thus far from studying it in mice, rats, and dogs. Phase 1 clinical testing in humans showed CF101 to have linear pharmacokinetic parameters in doses up to 10 mg. Single oral doses up to 5 mg and repeated doses up to 4 mg every 12 hours were safe and well tolerated. Increased heart rate was noted after a single 10 mg dose. A dose-related increase in heart rate was noted on day 1 of the multiple dose study; however, by day 7 this effect was no longer present. Importantly, no increase in QT interval was noted with the increased heart rate. Based upon the Phase 1 studies, 4 mg twice a day was selected as the highest dose for Phase 2 studies.
CF101 Results From Clinical Trials in RA
CF101 was initially tested in a Phase 2a clinical trial evaluating three different doses in 74 RA patients: 0.1 mg, 1.0 mg, and 4.0 mg (Silverman et al., 2008). Of the 74 patients who were randomized into the study, 50 finished the trial with 24 patients withdrawing due to lack of efficacy (n=16), noncompliance (n=2), adverse events (n=3), or consent withdrawn (n=3). The primary outcome of the study was ACR20 after 12 weeks of treatment, which was 42.9%, 55.6%, and 41.7% of patients in the 0.1 mg, 1.0 mg, and 4.0 mg cohorts, respectively; however, these results were not statistically significant. Most adverse events reported were mild with the most common being headache, nausea, and rash. Interestingly, there seemed to be a correlation between A3AR expression in PBMCs and response to treatment, as shown in the following figure, suggesting that A3AR level could be utilized as a biomarker to select those patients most likely to respond to treatment.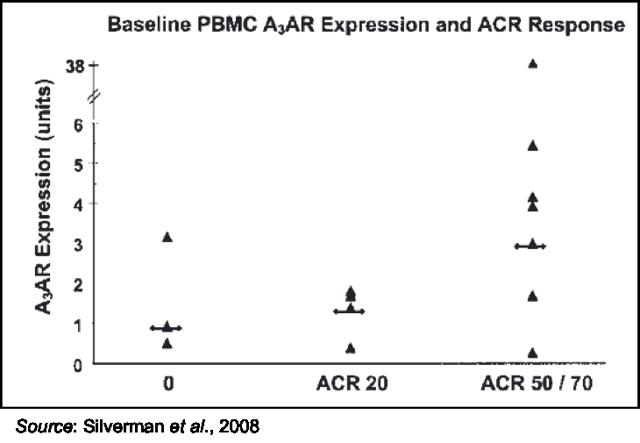 The company followed up the Phase 2a trial by conducting two separate Phase 2b trials of CF101 in combination with MTX in 230 patients and 252 patients. Both studies failed to show a statistically significant improvement in ACR20 in CF101 treated patients compared to placebo. Analysis of A3AR expression revealed a possible reason for the failure of both studies: the patients in the Phase 2b studies all showed a low level of A3AR expression, as shown in the following figure.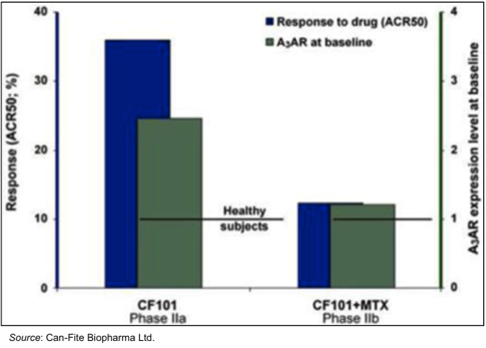 The results from the Phase 2b trials were unexpected based upon data showing that RA patients have increased A3AR expression compared to healthy controls (Madi et al., 2007). Due to the unsuccessful results using CF101 in combination with MTX, the company performed another Phase 2b study using CF101 as a monotherapy (Stoilov et al., 2014).
This was a multicenter, randomized, double blind, placebo controlled study comparing 1 mg CF101 to placebo (NCT01034306). The primary endpoint of the study was ACR20 after 12 weeks of treatment. Importantly, patients were enrolled into the study based on A3AR expression level, defined as 1.5-fold over a predetermined normal population standard. Seventy percent of screened patients were found to have high levels of A3AR. A total of 79 patients were randomized into the trial with 71 (90%) completing the 12 weeks of treatment. There was a statistically significant difference in ACR20 between CF101 (49%) and placebo (25%) treated patients (P = 0.04). ACR50 (19% vs. 9%) and ACR70 (11% vs. 3%) responses were not significant but both favored CF101 treatment. Interestingly, in a subpopulation of treatment-naïve patients (n=8 for both treated and placebo groups), the response to CF101 was much higher compared to the response of the whole population, with ACR20 of 75% and ACR50 and ACR75 of 50%.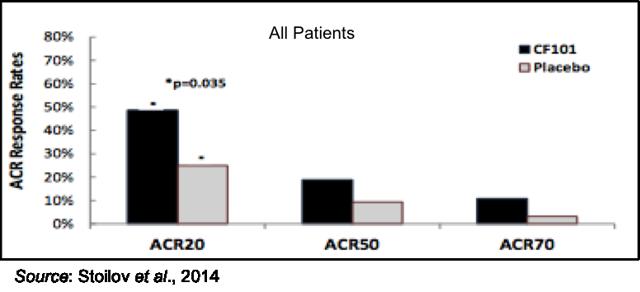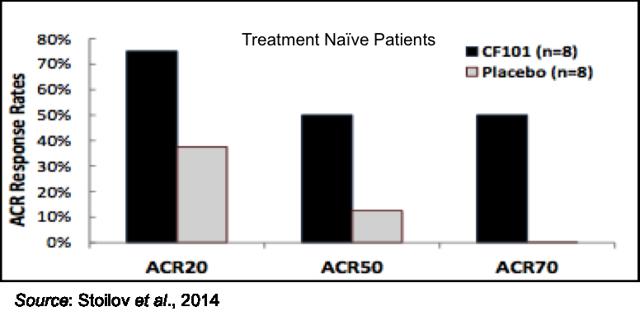 Increased expression of A3AR in patients with early RA (e.g., those who have not received treatment with DMARDs) has been noted previously (Varani et al., 2009), thus potentially explaining the increased efficacy of CF101 in that patient population. While the results seen with treatment-naïve patients are encouraging, it must be kept in mind that they were obtained from a very small number of patients (n=8). However, given the fact that treatment with CF101 was able to result in 75% of patients attaining ACR20 at 12 weeks puts it in the same company as the top-selling RA therapeutics.
CF101 Has a Benign Safety Profile
As mentioned previously, most of the current RA medications have warnings pertaining to the risk for severe infections and malignancies due to their broad immunosuppressive effects. One area where CF101 appears to be superior to the currently approved medicines is in its side effect profile. In the positive Phase 2b study, only 16.7% of patients experienced any adverse event when taking CF101 (16.2% in the placebo group), and only two adverse events were considered possibly related to CF101 (worsening in RA and rash). Similar safety results were obtained for CF101 in a Phase 2/3 trial in psoriasis patients, where only 25% of patients experienced any adverse event and no patients withdrew from the study due to an adverse event.
Next Steps for CF101 in RA
At the end of 2014, Can-Fite announced the completion of the study design for the RA Phase 3 clinical trial. It will be a multicenter, randomized, double blind, placebo controlled parallel group study that will investigate the efficacy of CF101 dosed at 2 mg and 3 mg twice a day compared to placebo for 12 weeks. Approximately 300 patients will be enrolled and the study is likely to be initiated in the first half of 2016. The doses selected for this trial fall in between the 1 mg and 4 mg doses that were utilized in the Phase 2a trial that resulted in ACR20 at 12 weeks of 56% and 42%, respectively. The company is hoping to hit the peak of the bell-shaped dose response curve with either the 2 mg or 3 mg dose.
What it All Means for Protalex and Can-Fite
Both PRTX-100 and CF101 represent novel means by which to treat RA. Each compound has shown efficacy in early and mid stage clinical trials, each has an impressive safety record (particularly in comparison to the currently available immunosuppressive agents), and each works through a unique mechanism of action that is not being targeted by the currently prescribed therapeutics. This makes both PRTX-100 and CF101 excellent candidates for use in conjunction with already approved RA medications, including both biologic treatments (Humira®, Enbrel®, Actemra®, etc.) and small-molecules (MTX, DMARDs, etc.). Alternatively, we believe that PRTX-100 and CF101 could potentially be utilized as "maintenance" therapies that are used after a certain clinical response has been met. For example, a patient may be administered an anti-TNF-α agent for a limited time frame, and since prolonged use is associated with many serious adverse side effects (as well as decreased efficacy over time), the patient could be switched to either PRTX-100 or CF101 to maintain the clinical response. Of course, the use of those agents in that setting would need to be verified in the clinic.
Protalex: Since the release of the full data set from Study PRTX-100-104, we have recommended Protalex as we believe the potential for PRTX-100 could be quite large. In order for PRTX-100 to achieve a prominent place in the RA market, it is going to be necessary for Protalex to enter into a partnership with a larger pharmaceutical company. As mentioned previously, we don't anticipate this occurring before the data from the upcoming Phase 2 study is in hand, however we are confident that, if successful, Protalex will have a number of companies wanting to collaborate as the company is designing the upcoming trial with input from a number of potential partnering companies. With data that is at least on par, if not better, than currently available therapeutics, a simple dosing regimen, and strong safety data, we estimate sales in excess of $1 billion alone are possible for PRTX-100 in RA in the U.S, which would represent an approximate 5% market share.
In addition to RA, PRTX-100 is being tested in patients with immune thrombocytopenia (NYSEMKT:ITP), a bleeding disorder characterized by bruising and increased bleeding as a result of immune-mediated accelerated destruction of platelets and impaired production of platelets. The company just announced that a Phase 1/2 trial of PRTX-100 is underway in patients with ITP. The PRTX-100-202 study is an open-label, dose escalating study that will enroll up to 36 patients in as many as six dosing cohorts. Patients will be treated with four weekly doses of PRTX-100 and then monitored for up to 48 weeks thereafter. The primary endpoint of the study is platelet response to PRTX-100, with secondary endpoints including safety, immunogenicity, and pharmacokinetics. The potential in ITP, which we peg to be around $400 million in peak sales, although significantly smaller than what we believe the drug can do in RA, is quite intriguing because ITP is an orphan indication. The company was recently awarded Orphan Drug Designation for PRTX-100 in ITP, which not only confers rock-solid market exclusivity for Protalex, it also will help to attract potential partners thanks to strong pricing and accelerated pathways to approval.
Protalex is still flying relatively under-the-radar for most biotech investors. We believe that having two clinical programs underway in 2015, one in RA and one in ITP, should help draw investor attention to the name. With a market capitalization of approximately $150 million and a stock price near $5.00, we believe an uplisting to NASDAQ is on the near-term horizon. As more investors become familiar with the Protalex story, the stock price is likely to reflect the potential we see for PRTX-100. Our financial modeling pegs the valuation around $10 per share.
Can-Fite: While the potential opportunity for CF101 in RA is quite large, we feel that there is a difficult path forward for CF101 as a stand-alone therapy. In CF101's favor, those patients with high A3AR expression level (who are easily identified) appear to respond best to treatment, treatment-naïve patients exhibited a strong response to treatment (ACR20 of 75%), CF101 is orally administered, and CF101 appears to have a very benign safety profile. The factors working against CF101 are that the RA market is highly competitive, most currently available therapeutics offer better efficacy, and there is now an orally available therapy (Xeljanz®) that is just as efficacious as the biologic treatments.
At this point, what intrigues us most about the opportunity for CF101 in RA is 1) the drug appears to be quite safe, thus based on the differentiated mechanism of action there could be an opportunity for CF101 to be used in conjunction with other therapeutics, and 2) the market is so large that even garnering a tiny piece of it could be quite lucrative. Unfortunately, using CF101 as a combo therapy is not going to be tested in the upcoming Phase 3 clinical trial, thus we will not be able to gain any insight into whether this could be a possible path forward. It appears as if Can-Fite is planning to go forward with CF101 as a stand-alone treatment for RA, however given the fact that it is a $22 billion market means that even getting 1% peak market share represents a potential $200 million opportunity.
Right now, we see the greatest risk for CF101 as being the potential for limited uptake after it hits the market as opposed to whether the drug will be approved. Given the immense competition in the RA market, we conservatively model peak market share of approximately 1%. Upside to our model is likely if Can-Fite can forge a partnership that would increase the probability of using CF101 as a combo therapy with another therapeutic in RA and/or psoriasis, thus increasing its potential peak market share.
In addition to RA, Can-Fite is developing CF101 as a treatment for psoriasis, CF102 as a treatment for hepatocellular carcinoma, and CF602 as a treatment for erectile dysfunction. Upcoming milestones for the company include the finalization of the psoriasis Phase 3 clinical trial protocol in the second half of 2015, the initiation of the CF101 Phase 3 clinical trial in RA in the first half of 2016, and the data from the CF102 clinical trial in HCC in mid-2016. We believe the shares are worth $3 and we have a 'Hold' rating on the stock, noting that this could change were the company to enter into a strategic partnership to increase the potential opportunity for CF101.
Disclosure: I/we have no positions in any stocks mentioned, and no plans to initiate any positions within the next 72 hours.
Business relationship disclosure: I work as a Consultant Analyst for Zacks Investment Research. The article is written by me and is 100% my opinion. I receive compensation from Zacks for writing equity research reports and providing valuation analysis on this company's stock and expect to do so in the future. Zacks receives compensation from the company. Please see the Zacks Disclaimer for further information: http://scr.zacks.com/Disclaimer/default.aspx
Editor's Note: This article covers one or more stocks trading at less than $1 per share and/or with less than a $100 million market cap. Please be aware of the risks associated with these stocks.