Chipotle (NYSE:CMG), the Mexican fast casual restaurant success story and investor darling, recently reached a new all-time high of $758.61. This is in spite of a reasonably lukewarm Q2 where comps growth slowed to 4.3% - investors seemed to look past the weak headline number and focus on the imminent return of carnitas after CMG secured a new pork supplier during the quarter, and the announcement of targeted price increases in certain markets.
Although the stock is off a little from its recent high, it still trades at an extremely rich valuation, with a trailing P/E multiple of around 44. Is the market valuation justified? I don't believe so. The market appears to be significantly overestimating Chipotle's future growth opportunities and underestimating the competitive pressures it faces, both domestically and internationally.
Below, I attempt to quantify the market opportunity for Chipotle, and based on these estimates, my DCF valuation points to Chipotle being at least 30% overvalued.
How big is the domestic opportunity for Chipotle?
As of the second quarter, CMG had 1,878 locations, of which 1,847 are within the US. Management and analysts have historically sized the domestic market opportunity at around 3,000 to 3,500 units. More recently, management has been talking up the potential for as high as 4,000 restaurants domestically with the possibility of another 500-1,000 units from a new, smaller format, takeout-only concept (which would have lower revenue per unit than the traditional format locations).
There is certainly reason to be skeptical of management and sell-side analysts' ever-escalating market opportunity estimates. Both are under pressure to attempt to justify an incredibly lofty valuation that is predicated on significant future growth.
Frequently, investors seem to compare Chipotle to much larger restaurant peers and extrapolate the potential market opportunity without taking into account the company's very high average check, which is far in excess of every other restaurant concept with over 3,000 locations domestically.
One common theme of the largest restaurant chains in the US is that the food is typically inexpensive. Conversely, for a large subset of American's eating regularly at Chipotle simply isn't economically viable. Chipotle locations need a critical mass of diners affluent enough to afford to pay an average check that is more than twice that of many of its larger restaurant peers - something that is inevitably going to limit its potential growth domestically.
A reasonable estimate of the domestic opportunity based on management's guidance and benchmarking comparables is probably somewhere in the range of 3,000-4,000 units.
International - Chipotle is being outpaced by local copycats
Historically, international growth for CMG has been underwhelming. Between 2010 and 2014, the company has added a total of 699 restaurants, of which only 14 were outside the US (see table below). That equates to around 2% of unit growth coming from international locations. At face value, certainly nothing to get excited about.
| | | | | | |
| --- | --- | --- | --- | --- | --- |
| Unit Count (year end) | 2010 | 2011 | 2012 | 2013 | 2014 |
| Canada | 2 | 2 | 5 | 7 | 7 |
| France | | | 1 | 2 | 3 |
| Germany | | | | 1 | 1 |
| UK | 1 | 2 | 5 | 6 | 6 |
Source: Company filings
In general, it has made perfect sense for Chipotle to focus on domestic growth, where the ROI is likely much better than expanding to international locations. The problem is that in every international market where the Chipotle concept is likely to have even modest traction there are already established players who have copied the Chipotle concept; and they are growing much faster than CMG in their home markets.
Examples abound:
In London, Tortilla (27 locations), Benito's Hat (9 locations), Chillango (8 locations) and Poncho 8 (7 locations) are all already outpacing Chipotle.
In Canada, Mucho Burrito already has over 80 locations.
In Australia, Mad Mex and Guzman y Gomez have close to 100 locations combined.
Due to its focus on domestic expansion, Chipotle has lost the first-mover advantage internationally. The company is effectively a victim of its own success; enterprising locals have already established successful copycat concepts, leaving little or no room for CMG to gain a foothold. Chipotle's Food with Integrity mantra also presents additional supply chain challenges for international expansion, which may have contributed to local incumbents being able to get out in front of CMG in other markets.
The global market opportunity for Mexican food outside the US is limited
The lack of success internationally is not particularly surprising. Most successful restaurant chains never manage to achieve large-scale international expansion. There are less than 10 US restaurant brands globally with more than 1,000 international locations, and the food at every one of these (burgers, pizza, coffee, subs and fried chicken) has far more widespread appeal across cultural boundaries relative to burritos and tacos. Taco Bell's checkered history of international expansion (currently, it has 5,800 locations in the US, but only about 250 internationally) should highlight for investors the risk of overestimated Chipotle's global appeal.
Additionally, the very high average check at CMG likely makes any meaningful emerging market expansion out of the question.
What about Chipotle's other concepts?
Since 2011, the company has started expanding into other fast casual concepts via ShopHouse Southeast Asian Kitchen and its investment in Pizzeria Locale. Growth at both concepts has been underwhelming with a total of only 11 restaurants opened between 2011 and 2014.
| | | | | |
| --- | --- | --- | --- | --- |
| Locations | 2011 | 2012 | 2013 | 2014 |
| ShopHouse | 1 | 1 | 6 | 9 |
| Pizzeria Locale | 1 | 1 | 1 | 2 |
Source: Company filings
It is highly unlikely that either of these concepts are the "next Chipotle", or that they will ever grow to a size that will ultimately move the needle for shareholders in terms of valuation.
In the case of ShopHouse, the concept is simply too niche. For Pizzeria Locale, the problem is irrelevance in the face of much larger and faster growing competitors in the hyper-competitive fast casual pizza market.
The addressable market for ShopHouse is small
Asian food is clearly a far more niche market in the US than burritos. The largest "Asian" restaurant concept in the US is Panda Express, with about 1,700 units and with average sales per restaurant about half that of Chipotle. Panda Express is probably ranked around 20 in terms of overall sales for restaurants chains in the US and the next largest chains serving Asian fare - Noodles & Co. (NASDAQ:NDLS), P.F. Chang's, Pei Wei and The Flame Broiler - are all a small fraction of the size of Panda Express.
Now consider that:
Southeast Asian cuisine is far more esoteric than the "American Chinese" cuisine of Panda Express and most of the other largest Asian concepts, with flavors and ingredients totally unfamiliar to a large subset of Americans.
The average check at ShopHouse (which is comparable to Chipotle) is higher than Panda Express which will shrink the addressable market even further.
Even if ShopHouse ultimately becomes the preeminent Southeast Asian fast-casual concept in the US, the market is probably too small to provide much of a boost to Chipotle's $22 bn market valuation.
Fast casual pizza is a threat, not opportunity
Chipotle invested in the fast-casual pizza concept, Pizzeria Locale in 2013. The concept started with one location in August 2011, and as of writing, has 3 restaurants with one new location planned for Cincinnati. That works out at a run rate of less than one new location a year - which is almost comical when you look at the explosive growth of other fast-casual pizza chains over the last several years:
The number of fast-casual pizza chains that are both larger and growing faster than Pizzeria Locale runs well into double digits. At best, Pizzeria Locale is very likely an also-ran in an extremely crowded fast-casual pizza market and investors hoping that Pizzeria Locale will be the "Chipotle of Pizza" are setting themselves up for disappointment.
Not only is it evident that in such a crowded field Pizzeria Locale is likely already irrelevant, but also the massive proliferation of fast casual pizza restaurants presents a clear long-term market share threat to Chipotle. Pizza is hugely popular with Americans (far more so than Mexican food), and with fast-casual pizza concepts expanding at an impressive clip, it seems inevitable that they will start to pressure Chipotle's market share in fast casual.
Addressable market estimate
In my DCF valuation model, I estimate CMG will grow to around 3,600 locations globally over the next 10 years across all concepts. If we assume a Compound Annual Growth Rate (CAGR) of around 2.25% for a further 10 years, that would give an ultimate location count of around 4,600 (20 years from now).
We can use any number of permutations to apportion this amongst domestic, international and other concepts. If we assume:
A domestic unit count of 3,500.
International units at 10% of the domestic unit count (350), which is over twice the international penetration of Taco Bell (~4.5%).
That would equate to approximately 750 unit across ShopHouse and Pizzeria Locale, which seems extremely optimistic given their growth prospects as discussed above.
The rate of unit growth at Chipotle will continue to slow
Although the absolute number of new locations Chipotle opens each year continues to increase, unit growth in percentage terms has been declining consistently for the last several years. Even with the number of new restaurants this year forecast to be at high end of guidance (205), this would still equate to only 11.5% growth - the lowest on record.
Lower percentage unit growth will continue to be a drag on overall growth going forward. This is likely to be exacerbated as CMG starts to approach saturation in the US and finding suitable locations becomes increasingly difficult. Accordingly, I am forecasting unit growth to continue to slow over the next 10 years at a rate comparable to the last several years, as shown below: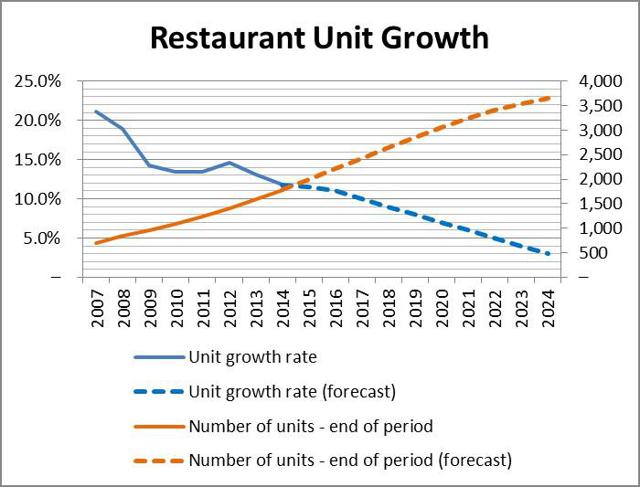 Source: Company filings, my forecast
Return on capital is impressive, but likely to fall over time
Chipotle has historically earned a phenomenal return on capital. Not only is it very high by industry standards, but it has also been consistently increasing for the last 8 years. In the peer group sample below, you can see that only Starbucks (NASDAQ:SBUX) earns a higher Return on Invested Capital (ROIC) than Chipotle.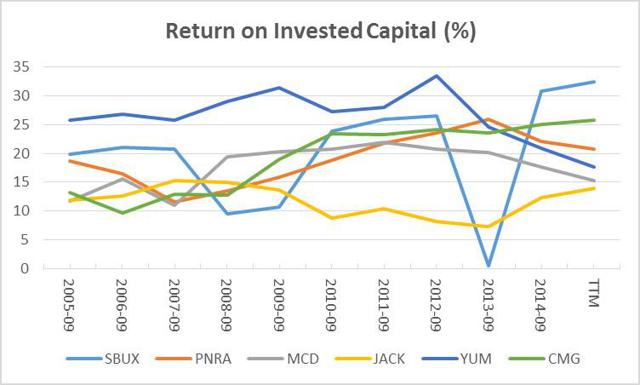 Source: Morningstar
However, this measure of return on capital includes non-operating assets such as excess cash and investments in the Invested Capital calculation, which biases down ROIC for companies with high excess cash balances, such as Chipotle.
The chart below shows cash and short-term investments as a percentage of assets, for the same peer group: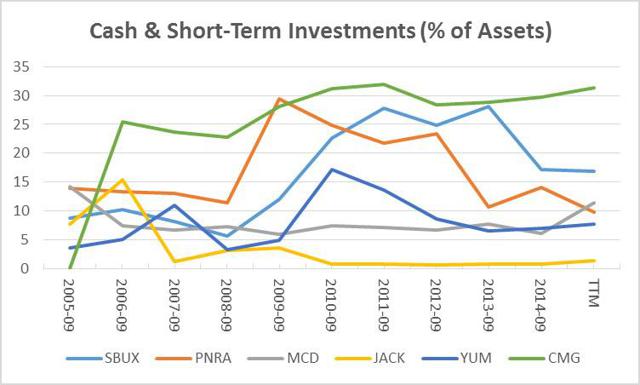 Source: Morningstar
A better measures of ROIC is one that excludes non-operating assets like Excess Cash & Investments from Invested Capital, defined as:
Excess Cash & Investments = Total Cash & Equiv. + Short & Long-term Investments - Operating Cash
Invested Capital [operating] = Shareholder Equity + Debt - Excess Cash & Investments
In the case of Chipotle, I assume Operating Cash to be 4% of revenue in deriving Excess Cash & Investments.
We can then define Non-cash ROIC as:
Non-cash ROIC = Operating Profit x (1 - tax rate) / average Invested Capital [operating]
Very low capital investment for new locations since the global financial crisis and strong profitability means Chipotle has been able to earn a phenomenal (and increasing) ROIC on new locations over the last few years. The company's non-cash ROIC far outpaces all its peers by a wide margin and reached 52.5% in 2014. For the trailing twelve months, non-cash ROIC is a staggering 59.6%.
However, making valuation assumptions on the basis that Chipotle can sustain such a nosebleed ROIC (on both an absolute basis and relevant to more mature peers) indefinitely is dangerous, and there are a number of reasons to believe ROIC will fall over time.
Return on capital typically peaks after Chipotle increases prices
Chipotle is now lapping the 2014 nationwide price hikes, which have boosted revenue, margins and return on existing capital. Return on capital has historically trended down after lapping price increases as cost inflation starts to eat into peak margins. Although Chipotle has been instituting small price increases on steak and barbacoa (4%) and in select markets such as San Francisco with higher labor costs, it seems unlikely that Chipotle will implement further broad-based price increases in the near term.
Resurgent wage inflation will likely impact margins
Since the global financial crisis, significant slack in the labour market has meant that wage inflation has been virtually non-existent over the last several year. Recent comments from the industry show that this is now beginning to change:
Recently, co-CEO Moran commented, "The economy has been thawing, more restaurants are opening, and there are fewer job applicants than there were several years ago."
Wendy's (NYSE:WEN) CFO has categorized increasing wage pressure and hiring challenges as a "War on Talent."
Buffalo Wild Wings (BWLD) CEO sighted "availability of labor and increasing pressures on wages" over the next 3-5 years as his number one concern on the most recent earnings call.
Wage pressure is resulting not just from recent minimum wage increases across a number of states, but from increased competition in the labour-intensive restaurant industry and from other sectors such as retail. Recently major retailers such as Target (NYSE:TGT) and Wal-Mart (NYSE:WMT) have announced minimum wage increases, to $10 an hour from next year in the case of Wal-Mart.
Chipotle has historically been able to pass on increased costs via menu price increases, but rapidly increasing competition in the fast casual space may mean it is less successful at doing so in the future.
The ROI for new units will be lower than for existing units
Newer Chipotle restaurants are increasingly in more marginal locations, as the more affluent, high density urban areas that CMG traditionally relies on to drive its very high average restaurant sales numbers start to reach saturation. This will mean a lower return on capital for these new locations relative to the company average.
Return on capital tends to converge towards the industry average over time
As demonstrated above, the company's non-cash ROIC is impressively high relative to its more mature peers. However, as a company matures, ROIC will typically converge towards the industry average over time. It is certainly conceivable that Chipotle may continue to command the best non-cash ROIC in the industry, but the combination of:
Lower returns from new capital investment, and
increasing competition from new fast casual concepts pressuring return on existing capital...
...more or less guarantees that the gap will narrow over time (let's not forget - they are making burritos, not iPads).
Accordingly, I am forecasting non-cash ROIC to peak in 2015 on the back of recent menu price increases, before falling steadily over the explicit forecast horizon to a still very impressive 50% in 2024, which is only marginally below the 52.5% achieved in 2014. This would still equate to by far the highest non-cash ROIC of any restaurant chain of comparable size in the US.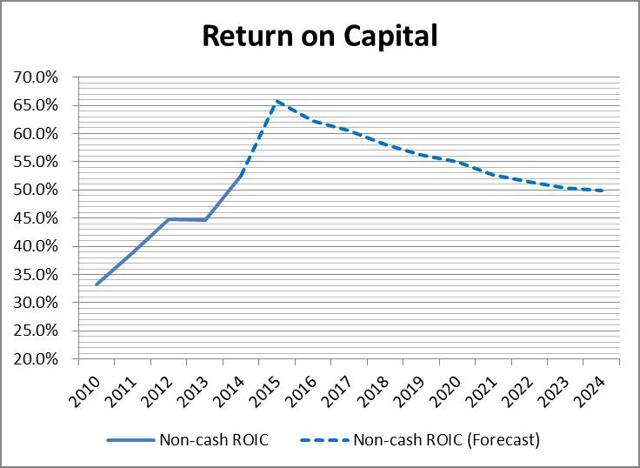 Source: Company filings, my forecast
The forecast drivers of declining non-cash ROIC are lower Restaurant-level Operating Margins (offset somewhat by lower G&A expenses) and slowing average restaurant unit sales growth: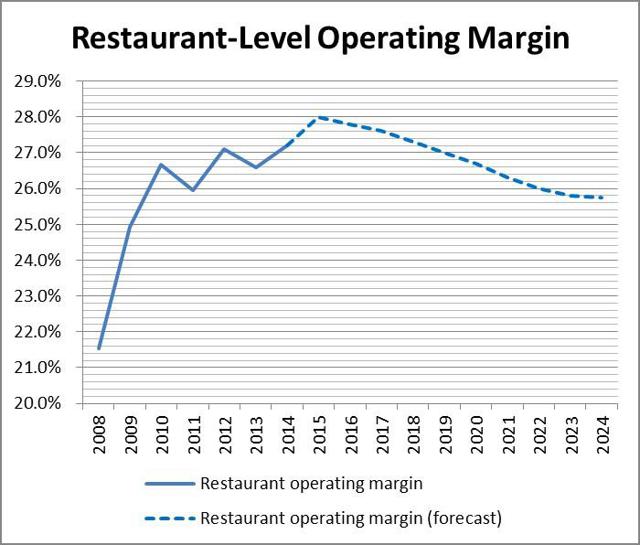 Source: Company filings, my forecast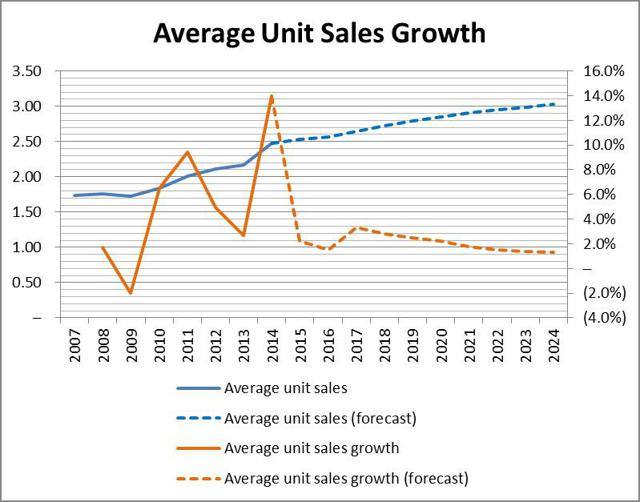 Source: Company filings, my forecast
DCF valuation with above assumptions implies at least 30% downside
The Discounted Cash Flow (NYSE:DCF) model below attempts to estimate Chipotle's value based on the assumptions outlined above. The following additional key assumptions were used in the model:
A discount rate of 7.6%.
Terminal value after the explicit forecast period based on a Free Cash Flow Multiple of 22.1 (which equates to a P/E Multiple of ~20).
Cost inflation for new unit capex of 3.5% per year.
An operating cash tax rate of 38.7%.
Though I consider the estimates outlined above regarding CMG's addressable market and growth to reasonably generous (particularly in regard to the ultimate unit count of 4,600), it still leads to a per share valuation estimate of $548 - that equates to a valuation 32% lower than the stock price as of Wednesday's close.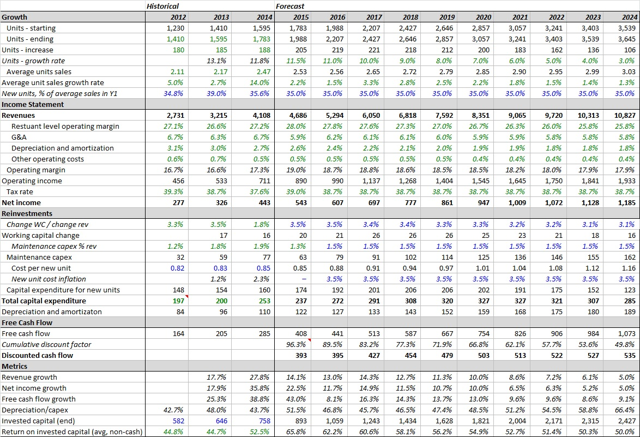 | | |
| --- | --- |
| Discount Rate | 7.6% |
| PV Operating Assets (Growth Phase) | 4,214 |
| Free Cash Flow Exit Multiple | 22.1 |
| P/E Exit Multiple | 20.0 |
| PV Operating Assets (Terminal) | 11,816 |
| Non-operating, net | 1,254 |
| Total Value | 17,285 |
| Shares | 31.52 |
| Per Share Value | 548 |
| Current Share Price | 724 |
| Premium to Valuation | 32.0% |
Revenue and net income growth implied by the model is shown below: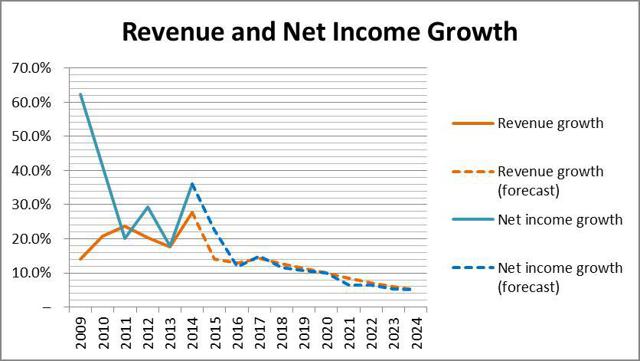 Source: Company filings, my forecast
This illustrates just how much Chipotle shareholders are paying up for future growth. Even if (as implied above) CMG can growth its global unit count by 2.5x over the next 20 years and maintain a return on capital far above that of its restaurant peers, it is still significantly overvalued.
Conclusion
Chipotle is undeniably a fantastic fast-casual success story, but the sky-high valuation for a premium-priced concept with limited prospects outside the core US domestic market means investors are leaving themselves extremely vulnerable to the stock being re-rated once it hits home that the addressable market simply isn't big enough to justify the current valuation.
Frequently, the market offers up cautionary tales for investors who bid up companies with premium priced offerings to unsustainable levels, on the assumption that the addressable market is a lot larger than it actually is. Keurig Green Mountain (NASDAQ:GMCR), having lost over 60% of its market value since the start of the year, is one recent example.
Inevitably, once clear signs appear that growth is starting to slow, the market reaction will be swift and painful. Though the timing of such indicators are always far from certain, there are two near-term risks that I believe may be potential catalysts for the stock to head lower in the short term:
Slowing revenue growth and lower restaurant-level margins on the back of lapping the 2014 nationwide price increases, and
the end of the carnitas shortages at Chipotle does not result in the boost to traffic that shareholders seem to be hoping for.
Certainly other catalysts are possible, but it's mostly a question of when, not if the market catches on that trees simply don't grow to the sky.
Disclosure: I am/we are short CMG.
I wrote this article myself, and it expresses my own opinions. I am not receiving compensation for it (other than from Seeking Alpha). I have no business relationship with any company whose stock is mentioned in this article.