While not the most optimistic data, the final reading on initial jobless claims for the month of August suggests that levels are much the same as July but still at historic lows. For the week ended August 29, the Department of Labor noted that initial jobless claims increased by 12,000 to a total of 282,000, which is well above the high-end of consensus estimates and is the highest reading since early July.
This is visually expressed in the chart below, where the total number of new claims is roughly the same as late-June, early-July.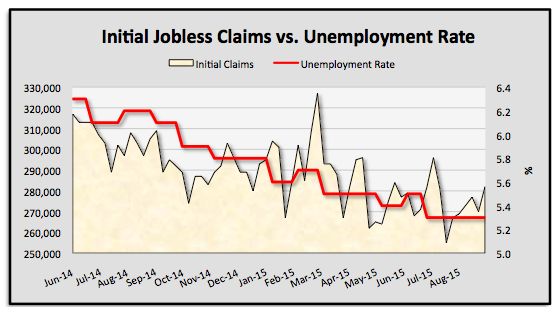 The rolling 4-week average also increased slightly by 3,250 claims for a total of 275,500, and this level was last seen in mid-July. However compared to the same period a month ago, the number of initial claims has risen by 5,000, which is not very encouraging for the August jobs report.
Lagging by a week, continuing jobless claims actually declined by 9,000 in the week of August 22 for a total of 2.257 million. This makes the 4-week rolling average about 1,000 claims lower at 2.264 million. Although the 4-week average is lower, continuing claims are still about 25,000 higher than the same period a month earlier. As was the case for the past few weeks, the unemployment rate for insured workers remains very low at 1.7%.
Since we are still between major holidays and there are no big weather-related factors, the jobless claims reports of the past few weeks are free of any influential data. Stock market volatility, much to the surprise of some, has had little-to-no impact on the labor market. However, given that much of the data is now roughly the same as the prior month, I am still not banking on a very robust jobs report for the month of August.
Disclosure: I/we have no positions in any stocks mentioned, and no plans to initiate any positions within the next 72 hours.
I wrote this article myself, and it expresses my own opinions. I am not receiving compensation for it (other than from Seeking Alpha). I have no business relationship with any company whose stock is mentioned in this article.