I'm a sucker for a good gadget, but investors considering putting their money into Luminex (NASDAQ:LMNX) may want to take a closer look at the business model and the current expectations. While Luminex does indeed have an interesting story to tell and growth potential in molecular diagnostics, valuation leaves little room for error.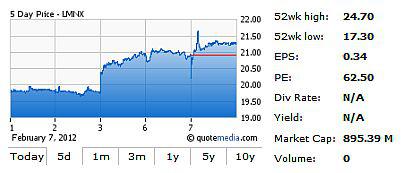 A Quarter That Came In As Expected
For better or worse, there weren't a lot of surprises in Luminex's final quarter of the year. Overall revenue growth was as expected at 16%, though there was a little less in the consumables (down 16%) and royalties (up 17%) than investors may have wished. Although the company made up for that with strong assay sales (up 28% organically) and stable system revenue (up 1%), these are generally lower-margin businesses for the company.
Not surprisingly, then, gross margin did drop about a point and a half from last year. That puts Luminex in relatively good company with other life science companies like Illumina (NASDAQ:ILMN), Gen-Probe (NASDAQ:GPRO), and Cepheid (NASDAQ:CPHD). Unfortunately, those benefits get lost along the way - reported operating income fell almost one-quarter and even adjusted operating income was up a less-than-impressive (albeit expected) 8%.
The Story Remains The Same - Unpredictability And Volatility
Luminex is unusual in the extent to which it has formed a huge number of partnerships with companies that it should otherwise consider major rivals (including Bio-Rad (NYSE:BIO), Abbott Labs (NYSE:ABT), and Becton Dickinson (NYSE:BDX)). The upshot is that this has allowed the company to get a much larger number of systems and products in the field than the company could have otherwise done on its own.
But there is also a cost to that strategy, and the lack of control of its revenue stream is a big one. Luminex's consumables (the beads that make the systems work) are high-margin and proprietary. However, ordering patterns have long been erratic and unpredictable - subject to the inventory management, sales projections, and execution of major partners like One Lambda and Bio-Rad.
Likewise, royalty revenue is difficult to predict or control. Royalties depend upon development timelines and sell-through - something that Luminex cannot control and may not even be completely informed of in real time. Investors may also want to ask why the royalty rate that Luminex charges has not appreciated significantly over the years.
Assays And Biodefense Are Real Opportunities, But Timing Is An Issue Here As Well
Another of the down sides to Luminex's model is that its royalty and partnership agreements have effectively walled off certain high-potential areas of molecular diagnostics. Nevertheless, the company has been working to exploit the opportunities left to it.
The company's respiratory virus panel is a solid grower and the cystic fibrosis panel has garnered meaningful share. Longer term, the acquisition of EraGen should pay dividends in allowing the company to penetrate the far larger installed base of real-time PCR systems. In the meantime, however, there are also concerns. Luminex has been slow to develop its pipeline and there are concerns that a change to reimbursement for CF testing will reduce the revenue opportunity.
On the biodefense side, the company has partnered with Northop Grumman (NYSE:NOC) for a rapid detection and alert system to bioterrorism attacks. So far it looks like this partnership is in the lead for a contract that could be worth over $400 million, but investors should remember that it has taken about 10 years for the plan to get this far, even though it has generally enjoyed good support in Congress and between Presidential administrations.
2012 Could Be Optically Tough
At this point, Luminex investors probably feel that I'm bashing the company and don't like it. That's actually not the case. I think the company's xMAP technology is ingenious and I don't think the company gets nearly enough credit from bears for how well it has done so far in clinical diagnostics (an area that Illumina has yet to really penetrate). I also think Luminex derives a perhaps counter-intuitive benefit from being small enough to garner meaningful revenue growth by addressing markets too small to really get focused attention from larger rivals.
The issues right now, though, are expectations and optics. Because of an inventory management adjustment at One Lambda (a major customer), year-on-year comps are going to be very tough in consumables. Moreover, there is a fairly constant drumbeat from bears that this is a system with limited potential and that has already penetrated as far as it can in diagnostic labs and hospitals. Without gaudy numbers to post, there is a risk that institutions shift their love to other fast-movers in the life sciences space like Cepheid, Sequenom (NASDAQ:SQNM) and Gen-Probe.
The Bottom Line
The trouble with Luminex right now is that it's model burdens it with a sizable lower-margin OEM business and it cannot really control or stimulate demand for higher-margin consumables and royalties. At the same time, development timelines in the high-potential assay business have been frustratingly long.
At today's price, Luminex has to deliver a decade of better than 15% compound free cash flow growth just to be fairly priced. Although bulls see a future where Luminex collects royalties and sells consumables to serve a wide array of xMAP-based tests and assays, that's still a high bar to surmount. I'd happily reconsider the stock at a lower price, but for today, Luminex (like Cepheid and Gen-Probe) is just too expensive for what it offers.
Disclosure: I have no positions in any stocks mentioned, and no plans to initiate any positions within the next 72 hours.