It was recently announced that President Obama had secured enough votes to Veto any potential opposition to the Iran Nuclear Deal. Further, yesterday, Secretary of State John Kerry sent a letter to Congress stating that Israel and America's Gulf allies would be "taken care of." According to the letter, this would be accomplished with "increased US military intelligence, and security cooperation."
As part of this cooperation, Israel will be the first to receive the American made next-generation F35 fighter aircraft in 2016. Also, $3 billion will be used to enhance and secure Israel's missile defense programs, including the Iron Dome, David's Sling, and Arrow-3 systems. Further, the letter states, "the US administration recently offered Israel a $1.89 billion munitions resupply package that will replenish Israel's inventories and will ensure its long-term continued access to sophisticated, state of the art precision guided munitions." Lastly, it was revealed that the US will assist Israel with "tunnel detection and mapping technologies" that terrorists use to attack the civilians.
It is not just Israel that will be receiving assistance, the Gulf States, including United Arab Emirates (UAE), and Saudi Arabia will "receive arms shipments and new security deals." The goal of the administration is to improve "ballistic missile capabilities in the region," according to the letter. These military and cooperation assistance measures are designed to deter any Iranian "aggression against any GCC member state."
Who makes these defense items?
So with all this promised assistance, the question to ask is, who makes these defense items? Zacks has identified three companies that will directly benefit from this policy, and one potential long-term sleeper that could see some impressive growth a bit down the road.
Stocks To Consider
Lockheed Martin Corp (NYSE:LMT) which carries a Zacks Rank #2 (Buy) a security and aerospace company, engages in the research, design, development, manufacture, integration, and sustainment of technology systems, products, and services. It also provides management, engineering, technical, scientific, logistics, and information services. Its Aeronautics segment offers combat and air mobility aircraft, unmanned air vehicles, and related technologies. The company's Information Systems & Global Solutions segment provides technology systems and expertise, integrated information technology solutions, and management services; and supports customers in data analytics, cyber security, air traffic management, and energy demand management.
The company recently announced a $1.5 billion U.S. missile defense contract which includes deliveries of the PAC-3 and PAC-3 MSE interceptors, associated equipment and spares for GCC members like Saudi Arabia, Qatar, and United Arab Emirates (UAE). According to Lockheed's VP Scott Arnold, "The PAC-3 and the PAC-3 MSE interceptors are the most advanced, capable and reliable terminal air defense missiles in the world." Further, Lockheed Martin manufactures the F-35 Lightning aircraft. Given that Lockheed is already in the Gulf States, they are uniquely positioned to take advantage of Secretary Kerry's promises to the GCC members.
The table below shows Lockheed vs. the S&P 500 over the past 3 months. As you can see, this defense stock has outperformed the index, and has actually risen during the recent negative downturn.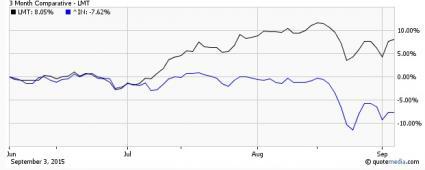 General Dynamics (NYSE:GD), which carries a Zacks Rank #2 (Buy), operates as aerospace and defense company worldwide. It operates through four business groups: Aerospace; Combat Systems; Information Systems and Technology; and Marine Systems. The Aerospace group designs, manufactures, and outfits business-jet aircrafts; provides aircraft services, such as maintenance, repair work, fixed-based operations, and aircraft management services; and performs aircraft completions for aircraft. The Combat Systems group is involved in the systems engineering, spanning design, development, manufacture, and support of military vehicles, weapons systems, and munitions. The Information Systems and Technology group provides technologies, products, and services that support a range of military, federal/civilian, and commercial information-system needs. The Marine Systems group designs, builds, and supports submarines and surface ships for the U.S. Navy and Jones Act ships for commercial customers.
Earlier this year, Israel signed a $310 million contract with GD to produce kits for its Namer, a heavy duty troop carrier. Further, General Dynamics is one of the top munitions suppliers in the world, so like Lockheed, General Dynamics is uniquely positioned to take advantage of the aid announced by the administration. Further, the ability to provide new technologies through their Systems and Technology group could potentially help with tunnel detection as well.
The table below shows General Dynamics's performance against the S&P 500 over the past three months.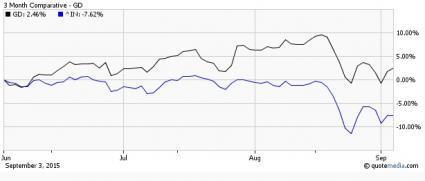 Northrop Grumman (NYSE:NOC), which carries a Zacks Rank #2 (Buy) is a high technology company providing innovative solutions in systems integration, defense electronics and information technology for its U.S. and international military, government and commercial customers, as a prime contractor, principal subcontractor, team member or preferred supplier. The company operates in four major segments; Aerospace Systems, Electronic Systems, Information Systems, and Technical Services.
Specifically, Northrop Grumman is a principal member of the Lockheed Martin led industry team for the F-35. According to management, "Northrop Grumman plays a critical role in the development, demonstration and production of this multirole fighter." Further, Northrop's Information Systems segment is also well positioned to take advantage of several aspects of the agreement with Israel, and the GCC members.
As you can see in the table below, Northrop Grumman has outperformed the S&P 500 over the past three months.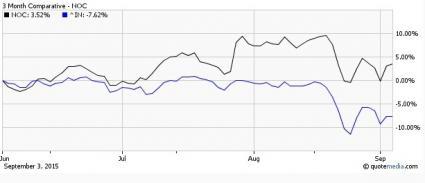 Lastly is the long-term sleeper, Raytheon Co. (NYSE:RTN), which currently carries a Zacks Rank #4 (Sell), is a global technology company. The company provides products and services in the areas of defense and commercial electronics, engineering and construction, and business and special mission aircraft. Raytheon has operations throughout the United States and serves customers in numerous countries around the world. Raytheon is divided into three segments; Integrated Defense Systems, Missile Systems, and Intelligence Info & Services segment.
In mid-2014, it was announced that Raytheon would be the major U.S. partner in co-production of major components for the Iron Dome's Tamir intercepting missile. Also, David's Sling is developed by Rafael (an Israeli defense company) along with Raytheon, as a sub-contractor. So Raytheon works on 2/3rds of Israel's missile defense systems.
The reason for Raytheon's Sell rank is the recent acquisition of Websense for $1.9 billion. Websense helps protect companies from cyber-attacks and data theft. According to management, Raytheon will combine Websense with its own cybersecurity operations. But management had to lower its 2015 EPS guidance due to the acquisition. On the positive, the Integrated Defense and Missile Systems segments saw sales guidance increased for 2015, but Intelligence Info & Services decreased due to the Websense acquisition. So when Websense is fully integrated, there seems nothing will be holding them back.
As you can see, like our other Defense companies, Raytheon has outperformed the S&P 500 of late, especially during the recent market downturn.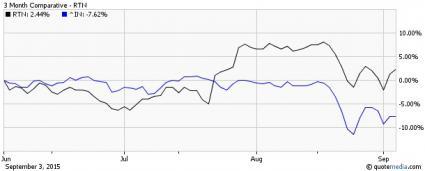 Bottom Line
Each company mentioned is uniquely positioned to take advantage of the recent military and logistic aid promised by Secretary of State John Kerry. Further, in their most recent quarter, Lockheed Martin, General Dynamics, and Raytheon all beat both the Zacks Consensus Earnings and Revenue estimates while Northrop Grumman beat the Zacks Consensus Earnings Estimate, and just missed the Zacks Consensus Revenue estimate.