Overview
After previously covering the top dividend growth stocks in the Utility, REIT and Industrial Sectors, this series now moves on to the Consumer Staples to find the best opportunities for income investors at current market prices.
The Consumer Staples are widely appealed to by income investors because they are represented by some of the great blue chip stocks in the market. Companies like Altria, Coca-Cola, Colgate-Palmolive and Procter & Gamble have been paying reliable and growing dividends for the last 40+ years. These types of companies tend to have high-quality balance sheets and are more resistant to downturns as they produce everyday products that are needed by people regardless of economic conditions.
The perception of staples being a safe haven leads to many companies in the sector trading at rich valuations, which can make it difficult to find attractive entry points for new investors. In comparison with the previous sectors that have been highlighted, the consumer staples still have relatively few companies trading below fair value.
This is surprising, because as this article is being written, the market is down roughly 10% from 52-week highs and many of the companies on the list have seen a significant pull-back in share price. Of the 25 companies on the watch list, nine have seen better then 10% declines, and two have seen better than 20% drops.
However, even with the across-the-board drop in prices, just Archer Daniels Midland Company and Hershey are currently trading below my targeted "fair value" levels.
The Watch List
We'll look at those valuation numbers in more detail further below, but first let's take a look at the companies that made the initial watch list. This list was sourced primarily from David Fish's U.S. Dividend Champions List, which is a spreadsheet that he updates monthly to provide information on the companies that have grown dividends for the last 5+, 10+, and 25+ years.
For this list I required an investment grade credit rating, with a minimum S&P rating of BBB-. I also looked for companies that have shown a history of reliable and repeatable earnings growth. I did not set a minimum yield requirement for the list, but for the purposes of keeping the watch list at a manageable 25 stocks, some lower yielding companies such as Kroger and Brown-Forman did not make the cut.
Here are the finalists for consideration, along with their current prices in relation to 52-week highs.
| | | | | | | | | | |
| --- | --- | --- | --- | --- | --- | --- | --- | --- | --- |
| Company | Ticker | Sub Sector | # Years Div. Inc. | S&P Credit Rating | Debt / Cap | Market Cap (B$) | Share Price 9/03/2015 | 52-Week High | % Below 52-Wk High |
| Altria Group | (NYSE:MO) | Tobacco | 45 | BBB+ | 77% | $104.2 | $53.60 | $56.69 | -5.45% |
| Archer-Daniels-Midland | (NYSE:ADM) | Agricultural Products | 40 | A | 23% | $26.6 | $43.75 | $53.91 | -18.85% |
| Church & Dwight | (NYSE:CHD) | Consumer Products | 19 | BBB+ | 22% | $11.1 | $86.03 | $90.73 | -5.18% |
| Clorox Company | (NYSE:CLX) | Consumer Products | 38 | BBB+ | 77% | $14.2 | $111.34 | $119.75 | -7.02% |
| Coca-Cola Company | (NYSE:KO) | Soft Drinks | 53 | AA | 35% | $169.2 | $39.15 | $45.00 | -13.00% |
| Colgate-Palmolive Company | (NYSE:CL) | Consumer Products | 52 | AA- | 83% | $56.0 | $62.92 | $71.56 | -12.07% |
| Costco Wholesale | (NASDAQ:COST) | Retail - Wholesale | 12 | A+ | 28% | $61.7 | $140.48 | $156.85 | -10.44% |
| CVS Health Corp. | (NYSE:CVS) | Retail - Drug Stores | 12 | BBB+ | 23% | $112.7 | $101.60 | $113.65 | -10.60% |
| Dr Pepper Snapple Group | (NYSE:DPS-OLD) | Soft Drinks | 6 | BBB+ | 43% | $14.6 | $76.95 | $83.57 | -7.92% |
| Flowers Foods | (NYSE:FLO) | Food Processing | 14 | BBB- | 34% | $4.9 | $23.71 | $24.47 | -3.11% |
| General Mills | (NYSE:GIS) | Food Processing | 12 | BBB+ | 49% | $34.1 | $57.61 | $59.87 | -3.77% |
| Hershey Company | (NYSE:HSY) | Confectioners | 5 | A | 42% | $14.1 | $90.24 | $111.35 | -18.96% |
| Hormel Foods Corp. | (NYSE:HRL) | Food Processing | 49 | A | 6% | $16.0 | $61.18 | $64.13 | -4.60% |
| The J.M. Smucker Co. | (NYSE:SJM) | Food Processing | 18 | BBB | 44% | $13.8 | $116.88 | $120.65 | -3.12% |
| Kellogg Company | (NYSE:K) | Food Processing | 11 | BBB+ | 57% | $23.6 | $67.34 | $69.89 | -3.65% |
| Kimberly-Clark Corp. | (NYSE:KMB) | Consumer Products | 43 | A | 66% | $38.2 | $105.64 | $119.01 | -11.23% |
| The Kraft Heinz Co. | (NASDAQ:KHC) | Food Processing | 0 | BBB- | 47% | $87.4 | $72.16 | $81.20 | -11.13% |
| McCormick & Company | (NYSE:MKC) | Food Processing | 29 | A- | 25% | $10.1 | $80.08 | $85.30 | -6.12% |
| Mead Johnson Nutrition | (NYSE:MJN) | Consumer Products | 7 | BBB+ | 65% | $15.6 | $77.36 | $105.45 | -26.64% |
| PepsiCo Inc. | (NYSE:PEP) | Snacks/Soft Drinks | 43 | A | 48% | $134.6 | $92.13 | $100.76 | -8.56% |
| Phillip Morris International | (NYSE:PM) | Tobacco | 7 | A | 141% | $121.9 | $79.43 | $90.25 | -11.99% |
| Proctor & Gamble Co. | (NYSE:PG) | Consumer Products | 59 | AA- | 19% | $189.4 | $69.93 | $93.89 | -25.52% |
| Reynolds American Inc. | (NYSE:RAI) | Tobacco | 11 | BBB- | 48% | $59.0 | $42.21 | $44.14 | -4.37% |
| Sysco Corp. | (NYSE:SYY) | Food Distributor | 45 | A- | 17% | $23.7 | $39.91 | $41.87 | -4.68% |
| Walgreens Boots Alliance | (NASDAQ:WBA) | Retail - Drug Stores | 40 | BBB | 31% | $95.9 | $88.26 | $97.30 | -9.29% |
As noted previously, many of the companies are in correction territory and a few have reached bear market conditions. Next, we will take a look at valuations to see if this pullback is presenting any attractive candidates for investment.
Historical and Current Numbers
First up is a look at the historical dividend growth rates for the companies, as well as a look at the expected 2015 earnings and corresponding P/E and payout ratios for them. The data in the following tables was collected from various sources, including the aforementioned Dividend Champions List, Yahoo Finance, Seeking Alpha, F.A.S.T. Graphs, and investor relations web pages from the selected companies.
For the earnings estimates and "Fair Value" P/E columns, I put each of the companies through F.A.S.T. Graphs and also went to the analyst estimates page on Yahoo Finance. The estimated 2015 earnings and expected 5YR growth rates came from a blend of the numbers from the two sources. The "Fair Value" number was determined by looking at several different time frames to determine what kind of valuations each company normally trades at. A comparison was then made between the expected P/E based on 2015 analyst estimates and the "Fair Value" P/E to get a feel for the relative values for the different options.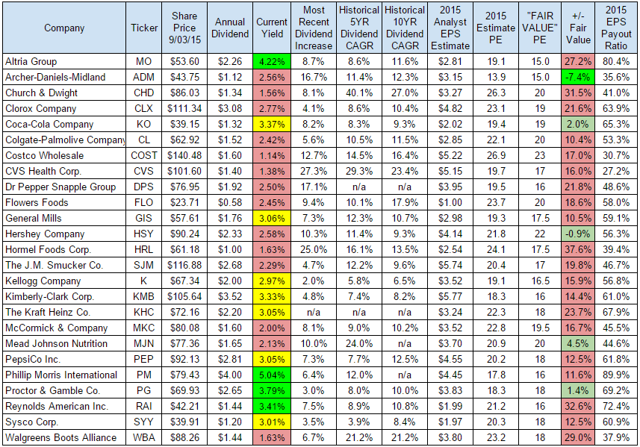 As you can see, not all consumer staples companies are made alike as there is a wide spread between valuations, growth rates, and dividend payout ratios. Growth rates vary from the low single-digits to the high-teens, P/Es range from the high-teens to the mid-20s, and payout ratios range from mid-20s to the high-80s.
This leads to a variety of potential outcomes when looking for where to put your investment dollars. Should you stick with the high yielding companies to lock in a higher current income or go with a more mid-range yield from a company that is growing faster? The next section will look to answer that question.
Income Projections
Now that we've analyzed the historical and current numbers, it is time to take a crack at projecting the future income possibilities from the list. For this I have checked investor presentations and conference call transcripts from each company to search for guidance regarding targeted dividend payout ratios. If guidance wasn't provided, I looked at the historical payout ratios on F.A.S.T. Graphs to see if there is any long-term trend for the company.
From this data I determined my projected dividend growth rates for each company, which was then used to forecast a 5YR Yield On Cost "YOC" with dividends being withdrawn as well as the 5YR YOC with dividends being reinvested. Additionally, on the far right I've shown my projected 5YR total returns based on the expected reinvestment of dividends and targeted valuation levels from the "Fair Value" P/E number.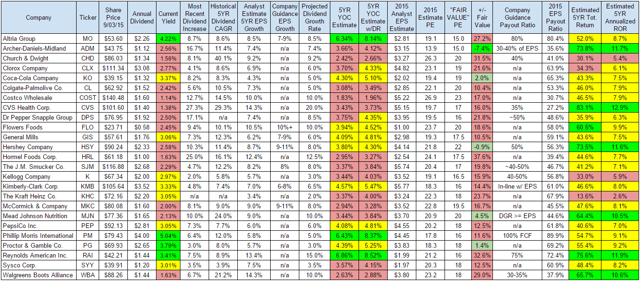 Here you can see there are several attractive options for both income and total returns. Not surprisingly, the tobacco stocks lead the way with expected income, as they provide some of the highest initial yields and above average dividend growth rates.
Some of the higher growth companies like CVS Health, Flowers Foods and Walgreens Boots Alliance may not have the expected income of the others, but they make up for it in total returns, as they are all projected to provide double-digit annual returns over the next 5 years.
As mentioned previously, the sector continues to trade at rather high valuations compared to their historical normal levels. Archer Daniels Midland and Hershey are the only two trading at a discount to "fair value," yet even they are just 7.4% and 0.9% below those levels. As a result, the expected total returns are rather lackluster, with just six stocks expected to post double-digit annualized total returns over the next five years.
The Top Ten
Now that we've gone over the methodology of how the numbers were derived and came up with the projections, it's time to pick the final top 10 income stocks from the results.
As I've done with the past lists, this one was also ranked primarily by looking at the estimated 5YR YOC, with secondary consideration given to the current dividend yield. I believe this is a useful metric for both the current and soon-to-be retirees as it provides an idea of what income they can expect in the coming years.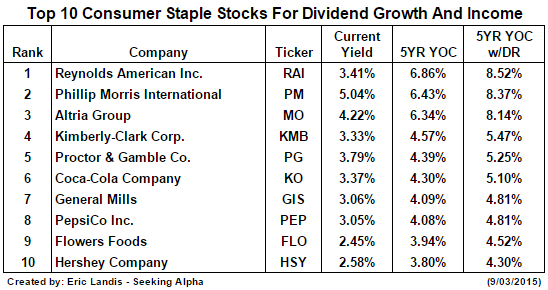 Keep in mind that this list is based on information and share prices as of September 3, and is subject to movement as prices and growth projections change.
Reynolds American Inc. has neither the highest current yield nor the most attractive current valuation of the stocks considered, yet it scores the highest of the all the companies on the list. As a Dividend Contender, Reynolds has grown its dividend at a 10.8% annualized rate over the last decade, and I expect a greater than double-digit rate to continue going forward. With the merger with Lorillard now complete, management is bullish on growth prospects and has also guided for an attractive payout ratio of 75% of future earnings. Analysts are projecting EPS growth of 13.4% going forward, which should lead to mid-teen dividend growth as the payout ratio expands slightly into the targeted rate.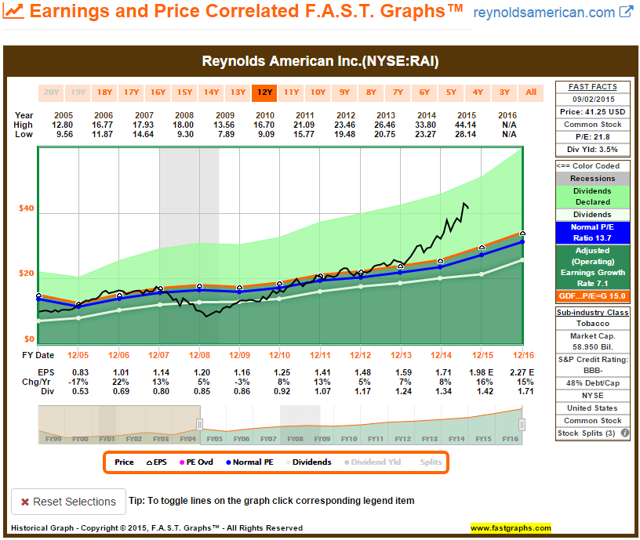 The stock is currently pricey on a valuation basis as it trades at better than 20X expected 2015 earnings, but a 3.4% yield growing at a potential double-digit rate going forward is attractive for those looking for income growth.
Philip Morris International is the next tobacco stock near the top of the list. What Philip Morris lacks in expected growth, it makes up for in yield, as it is the far and away leader on the list with a current yield of 5.08%. A Dividend Challenger, Philip Morris has provided a 5YR dividend growth rate of 12%, which will likely slow to a mid-single digits level over the next 5 years as I expect it to try to get the payout ratio back into a more normal ~80% range.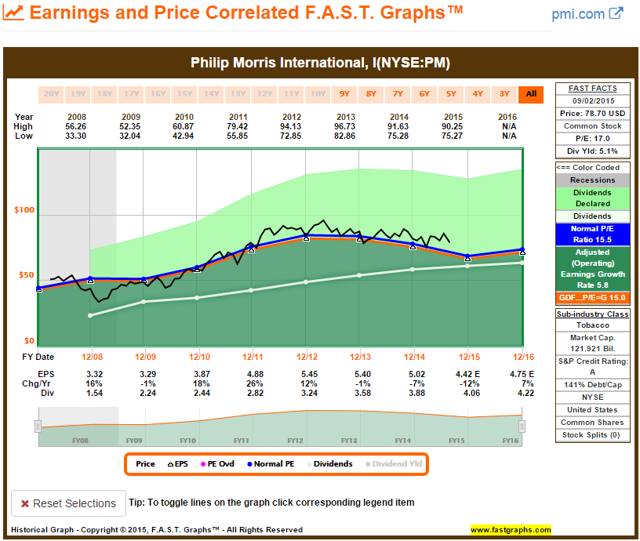 With 100% of its sales being outside of the U.S., the company has been struggling with the headwinds of a strong dollar, but as that normalizes some time in the future, I believe the company can return to a higher earnings growth rate in the high-single digits.
Altria Group Inc. is the last of the Big Three tobacco companies to make the list. Possibly the greatest dividend growth company of all time, Altria is a Dividend Champion with a 45-year streak of dividend increases, during which it has grown the payout at a 11.6% annualized rate over the last decade.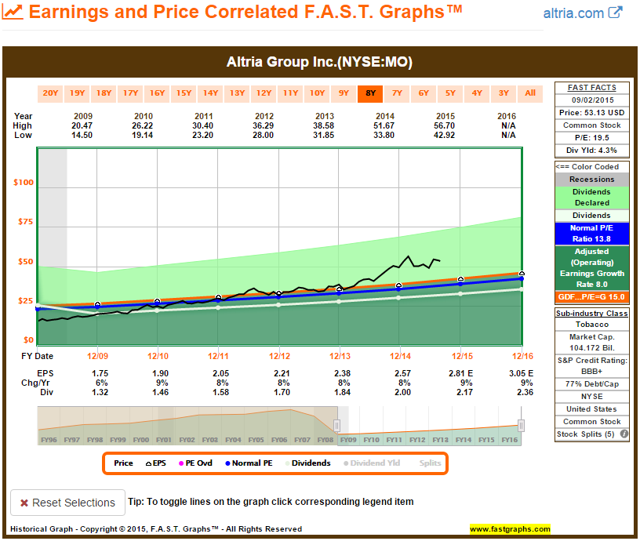 Like Reynolds American, Altria is currently trading at a rich valuation, but with a generous yield of 4.2% and expected earnings and dividend growth of 8.5% going forward, this is another very attractive stock for income investors.
Kimberly-Clark Corp. is another Dividend Champion, with a 43-year streak of dividend increases. It has grown the dividend at an 8.2% annualized rate over the last decade, but has seen a declining dividend growth rate over the last few years as earnings growth has slowed a bit.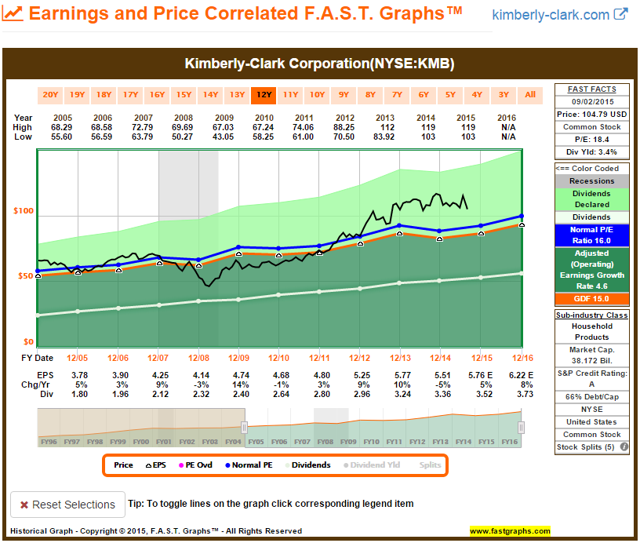 The company is guiding for dividend growth to match earnings growth, and with analysts and the company both projecting EPS growth of around 7% going forward, this should lead to a mid-single digit rate over the next 5 years. The payout ratio has generally landed in the 55%-60% range in recent years, and I expect that to continue to be a target for management.
Procter & Gamble is a Dividend Champion with a 59-year streak of dividend increases. P&G is one that has some question marks for me going forward, at it has seen a steady decline in the dividend growth rate in recent years and announced just a 3% raise with the latest raise. It has basically seen flat earnings growth since 2009, and as a result has seen the payout ratio steadily increase from 40% to an expected 69% in 2015.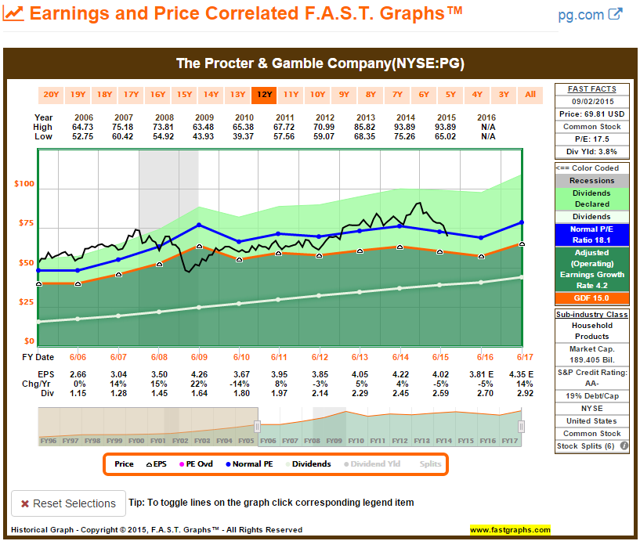 With one of the highest current yields of 3.8%, this is still a nice option for income investors. The company owns an AA- credit rating and I believe will do everything it can to maintain the sacred dividend growth streak into the future. Expectations for growth should be tempered, however, as I don't see dividend growth being much beyond the rate of inflation in the next few years.
The Coca-Cola Company is next on the list of the great Dividend Champions, as it owns a 53-year streak of dividend growth and has produced a 9.3% annualized rate over the last decade. Like P&G, Coke has struggled with earnings growth in the last few years as it fights the effects of a strong dollar. This has resulted in the payout ratio ballooning to 65% of 2015 earnings, compared to a more normalized level of around 50% of earnings.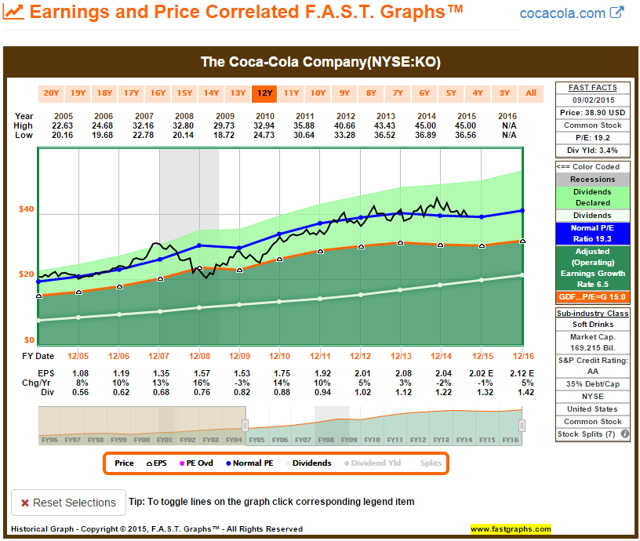 With analysts projecting earnings growth of around 4.5% over the next 5 years, I could see a few years of ~5% dividend growth ahead. But with a current yield of 3.4%, this would still provide a nice yield on cost of around 4.3% after five years.
General Mills, Inc. is a Dividend Contender with a 12-year streak of increases, during which it has grown the dividend at a 10.7% annualized rate over the last decade. In what is becoming a recurring theme, General Mills has seen the payout ratio increase in recent years as it struggles to maintain growth against a strong dollar. In this case, it has seen the payout ratio grow to 59% of earnings, compared to a more normal ~45% rate.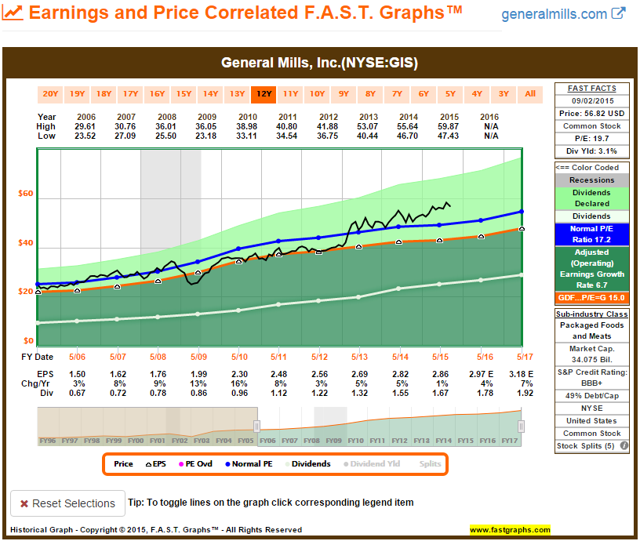 The company is guiding for a long-term EPS growth rate of 7-9%, which is above analyst expectations of 6.2%. I went the conservative route with my dividend growth projection, and have modeled a 6% growth rate going forward. While lower than recent years, this should still double the rate of inflation and provides a yield on cost of over 4% in five years.
Pepsico, Inc. is a Dividend Champion with a 43-year streak of increases, during which it has grown the dividend at a 12.5% rate over the last decade. Like the others, Pepsi has seen its payout ratio balloon to around 60% as earnings growth has slowed in recent years.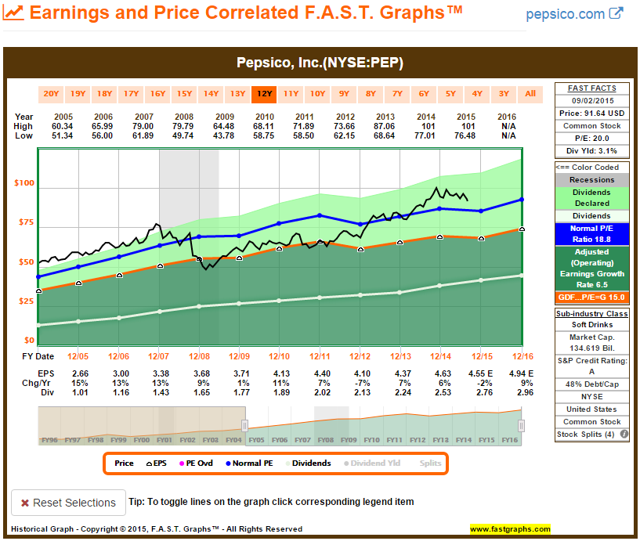 I expect dividend growth of around 6% going forward, but with a lower current yield of 3.1%, it doesn't quite match the projected yield on cost of the above companies.
Flowers Foods, Inc., a Dividend Contender with a 14-year streak of dividend growth, is the outlier on the list as it is not as widely owned by dividend growth investors. At 2.45%, it has the lowest current yield among the Top Ten, but also has higher expectations of growth, with analysts projecting 10.5% earnings growth over the next five years. With the majority of its earnings coming from the United States, it hasn't seen the headwinds that some other companies are struggling against with a strong dollar.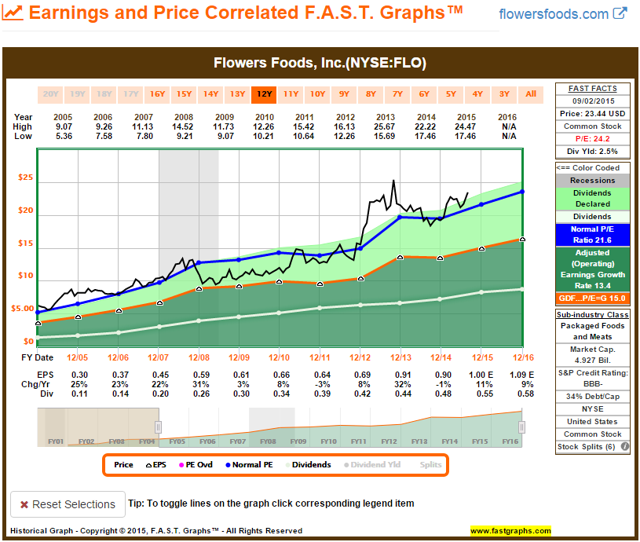 At a blended P/E of 24.2, Flowers is trading above its normal valuation range and, like others, is fairly expensive at current prices. As a result, it provides a lower yield and provides a bit less margin of safety as some of the other companies on the list. However, this has been a tremendous performer over the years, and is worth a look on any pullback.
The Hershey Company, the final stock in the top ten, is a Dividend Challenger with a 6-year streak of dividend growth after it froze the payout during the Great Recession. It still has maintained an excellent track record of growth, however, as it has grown the payout at a 9.3% annualized rate over the last decade.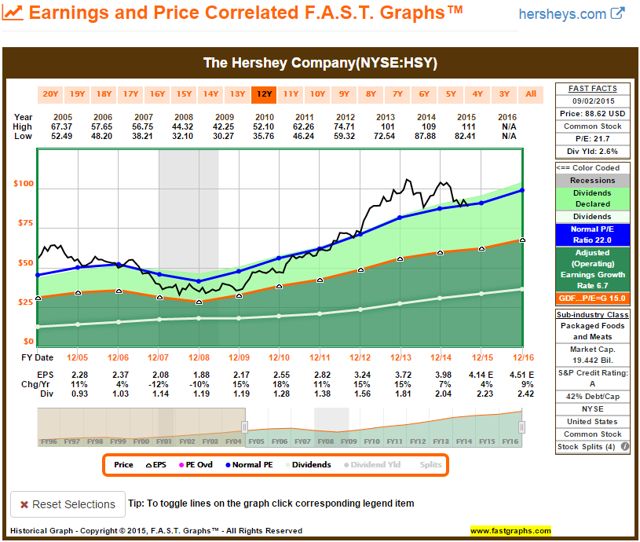 The last few years of slower earnings growth has caused the payout ratio to creep up to 56% of expected 2015 earnings. This is a bit higher than company guidance of 50%, which led me to lower my expectations for dividend growth to 8% going forward. This is still an attractive growth rate, but with a current yield of 2.6%, it lags some of the others higher up on the list.
Summary and Conclusion
It appears to me that the prospects in the Consumer Staples sector are a bit less attractive at the current time compared with those recently covered in the Industrial and REIT Sectors. Even with the recent market correction, the majority of the stocks on this watch list remain above historical valuation levels. I believe part of this is caused by depressed earnings due to a stronger dollar, but it is still a consideration one must make when looking at their options.
Valuation aside, those looking strictly for income and income growth are still provided with attractive income potential, especially among the tobacco stocks. However, those companies carry their own unique risks of declining usage and government regulations as well as moral considerations for some investors. Also, many of the blue chips and Dividend Champions have seen payout ratios rise in recent years, which could lead to a bit slower dividend growth on the horizon.
As always, I appreciate feedback regarding these selections and the overall watch list. If you see a company you don't think belongs or have another dividend growth company that I may have overlooked, please let me know in the comments below.
I'd also remind you that if you are interested in reading about other sectors or future updates of those previously covered, you can follow me and receive notifications from Seeking Alpha when they are posted.
Happy investing and I hope you all enjoy the upcoming holiday weekend!
Disclosure: I am/we are long MO, CHD, KO, DPS, FLO, GIS, PM, RAI, WBA.
I wrote this article myself, and it expresses my own opinions. I am not receiving compensation for it (other than from Seeking Alpha). I have no business relationship with any company whose stock is mentioned in this article.
Additional disclosure: I am a Civil Engineer by trade and am not a professional investment adviser or financial analyst. This article is not an endorsement for the stocks mentioned. Please perform your own due diligence before you decide to trade any securities or other products.