History and Today
Maxine Clark is the founder and former CEO of Build-A-Bear Workshop®. She came up with the concept of a customizable teddy bear store during the Beanie Baby fad of the 1990s. Clark took her friend's 10-year old daughter Katie shopping for Beanie Babies. Katie commented on how it wouldn't be difficult to make her own stuffed animals, a comment that stuck with Clark. Despite numerous naysayers and critics, Clark went on to create a $350 million international teddy bear business.
Build-A-Bear (NYSE:BBW) is more than just a teddy bear business - it's a customizable entertainment company for children, families, and tourists. In her book The Bear Necessities of Business, Clark writes:
"Build-A-Bear Workshop didn't invent teddy bears, nor were we first to create the places that make them. In fact, there were factories that allowed kids to take tours and create their own stuffed animals long before we ever opened our doors. But we put an entirely new spin on the teddy bear business. Instead of just building a factory, we created stores that are special interactive places for families to come together, have fun, and make their own furry friends."
Problems at Build-A-Bear
Being a consumer discretionary company with retail stores typically in or near shopping malls, Build-A-Bear was sensitive to economic downturns. The Great Recession hit the company particularly hard, going from a peak profit of $29.49 million in 2006 to a trough loss of $49.29 million in 2012.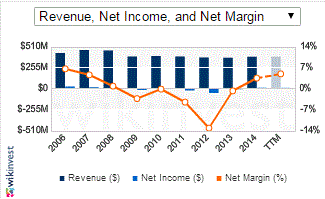 A look at retail sales per square foot shows that the company was starting to have problems even before the recession. Retail sales per square foot and gross margins started to slip:

However, even at its weakest, Build-A-Bear generated strong cash flow from operations, and-with no long-term debt, was never at risk of running out of cash. In fact, in a 2008 earnings call, Maxine Clark claimed Build-A-Bear stores paid for themselves in 12-15 months.
From my perspective, Build-A-Bear got hammered for four main reasons:
By focusing entirely on its core customer, 10-year old girls, Build-A-Bear missed sales opportunities from other customers, such as tourists, e-commerce, boys, and adults. In her book, the former CEO Clark summarizes the strategy as "less is more" and writes: "Be singular in your purpose. Put the blinders on, except in relation to your core customer group. In other words, specialize in making one core group enormously happy instead of trying to make a lot of different types of customers feel moderately satisfied." The "blinders" may have catapulted the company in the earlier years, but became a hamstring later. The company ignored some high-margin customers.
Build-A-Bear expanded rapidly, and perhaps perilously so. Some of the stores cannibalized off one another. Many of the stores became unprofitable as the economy weakened, and the previous management team was reluctant to close unprofitable stores.
Heavy discounting that failed to bring customers in the door.
Acquisitions in 2006 of former U.K. franchisees resulted in a large goodwill impairment in 2012. It appears that in recent quarters, the situation in the Europe rapidly improved, making the impairment more or less an accounting formality that doesn't reflect economic reality. As can be seen below, the number of European stores decreased by only one. Most of the store closings have been in the U.S.
BBW 2014 Annual Report (Store Data):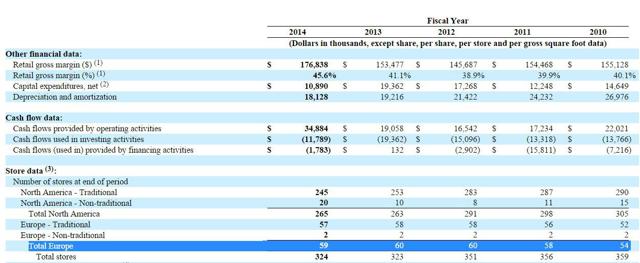 New CEO and New Corporate Strategy
Prior to 2013, all Build-A-Bear Annual Reports had a section titled "Growth Strategy", which would have been appropriate prior to 2008. Subsequent usage made it seem as though management was trying to grow the business out of unprofitability, possibly in part because the stores generated so much cash flow. In early 2013, the reported fiscal 2012 annual report now read "Strategy" without the word growth, but it was clear management had no strategy to restore profitability. A few months later, Maxine Clark stepped down as CEO and Sharon John took over. The next Annual Report under John read "Operating strategies", explained as "sustained profitability to sustained profitable growth". She unveiled a four-point plan I summarize here:
"Optimize our real estate portfolio": Unprofitable stores were closed, and new stores were opened in strategic locations particularly those benefiting from tourism.
"Refine the consumer value equation": John realized customers weren't coming to buy cheap teddy bears. Discounts were cut by 30%, and new marketing initiatives were taken.
"Rationalize our expense structure": Several cost-cutting initiatives are to this day being implemented at the supply chain level.
"Build on our core competencies": While the core customer is still a 10-year old girl, Build-A-Bear now caters to tourists and e-commerce shoppers who generally carry higher margins. Build-A-Bear has become more sensitive to trends such as the popular Ninja Turtles movie in 2014.
Improved Efficiency
In a 1987 letter to shareholders, Warren Buffett cites an Investor's Guide issue of Fortune, stating:
"The Fortune study I mentioned earlier supports our view. Only 25 of the 1,000 companies met two tests of economic excellence - an average return on equity of over 20% in the ten years, 1977 through 1986, and no year worse than 15%. These business superstars were also stock market superstars: During the decade, 24 of the 25 outperformed the S&P 500."
Build-A-Bear's most recent quarter reported would give the company a trailing twelve-month return on equity of 21.7%. A look at the company prior to the recession shows it had an unusually high return on equity: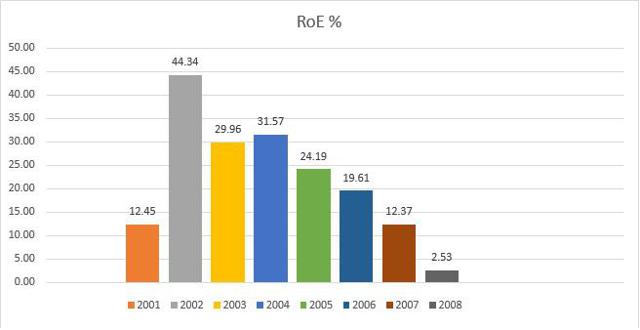 Despite being mismanaged, the company generated returns far in excess of the typical retailer. In recent years, Hasbro (NASDAQ:HAS) has kicked rival toy maker Mattel's (NASDAQ:MAT) butt. I think Build-A-Bear will become more successful like Hasbro. The reason? Under John's leadership, Build-A-Bear has learned to use licensing deals to borrow Hasbro's strategy of riding trends and popular movies to increase brand equity and popularity. Retail is capital-intensive due to leasehold improvements, and the added depreciation and capital on the balance sheet reduce return on equity. Licensing deals will raise profits intangibly at existing stores and through e-commerce without having to raise lots of capital for growth.
The difference is that Build-A-Bear has no direct competitor, like Hasbro versus Mattel. In the last Annual Report, the company wrote "We are aware of several small companies that operate "make your own" teddy bear and stuffed animal stores or kiosks in retail locations, but we believe none of those companies offer the breadth of assortment nor depth of experience or operate as a national or international retail company." Having no direct competition will help ensure the company can maintain high margins and returns on equity capital.
With Build-A-Bear and the U.S. economy improving, and with Sharon John behind the wheel, I think the company will meet the return on equity requirements as stated in the Fortune article. One might argue that Build-A-Bear, despite being well managed, is still a cyclical company and could very well slip, as it did during the financial crisis.
I think not, for two reasons. For one, the recession was particularly unusual and harsh. I think it unlikely that we will see such an economic catastrophe in the near future. But even if such an event does occur, the recent store closings were also the stores that would have suffered the most during a recession. The surviving stores were the more profitable and less exposed stores. Furthermore, Build-A-Bear is increasingly expanding in other countries, with about a third of the company now overseas. A look at its international portfolio shows most of the stores in developed economies such as the U.K., with the stores in emerging countries generally being lower-risk franchisees. With the Federal Reserve raising interest rates, now is not a good time to be invested heavily in emerging economies such as China.
Lastly, Build-A-Bear has been named among the FORTUNE 100 Best Companies to Work For for 7 years. Because the job is fun, the company has no trouble finding or keeping talent. It can rely on a large supply of part-time workers willing to accept minimum wage. I think minimum wage increases are unlikely anytime soon, with Republicans leading in Congress. Thousands of enthusiastic employees willing to work cheap is a competitive advantage for any company.
Conservative Financing and Low-Tech Operations
Lastly, Buffett also mentioned:
The Fortune champs may surprise you in two respects. First, most use very little leverage compared to their interest-paying capacity. Really good businesses usually don't need to borrow. Second, except for one company that is "high-tech" and several others that manufacture ethical drugs, the companies are in businesses that, on balance, seem rather mundane.
With the exception of the founding years, Build-A-Bear's growth has been financed through retained earnings. The company currently has no long-term debt. And while I would never call Build-A-Bear a "mundane" company, I think teddy bears meets the criteria of a low-tech and predictable business model.
Summary
A good summary of the changes the company has made, and is continuing to make, can be found here. I plan to stay invested in this company. As far as the price goes, I bought BBW shares years ago starting at around $5 a share, and have increased my position since. I will consider adding to my position if the price falls below $20 as it frequently has in the past year. Others have assessed the value of the company at $23, calculated conservatively.
Disclosure: I am/we are long BBW.
I wrote this article myself, and it expresses my own opinions. I am not receiving compensation for it. I have no business relationship with any company whose stock is mentioned in this article.