This article follows up an earlier post I published on my LinkedIn page (Shaking and Rolling). For those interested, this prior post provides a narrative retrospect on the 'financial earthquakes' I've experienced through my career as a professional investor starting in the mid-90s and, ultimately, why one should adopt a long-term perspective to ride out the earthquakes. In this article, I provide some observations on the current market landscape. For those engaged in tactical asset allocation, a cautious position in risk assets is still warranted, but August's sell-off may present an all-clear to start adding to risky positions. All financial data comes from Bloomberg unless mentioned otherwise.
Ben Lavine's 3-Alarm Market Capitulation Signal (See Disclosure Below)
I begin this article from where I left off on my prior post discussing financial earthquakes. Below is a 3-Alarm Signal designed to track major earthquakes…or at least an indication of extreme market capitulation. There is a difference between selling versus liquidating, and this signal is designed to capture the latter (again see disclosure below). An earthquake occurs when all three of these measures hit extreme values relative to their recent history: 1) VIX (Implied Equity Volatility), 2) Put/Call Ratio (higher values indicate greater demand for put protection), and 3) % of S&P 500 Hitting 24-Day Lows (higher values indicate broad-based internal fallout).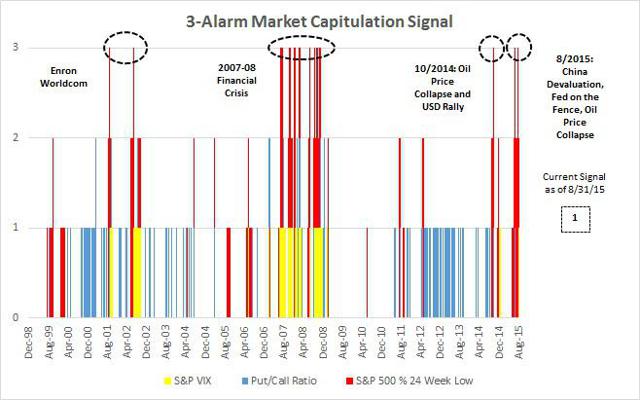 Rarely does a 3-alarm signal get triggered. The notable periods were 2001-2002 Enron/Worldcom financial scandals, 2007-2008 financial crisis, last October's oil price clash, and this past month where 1) China devalued its currency leading world investors to question the growth outlook of the second largest economy resulting in 2) a major collapse in oil prices which had rallied earlier in the quarter following an earlier collapse. Oh, and the Fed made it pretty clear they are going to tighten this year.
Since liquidation tends to be more needs-driven than price-driven, 3-alarm signals typically present near-term tactical buying opportunities although not without a lot of gastronomical fortitude. If you're a long-term asset allocator, it also suggests now would be a good time to get back to rebalance towards target positions in risky assets. The current signal is flashing '1-Alarm' as VIX remains elevated despite the final week's equity rally.
So is it time to back the truck up?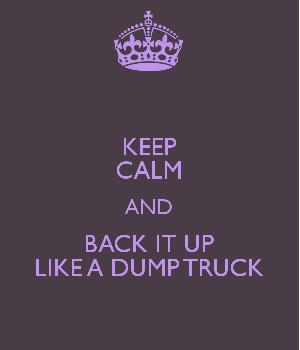 Clearly there were positions (levered?) being unwound in a suboptimal liquidity environment (much of the market seems to take off for vacation in August). We've already had the oversold bounce and the first day of September saw a wave of fresh selling off a poor PMI release in China. Many technicians are now warning about break in long-term trends and poor internal market dynamics while many macro strategists have become increasingly alarmed about the slowdown taking place in China and how it's reverberating throughout the world economy, particularly in the emerging markets.
Let's compare August versus October of last year when the 3-Alarm signal was last triggered amidst a major oil price collapse following OPEC's decision to defend market share.
Last October (10/15/14 to be specific) when the market was flying off the handle and we saw a flash crash in 10-year Treasuries, the S&P traded down to 16.6x LTM EPS (15.5x NTM EPS based on Bloomberg estimates), trailing 1-year sales growth was 3.3%, margins were at 13.9%, the 2-10 term premium was at 1.82%, oil was at $81+, high yield spreads were at 4.4%, and BBB spreads were at 1.6%.
On August 24 (when selling pressures crescendoed), the S&P traded down to 16.7x LTM EPS (16.0x NTM EPS based on Bloomberg estimates), trailing 1-year sales growth has dropped to 1%, margins have dropped to 12.6%, the 2-10 term premium narrowed to 1.44%, oil dropped to $38, high yield spreads widened to 5.5%, and BBB spreads to 2.0%.
With wider credit spreads, a flatter yield curve, anemic sales growth, and narrowing margins, today's backdrop clearly isn't as healthy relative to last October. It's no wonder why many strategists and technicians have grown cautious on the market. 4Q15-1Q16 should see easier year-over-year comps on sales with much of the dollar's strength already reflected from last year's run-up, but what about beyond 1Q16? The U.S. may not fall into a recession and we may see some 2nd half tailwinds (employment, housing, and consumption) improve year-end performance, but investors will already be looking out into 2016, and they don't see much clarity on what's going to drive longer-term growth. We may not be looking at an economic recession but there is a real possibility of an earnings recession. It doesn't mean a stock market crash, but it means growth will become scarce resulting in a narrow market with a handful of stocks driving the bulk of the index' returns. Not the best environment for active managers who usually need a broad, value-driven market to outperform their cap-weighted indices.
What will benefit the market? A stronger dollar should actually keep a floor on S&P multiples as global investors increasingly shift their capital to our relatively better story versus the rest of the world. Below is a chart displaying the DXY versus S&P Price/NTM Earnings based on Bloomberg estimates. In 'Sing this Corrosion to Me', I wrote: "Although a stronger dollar hasn't historically guaranteed a higher S&P multiple, the S&P has not traded at higher valuations within a weaker dollar backdrop. A stronger dollar should help keep a lid on input costs which will only help margins. Weaker commodities (notably oil and gas) will also help consumer cash flow."

Credit spreads ex energy may settle down as it becomes clear the U.S. will not enter a recession. The Fed will likely implement a rate hike either September or December, but this will be more to exit emergency zero-rate policy rather than an initiation of a series of rate hikes. The bond market looks to be increasingly comfortable with this next rate cycle as indicated by the narrowing of the 2-5-10 year butterfly spread. In 'The 'Belly' Looks Attractive Versus the 'Tail'I comment on the uncertainty surrounding Fed rate policy as expressed by the 2-5-10 year butterfly spread. I'm reminded of what my ex-colleague Tom once told me, "Even a blind squirrel finds a nut every now and then…" Well, this blind squirrel is pretty proud of how the trade turned out, even if it looked like I was heading into traffic shortly after posting. Here is an updated chart on the 2-5-10 year butterfly. Note that lower levels are considered positive for fixed income managers seeking to take advantage of the roll-down between the short- and intermediate parts of the curve. It can also be interpreted as the bond market becoming increasingly comfortable with Fed policy (or at least more certain that the Fed isn't going to embark on an aggressive rate hike campaign).

Conclusion
The outlook for equities has become increasingly uncertain, but unless the U.S. enters recession, sales growth and margins should hold up even if they result in anemic earnings growth for the remainder of this cycle. Tip toeing back into risk assets is warranted although volatility and credit risk must settle down in order for the markets to continue to advance.
August MTD Update.
Here are charts displaying stock and bond indices for the month. Risk assets generally underperformed with global sovereign bonds performing the best. Very few places to hide in equities with small performing in line with large and value in line with growth. YTD sector outperformers such as consumer discretionary and health care performed the worst. Surprisingly, late-cyclical sectors such as energy didn't perform as bad despite the commodity complex sell-off.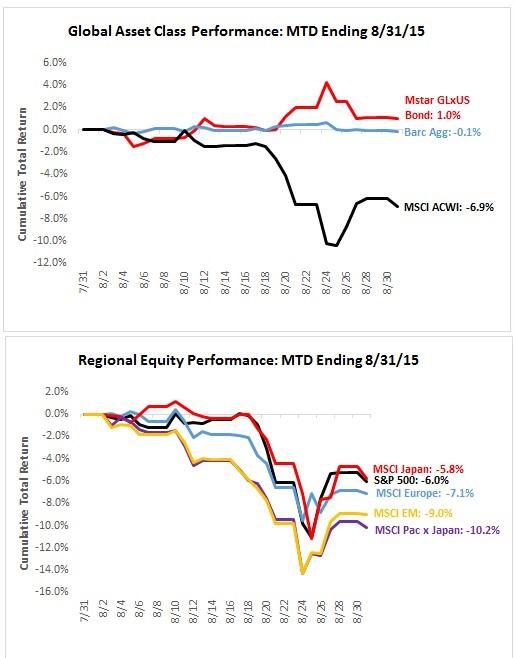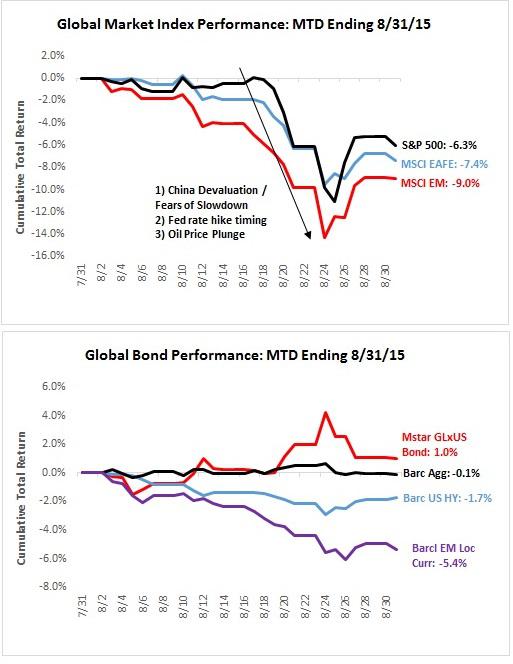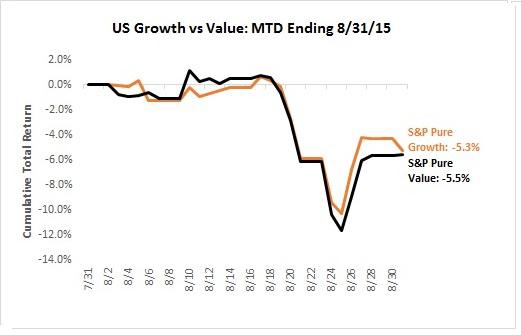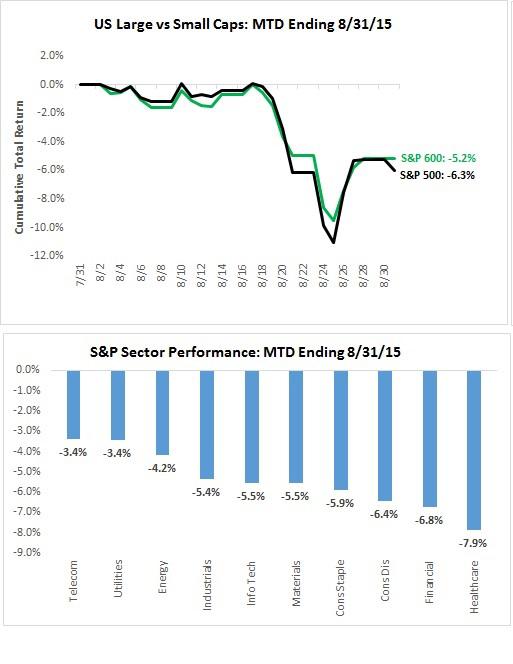 Disclosure and Notes:
Disclosure on 3-Alarm Signal: Patent pending (just kidding). The 3-Alarm Signal is totally reverse-engineered and should not be used as a trading signal. This is a composite of three market-based signals of risk appetite: VIX, Put/Call Ratio, and % of S&P Hitting a 24-Week Low. Each signal is standardized versus its three-year daily history. Any standardized score of two or more triggers an alarm. Three alarms indicate all three signals are at extreme levels relative to their three-year histories.
Disclosure: I/we have no positions in any stocks mentioned, and no plans to initiate any positions within the next 72 hours.
I wrote this article myself, and it expresses my own opinions. I am not receiving compensation for it. I have no business relationship with any company whose stock is mentioned in this article.