On September 3, 2015, the Federal Housing Finance Agency (FHFA) released a 42-page report regarding the prominent government-sponsored enterprises (GSEs). The final approved benchmarks for the Federal National Mortgage Association (OTCQB:FNMA), aka Fannie Mae, and the Federal Home Loan Mortgage Corporation (OTCQB:FMCC), aka Freddie Mac, were increased from the prior 2012-2014 term. A total of four percentage points were added to the base goals in the hope that the GSEs will gain more market share in home financing.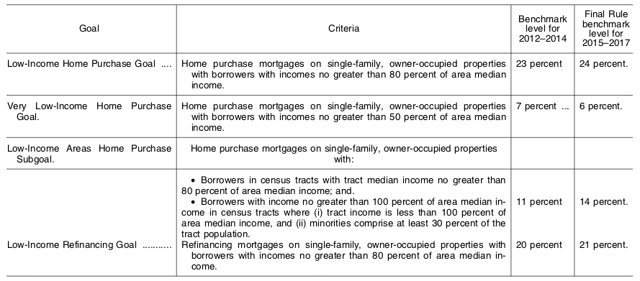 Fannie Mae alone had surpassed benchmarks set for 2012, 2013 and 2014 in the Low-Income Home Purchase category. Together, the Enterprises have increase total home purchase mortgages volume for 2010-2014 by 62%.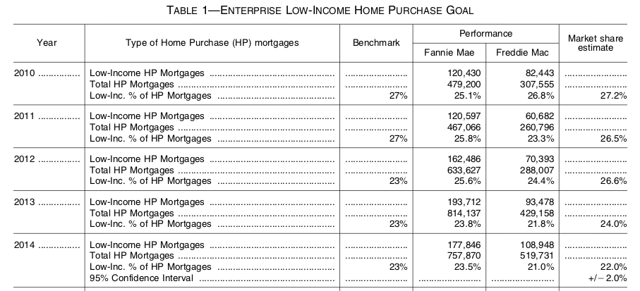 Fannie Mae and Freddie Mac are the Enterprises supervised by the FHFA. Their conservatorship remains a political and legal struggle. Once characterized as a "wind-down," the GSEs now operate in an apparent wind-up. The United States Department of the Treasury (DoT) has stated the conservatorship is for the purpose of repair, and may not liquidate them. Only if Fannie Mae is placed into receivership may it be closed out.

In the new ruling, 12 CFR Part 1282, it is clearly stated:
[B]enchmark levels are set to encourage the Enterprises to lead the market in supporting affordable housing.
New Low-Income Housing Incentive
The document further reviews low-income housing for small multi-family properties. It is intended to support 5 to 50 unit rentals, a savings that landlords would hopefully pass along to renters. The review shows Fannie Mae had significant volume without an existing benchmark, but that Freddie Mac was near non-existent in numbers. The new proposed goals will drive the Enterprises to each bring in at least 6,000 for 2015, 8,000 for 2016 and 10,000 units for 2017.
Fannie Mae Common Stock at Bargain Valuation
The risks for common shareholders are present, but balanced with the potential of fair rewards. One risk is that the stock does not need to follow technicals or fundamentals, and it is in the sole grasp of an independent federal agency.
In 2012, Secretary Geithner of the United States Department of the Treasury wrote to FHFA asking for increased support to new home buyers. Specifically, that the Principal Reduction Alternative program (HAMP-PRA) would be adopted.
FHFA is an independent federal agency, and I recognize that, as its Acting Director, you have the sole legal authority to make this decision... You have the power to help more struggling homeowners and heal the remaining damage from the housing crisis.
FHFA conducted an analysis and found their own proprietary modifications provided adequate relief and would not adopt HAMP-PRA. With such independence comes increased unpredictability for the common shareholders.
Some of the debate regarding "#FannieGate" can come across as stock pumping. These groups are responding to the other camp, which is also flamboyant, arguing the GSEs will be dissolved. The responding stock volatility creates short-term trading opportunities and begs the question of whether anyone truly has a finger on the pulse for the long-term outcome.
The upside in valuation includes Fannie Mae's 2014 revenue of approximately $120 billion, more than 40% greater than that of Wells Fargo & Co (NYSE: WFC) or Bank of America Corp. (NYSE: BAC). Although net income was a whopping $14 billion, it wasn't made fully available as earnings for shareholders; the EPS was a punitive -$0.20. With 5,762 million diluted weighted average shares, the EPS should have been approximately $2.46 under normal conditions, if not for the federal conservatorship.
Fannie Mae common stock shares show further strength and value. The 2014 gross margin was 20%, and Q3 '15 price to revenue/sales is a giveaway at 0.02. Bank of America Corp. and Wells Fargo & Co have a price to revenue/sales of 1.75 and 2.95, respectively.

Fannie Mae does not post a P/E ratio due to the Federal Third Amendment sweep of income. A hypothetical P/E ratio without the sweep is shown below:

Conclusion
The recent ruling by the FHFA to increase Enterprise activity is a sign of growth for Fannie Mae and Freddie Mac. Fannie Mae has shown to be the outperformer in benchmarks and in the sub-market that was without such incentive. The long-term outlook for FNMA is dependent upon political will and legal standings, all of which show conservatorship is supposed to be temporal and not for liquidation. At this juncture, I maintain my previous FNMA buy rating from September 2014.
Disclosure: I am/we are long FNMA. I wrote this article myself, and it expresses my own opinions. I am not receiving compensation for it (other than from Seeking Alpha). I have no business relationship with any company whose stock is mentioned in this article.
Editor's Note: This article discusses one or more securities that do not trade on a major U.S. exchange. Please be aware of the risks associated with these stocks.