In recent days, the slowdown of the Chinese economy, coupled with the stock market meltdown which followed in late August, raised many questions about the growth prospects of not just Mainland China but also of many major companies that have vested interests in the world's largest country. One of the more evident impacts was seen on The Boeing Company's (NYSE:BA) stock price, which dipped to as low as $125.49 as investors started to question whether the aircraft manufacturing giant would suffer from the economic slowdown in China.
However, it seems like BA stock is at a good place to purchase, given its future prospects, and investors would be wise to add Boeing stock to their portfolio before the price appreciates again.
Short Run: Boeing Deliveries vs. Airbus (OTCPK:EADSF) Deliveries
One of the biggest factors going in favor of Boeing is how it managed to hike up the production rate of its 737 series which is helping the company realize deliveries at a faster pace than its arch nemesis Airbus. Many investors head to the fact that Airbus has far larger order size than that of Boeing, which stands at 708 net orders through the end of August against Boeing's 447 in the same period. However, the greater feat over here is delivering these planes on time and realizing the bulk of the revenues from these orders, which happens at the time of delivery. See it's right here where Boeing is beating Airbus by being able to make 503 deliveries by the end of August as compared to Airbus' 397 deliveries in the same period. Keep in mind that Boeing has a delivery target of 750 planes for 2015.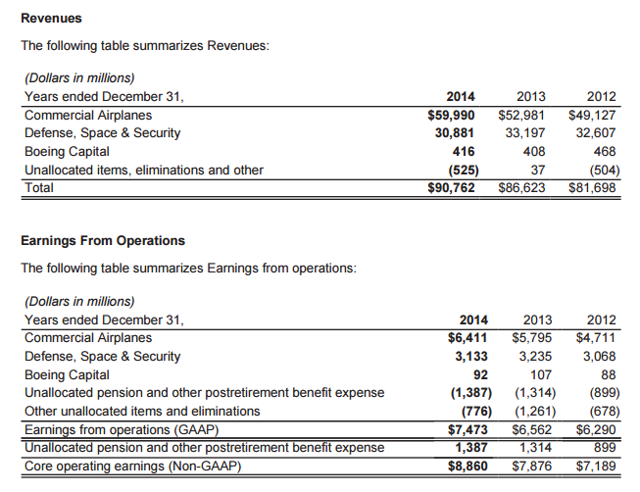 Some investors might argue that given all things go smoothly, Airbus should outpace deliveries sooner or later due its massive backlog. Unfortunately, holding a record backlog comes at a certain risk of losing out on orders especially when economic conditions are uncertain and airlines cancel out on orders they feel are unfeasible.
Short-term investors need to keep an eye open for Boeing's next financial release and need to pay close attention to the company's Commercial Airplanes EBITDA margin, since the company has been becoming more reliant on its commercial airplanes to expand itself as its Defense, Space and Security segment, despite making up a sizeable chunk in the financials, continues to be volatile in its earnings spree. Where the Commercial Airplanes segment has experienced increasing revenues and earnings over the past 3 years, the Defense, Space and Security segment has seen its share of ups and downs in the same period. Thus, it is the EBITDA margin for the Commercial Airplanes segment which will help improve the company's earnings figures and eventually stock price. As of 2014, the margin stood at 11.5%, a figure which should improve given that the company has boosted its 737 production with its new automated process which reduces manufacturing time by 30% while at the same time taking up less than half the floor space. If this margin does improve, then investors could very well see a jump in stock price; however, an unlikely decline in this margin could have a fairly adverse impact on the company stock price.
Long run: China
A great concern for many investors was the economic uncertainty in China which raised concerns for a company like Boeing. However, according to an article by Business Insider, a Boeing spokesperson went on record to say that it believes China will play a major role in the company's financial success as the country is expected to order more than $1 trillion worth of planes over the next 2 decades, and that the company's forecast accounts for fluctuations in the market accordingly.
The recent slowdown in China caused panic as investors and analysts grew concerned that maybe the great growth spree the country had been experiencing for many years had finally come to an end. But what they failed to realize is that on a basic level, it was inevitable that these consistently high growth rates would eventually dwindle as the bigger an economy gets, the harder it gets to keep growing at a fast rate. More importantly, it's important to account for the sheer size of the Chinese economy at this very moment. According to The Economist, a 7% growth rate in 2015 would generate more additional output than a 14% growth rate in 2007. It is this factor which continues to be a major contributor for a company like Boeing which is betting on the country's ever-expanding consumer base to foster growth in its financials.
More importantly, sooner or later, the number of international flights from China is bound to increase, and for that purpose, airlines would need the larger and more expensive wide-body jets like the 777 or Airbus' superjumbo. Unlike the single-aisle jets used for domestic flights in China, these wide-body jets cost around two to four times as much and offer companies like Boeing with a greater profit margin per unit. According to Boeing, the country will need more than 1,500 wide-body jets over the next two decades valued at $450 billion. According to Travel China Guide, in 2014, outbound tourists reached 107 million, crossing the 100 million tourist mark for the first time and growing at 19.49% over 2013. It's no wonder why Boeing seems so confident with the scenario in China.
Conclusion
It would be wise to remember basic economic fundamentals when analyzing China. A period of sustained and heightened economic growth often tends to be followed by a correction of sorts and that all cycles vary in how they adjust themselves. The artful investor would utilize this momentary period to fix his position for when the market stabilizes.
With Boeing stock, investors also have the added advantage of healthy dividend yields and a history of constantly increasing dividends even in times of great economic uncertainty. Frankly speaking, Boeing made it through the financial crisis of 2008 by continuing to pay investors a dividend and even returned to increasing the dividend payout in the subsequent years. This brief period where markets across the world crashed has given investors who value a steady income stream a good time to add BA to their portfolio.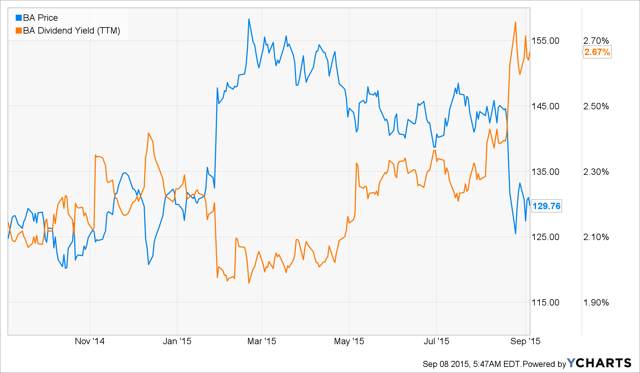 As of this very moment, BA stock is currently trading at $133.39 per share and continues to show strength as markets across the world show signs of stability.
Disclosure: I/we have no positions in any stocks mentioned, and no plans to initiate any positions within the next 72 hours.
I wrote this article myself, and it expresses my own opinions. I am not receiving compensation for it (other than from Seeking Alpha). I have no business relationship with any company whose stock is mentioned in this article.