I was somewhat alarmed to see a press release entitled "Cadence Pharmaceuticals Announces Voluntary Recall of One Lot of OFIRMEV® (Acetaminophen) Injection". Cadence (CADX) is one of the stocks that I am recommending and my experience is that quality control issues can be very messy and disruptive. I wanted to follow-up with management to try to understand the issue.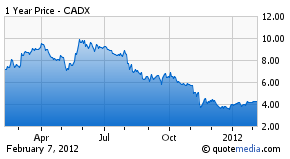 The recall involved one vial in one lot. To provide perspective, the company has shipped about 1.2 million vials since the launch began. One bottle from the lot was taken for routine stability testing and a visual inspection discovered particulate matter. I asked management a series of questions.
Q. Could it be the case that there are other vials with particulate matter that have been shipped and used?
A. Instructions for usage are that each vial should be visually inspected before being used. If there were a widespread problem, this would have likely been picked up and there haven't been any other reports.
Q. How extensive will the recall be?
A. The recall involved one lot and of that lot 1000 vials remain to be recalled from the marketplace. There is no reason to believe that other lots will need to be recalled.
Q. If your supplier is having problems, will that require a shutdown of manufacturing that could disrupt the launch?
A. Cadence has two major suppliers and either one is capable of supplying all of the product needed at this phase of the launch.
Q. What caused the problem?
A. They are working with the supplier to identify the cause.
I don't like to see anything negative in regard to product quality and I intend to continue to monitor the situation closely. However, at this point I don't see any reason to alter my sales projections for Ofirmev or investment rating due to this issue. However, I would be concerned if we were to see further announcements like this.
Disclosure: I am long CADX.