Introduction
Two years ago I was a huge supporter of Capstone Mining (OTCPK:CSFFF) as the company had a gigantic cash position, but then it decided to use the cash to acquire a large bulk tonnage copper mining asset in Arizona from BHP Billiton (NYSE:BHP). As the copper price started to fall, Capstone was unable to generate the returns it was eyeing at the time it made the purchase.
Capstone Mining has a more liquid listing on the Toronto Stock Exchange where the company is listed on the main board with CS as its ticker symbol. The average daily volume in Canada is 1.1 million shares. Capstone's current market capitalization is approximately $175M, down from C$1.2B just 18 months ago.
The second quarter was a quarter to forget fast
I already discussed Capstone's production results in a previous article here on Seeking Alpha, and in this article it's my purpose to dig a bit deeper into the financial aspects of a not so very good second quarter and first half of the year.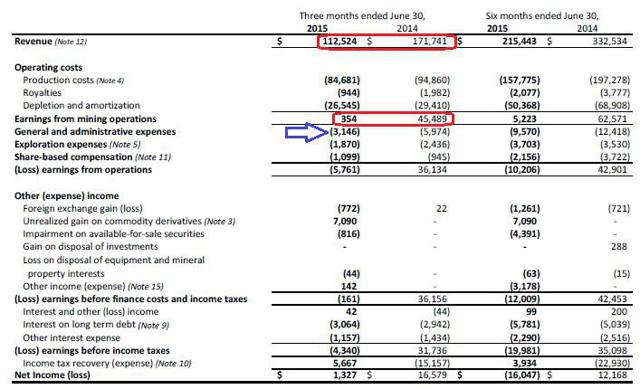 Source: financial statements
The total revenue in the second quarter fell by almost 35% to $112M and as you can imagine, the earnings from mining operations almost evaporated as that amount fell by approximately 99% to just $354,000. As you'd still have to deduct G&A and exploration expenses, the operating loss was $5.8M, much worse than the $36M in operating profit it generated in the second quarter of last year, when the copper price was trading much higher. But there's also something positive; I'm really surprised to see the G&A expenses have dropped to $3.2M (down from almost $6M in the same quarter last year) and that's quite low for a company operating three mines in three different countries.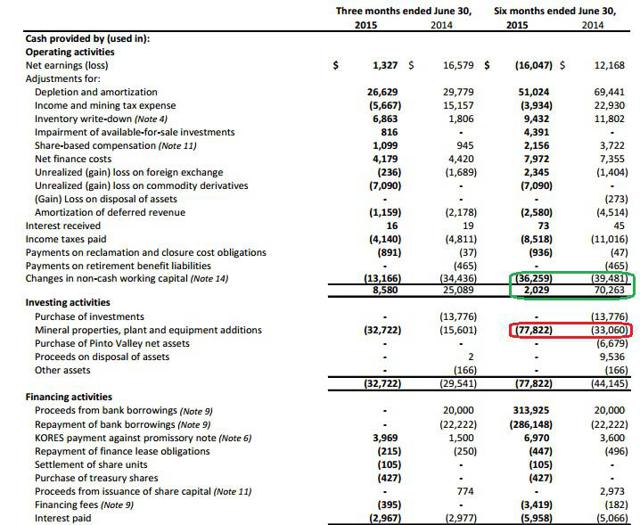 Source: financial statements
The operating cash flow was $8.6M, but I need to make some corrections first to find the adjusted cash flow as I exclude changes in the company's working capital position and I include the interest on its debt. Capstone is -very conveniently adding the paid interests to an investing cash flow whilst it reports the incoming interest as an operating activity. Quite sneaky! If you take both adjustments into consideration, the adjusted operating cash flow is $18.8M but as the capex was $32.8M. Much lower than the $45M in Q1, but despite this, Capstone Mining burnt approximately $14M in cash in the second quarter of this year.
Capstone is more or less delivering on its promises, but the copper price is the deal breaker
The copper price is really hurting the company as Capstone Mining had a C1 cash cost of $2.09/lbs and if you realize this excludes royalties and capital expenditures, you can be very sure Capstone won't be able to generate a positive free cash flow in the current year.
Fortunately the management team is keeping tabs on all (small) developments in the copper sector, and it has hedged approximately 20,000 tonnes of copper at a fixed price of $2.81/lbs. This means that this hedge has a current value of in excess of $15M based on the current copper price, so this hedge was a pretty smart thing to do. When the copper price spiked earlier this year, Capstone also entered into a zero-cost collar hedge by selling call options on its copper at a strike price of $3.1/lbs and it used those proceeds to purchase put options which allows Capstone to sell copper at $2.6/lbs (which is higher than the current spot price).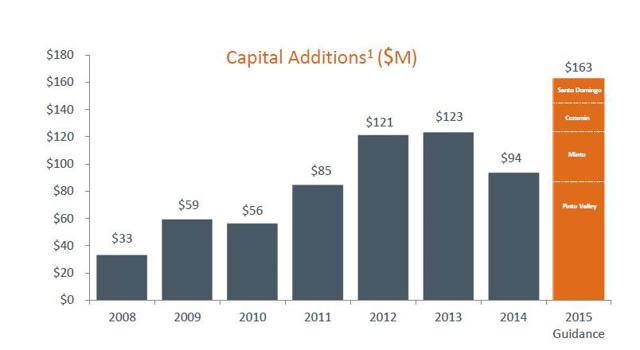 Source: company presentation
In the fourth quarter of this year, the expected average grade at the Pinto Valley copper project is expected to increase which should result in a higher copper production at a lower production cost per pound. That's a good start, but I'm unsure that will be enough to ensure the project is free cash flow positive at the current copper price of less than $2.5/lbs.
It's also interesting to see Capstone is now aiming at a different approach for its very large Santo Domingo copper project in Chile. As the iron ore price is remaining low, Capstone is trying to figure out whether or not it would make sense to forget about the iron ore right now and if a copper-only scenario would be feasible.
Investment thesis
Capstone has lost a lot of its attractiveness after blowing through its cash 2 years ago to acquire a high-cost producing asset. Yes, the company's working capital is still positive now ($200M), but Capstone is burning cash at the current copper price and I'm not sure this problem could be solved anytime soon.
Despite having high hopes for the Santo Domingo mine, I think it will be a bridge too far to count on anything substantial happening there as long as copper is trading below the $3/lbs mark and I don't think Capstone should engage in any growth plans before the copper price rebounds and its current producing assets are generating a positive free cash flow.
Disclosure: I/we have no positions in any stocks mentioned, and no plans to initiate any positions within the next 72 hours.
I wrote this article myself, and it expresses my own opinions. I am not receiving compensation for it (other than from Seeking Alpha). I have no business relationship with any company whose stock is mentioned in this article.
Editor's Note: This article covers one or more stocks trading at less than $1 per share and/or with less than a $100 million market cap. Please be aware of the risks associated with these stocks.