So far this year, ETF fund flows indicate that investors are putting money to work in several sectors that were out of favor last year.
I took at look at the nine major S&P500 sectors. Each stock in the S&P 500 belongs to one of these sectors, and each has its own SPDR Sector ETF. So looking at all nine offers some perspective on what's pushing the index higher this year,
These ETFs include:
This chart, assembled from data provided by XTF, shows how much money has been flowing into or out of each of these 9 ETFs. The green columns show information year to date, while the grey columns show the flow of funds going back one year (since February 2011).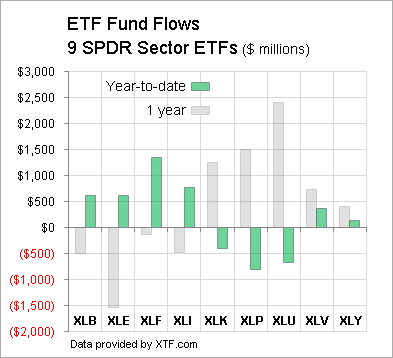 As you can see, on a relative basis, investors are turning their attention to financials, which certainly got beat up bad last year. And they're focusing on more cyclical stocks, including industrials, materials, and energy.
Because some of these sector funds are larger than others, here's a chart showing the same data on a relative basis - as a percentage of the market cap of each ETF.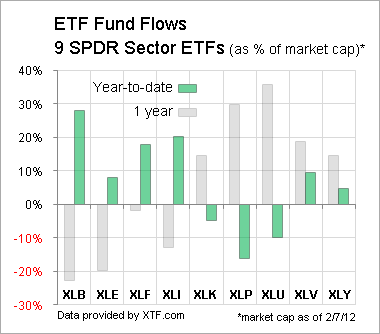 Last year, investors were buying consumer staples and utilities funds, possibly because stocks in these sector ETFs tend to have higher dividend yields. But so far this year, money appears to be flowing out of these ETFs.
Disclosure: I have no positions in any stocks mentioned, and no plans to initiate any positions within the next 72 hours.