If you've got your eye - or your nose - on a new car, you're not alone. Soaring new car sales typically reflect consumers' confidence in their fiscal condition. Car buyers especially those going for pricier SUVs again - are likely encouraged by multi-year-low gasoline prices, too.
The trend could lead stock investors to sniff out attractive auto stocks based on this retail spending theme. The car loan driving financial services sector has a role in this trend as well.
"Car sales have been red hot for approximately six months," says JJ Kinahan, chief market strategist at TD Ameritrade. "Although many thought the drop in gasoline prices would show up in broader retail sales, it appears to be showing up in auto sales."
Big Spenders
Motor vehicle sales jumped to a seasonally adjusted annual rate of 17.8 million in August from 17.6 million in July, industry data showed. That marked the most vehicles sold since 2005, says Briefing.com.
Truck purchases zoomed ahead of car sales last month - totaling a seasonally adjusted annual rate of 10.1 million versus 9.7 million in July. In addition to cheaper gas, a strengthening housing market is another factor that is likely boosting truck sales for the industries that support housing (think construction, landscaping, and so on).
In reaction, investors may want to analyze company revenue drivers, Kinahan says. For example, "with Ford, the second leading area for sales is Ford Trucks North America and the third is Ford Trucks International," he notes. TD Ameritrade clients can access such detailed information on the Company Profile page of the thinkorswim® platform (see figure 1, below).
Stretched?
The auto sector also sheds light on the strength in U.S. lending and the broader financial services sector.
"The strength in vehicle sales is definitely very good economic news and certainly something we can all cheer," says Patrick J. O'Hare, chief market strategist at Briefing.com. He pointed to what consumers see as still-attractive financing opportunities in a low-rate environment.

"We are seeing lenders willing to stretch terms or loan maturities on car loans. Cars are getting more expensive, and we are seeing consumers push to six-plus years on loans, whereas in the past, five years was generally the maximum," O'Hare notes.
All About Performance
Meanwhile, auto stocks have underperformed the broader market so far in 2015, opening a debate over whether now is an attractive entry point for investors who have an opinion on this sales trend.
"The stock prices have diverged from the sales numbers," O'Hare says. General Motors (NYSE:GM) is off roughly 15% year to date, while Ford (NYSE:F) is down about 12%. That compares to a nearly 5% decline in the S&P 500 (SPX).
Concerns about the sustainability of future auto sales and future comparisons have weighed on certain auto company stocks this year, O'Hare says. Worries about the economic slowdown in China - a big car consumer - and the global economy are also pressuring cyclical auto stocks, he says.
The current pullback in auto stocks may draw some bargain-hunting investors. "The big declines may crack the door open to begin scaling into positions," says O'Hare.
For investors who've done their homework and are comfortable with the risks, "this could be a better long-term entry opportunity in these names," O'Hare says. "Be mindful you may have to have a patient mindset until there is some confidence that the China slowdown is abating and the global economy can accelerate."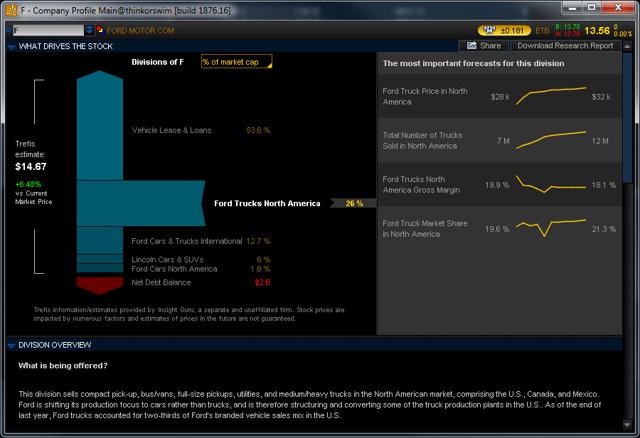 FIGURE 1: PROFILE SHOT. To access the Company Profile page, log into the TD Ameritrade thinkorswim® platform. Navigate to the Trade tab, then the All Products sub-tab. Enter the ticker symbol you're curious about (here, our example for researching the auto sales theme highlights Ford Motor). At the top right, click on the Company Profile button. It brings up a new window that explores company divisions, revenue drivers, and more. For instance, here, you can drill down on Ford truck sales. Chart source: TD Ameritrade's thinkorswim platform. Not a specific recommendation. For illustrative purposes only. Past performance does not guarantee future results.
Disclaimer: Inclusion of specific security names in this commentary does not constitute a recommendation from TD Ameritrade to buy, sell, or hold.
Market volatility, volume, and system availability may delay account access and trade executions.
Past performance of a security or strategy does not guarantee future results or success.
Options are not suitable for all investors as the special risks inherent to options trading may expose investors to potentially rapid and substantial losses. Options trading subject to TD Ameritrade review and approval. Please read Characteristics and Risks of Standardized Options before investing in options.
Supporting documentation for any claims, comparisons, statistics, or other technical data will be supplied upon request.
The information is not intended to be investment advice or construed as a recommendation or endorsement of any particular investment or investment strategy, and is for illustrative purposes only. Be sure to understand all risks involved with each strategy, including commission costs, before attempting to place any trade. Clients must consider all relevant risk factors, including their own personal financial situations, before trading.
TD Ameritrade, Inc., member FINRA/SIPC. TD Ameritrade is a trademark jointly owned by TD Ameritrade IP Company, Inc. and The Toronto-Dominion Bank. © 2015 TD Ameritrade IP Company, Inc. All rights reserved. Used with permission.