Cash flow coverage of the dividend paid is more relevant than dividend payout
Traditional dividend analysis focuses on dividend payout from net income, but the focus really should be on the cash flow coverage of dividends in order to determine their quality and sustainability.
The pertinent questions should be:
Are dividends being paid from operating, investing and issuance cash flows?
Or is the beginning cash balance needed to make this payment?
Herb Greenberg, Senior Stocks Commentator on CNBC, did a feature talking about exactly this subject. You can watch the video here: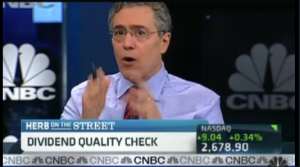 Herb talks about stocks with High Quality Dividends such as Altria (NYSE:MO), Unilever (NYSE:UL) and Mattel (NASDAQ:MAT) as well as stocks with Low Quality Dividends such as AT&T (NYSE:T), Guess (NYSE:GES) and Avon (NYSE:AVP).
How to think about Dividend Quality
Let's walk through in some more detail about how you should think about dividends and dividend quality.
For our analysis, cash dividends are assumed to be paid only after net debt repayments. Cash outflow for share buybacks are considered discretionary and subordinate to the cash required to support dividend policy.
Dividends that are fully covered from operating and investing cash flow net of any cash outflow from debt repayments and net of a decrease in deposits (for banks) are considered to be "high quality." Those that require an additional net cash inflow from issuance of debt or equity are categorized as "medium quality". If operating, investing and issuance cash flows are not sufficient to fund the dividend and the beginning cash balance is used, the dividend is referred to as "low quality."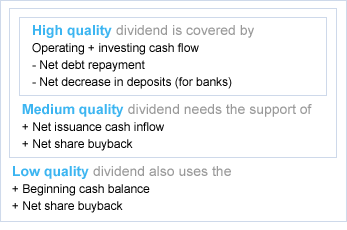 This last category is most at risk of a dividend cut though we recognize that companies that have a large cash balance could continue to pay dividends even with a "low quality" dividend profile. For all these definitions, we assume the cash outlay for share buybacks is discretionary and can instead be used to support dividends.
Analyzing Dividend Quality
Let's look at Exxon (NYSE:XOM) as an example. Using the principles above we analyzed the dividend quality and coverage ratios for Exxon for the last 5 years, and also compared and contrasted it with select peers.
XOM-US has a high quality dividend
The source of the company's cash to support the dividend paid in 2010 is operating cash flow (coverage of 5.7x), investing cash flow (coverage of -2.8x), issuance cash flow (coverage of -2.2x) and beginning period cash (coverage of 1.3x), for a total dividend coverage of 2.0x. XOM-US's issuance cash flow includes outflows from net debt repayment (coverage of -0.7x) and net share buybacks (coverage of -1.4x). Thus, the total coverage including share buybacks is 3.4x, which reflects our assumption that the cash paid for share buybacks is discretionary and could instead be used to pay dividends.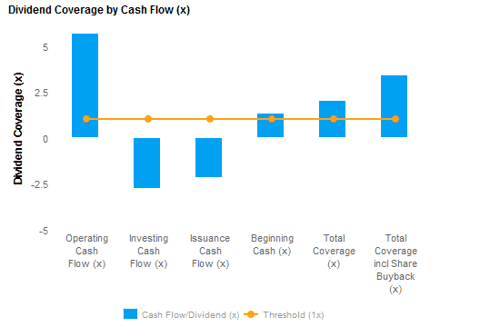 These coverage ratio factors imply that the firm's dividends are wholly paid from operating and investing cash flows net of any debt repayments, which suggests a high dividend quality. XOM's dividend quality is in line with a majority of its peers, which comprise 5 high quality, 4 medium quality and 1 low quality.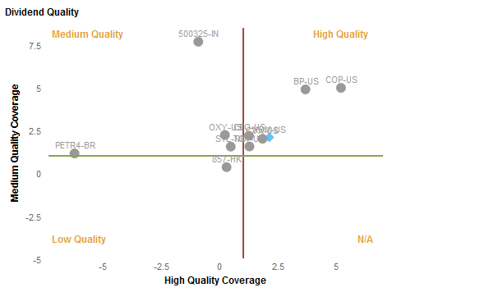 Dividend quality varied between high and low over the last five years
XOM has paid a dividend in each of its last five years. The distribution of dividend quality over this period consists of 4 high and 1 low. In particular, the dividend paid in 2010 was of high quality, compared to a low quality dividend in the prior year.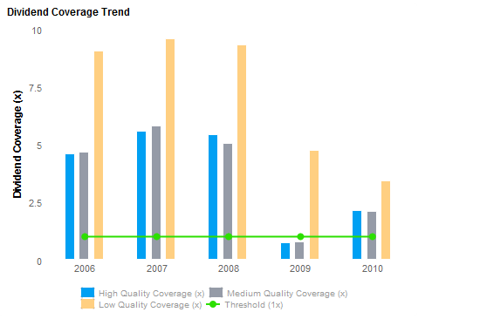 Disclosure: I have no positions in any stocks mentioned, and no plans to initiate any positions within the next 72 hours.