Net sales from Greater China (comprised of Mainland China, Hong Kong and Taiwan) accounted for over half of Tiffany's (NYSE:TIF) Asia Pacific segment net sales according to its 2014 annual report.
2015 second quarter (ended July 31) sales in China rose by a double-digit percentage and Tiffany opened two more stores in the Middle Kingdom, specifically in Shanghai and Hangzhou, bringing the company's China store count to 30 out of a total worldwide store count of 304.
This article will assess the outlook for Chinese luxury demand and its impact on Tiffany & Co in the long run. Please take note this is only one factor in weighing the attractiveness or non-attractiveness of Tiffany & Co as an investment and should not be used independent of other factors.
With a rapidly growing economy and an increasing number of affluent households, China emerged as a significant growth driver for the luxury goods industry and is the world's second largest luxury goods market. Chinese shoppers account for nearly 30% of worldwide spend on luxury goods, up from 3% just a decade ago and a report by Bain & Co states that Chinese consumers are the top and fastest growing nationality for luxury.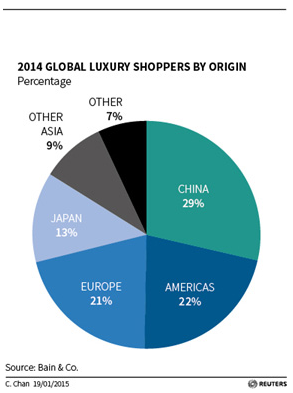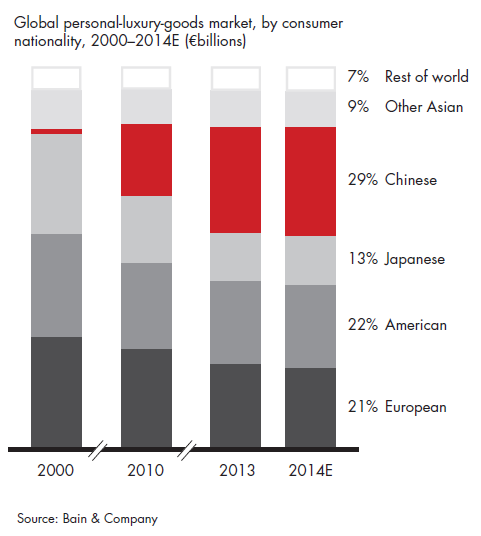 After witnessing steady growth since 2007, China's luxury goods market actually shrank by 1%, last year a result of a government crackdown on corruption, bribery and lavish gift-giving.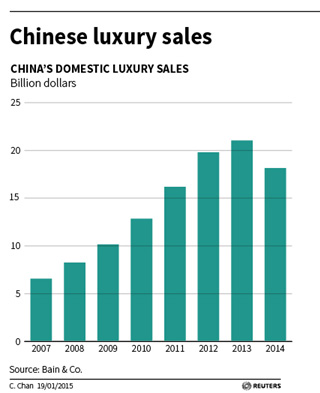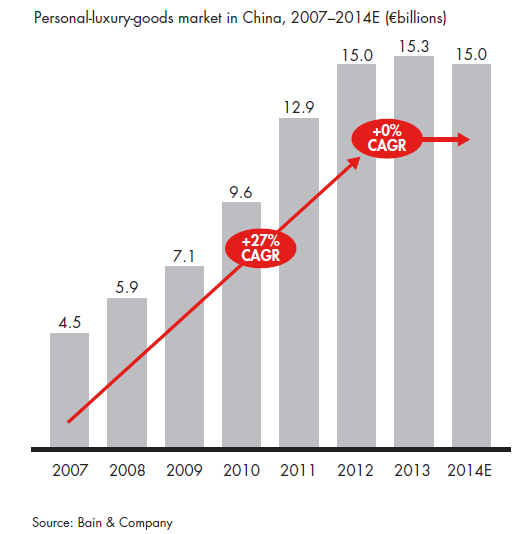 China's slowing economy (7.4% growth in 2014, its slowest pace in 24 years), its falling stock market and the recent yuan devaluation are likely to have an impact on Tiffany's top-line in the near future.
Although China represents 30% of the world's luxury sales over 70% of these sales are made outside China; high import tariffs and shipping costs could inflate the price of luxury goods by as much as 30% to 50% in China. This explains the high proportion of luxury sales made outside the mainland to Chinese overseas travelers (Japan and Korea were popular destinations for such purchases in 2014) or to daigou agencies (middle-men who make luxury goods purchases overseas on behalf of their Chinese clients located in China). This contrasts with American, European and Japanese luxury consumers who tend to buy luxury items locally.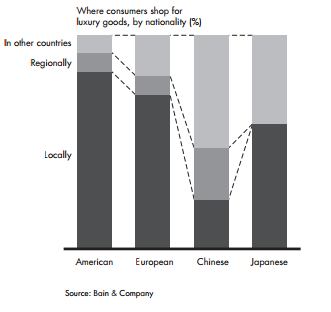 Source: Bain & Company
In addition to increasing the cost of luxury purchases in yuan terms, a devalued yuan also increases the cost of overseas travel which could affect Tiffany's sales in other geographic segments. Nearly 25% of Tiffany's US sales and over 40% of sales at its flagship Fifth Avenue store in Manhattan are made to foreign tourists. A devalued yuan is likely to curb Chinese from traveling to the United States.

Source: Author. Data sourced from the Office of Travel and Tourism Industries
In 2014, Japan and Korea were the most popular destinations for Chinese luxury shoppers. Tiffany's comparable sales in Japan, its second biggest market, rose 21% in the quarter ended July 31 2015, a result of increased tourist spending, particularly from Chinese tourists the numbers of which have been surging. The Japan National Tourism Organization said 576,900 people from mainland China visited Japan in July, more than double the year-earlier number.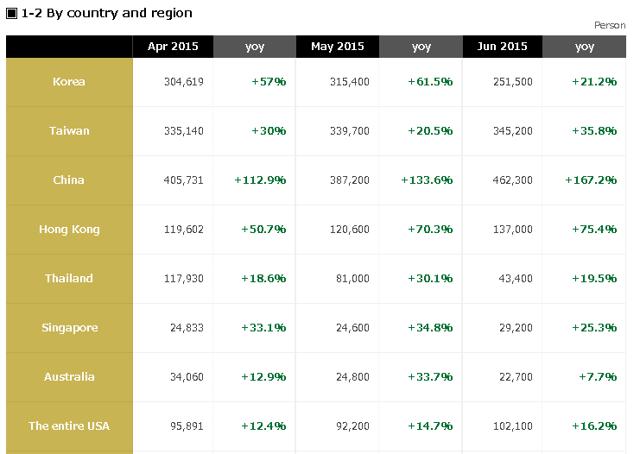 Source: Japan Tourism Marketing Co.
The yuan devaluation is likely to impact Chinese tourist numbers to Japan.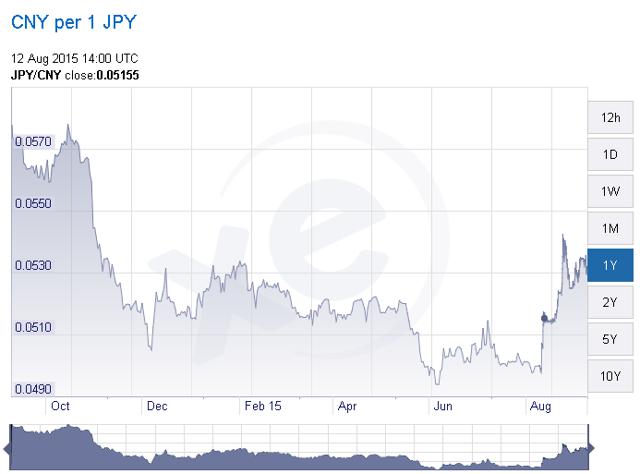 Source: xe.com
The devaluation may have little effect on overseas travel and overseas luxury spending of Chinese buyers at the upper end of the income scale who are less price-sensitive. However, diagou buyers - middle-class consumers who not necessarily wealthy enough to travel abroad - are most likely to curtail purchases.
A weaker yuan opens the possibility of Chinese consumers making luxury purchases on home ground, however, whether it could outweigh the effects of an economic slowdown and a falling stock market remains to be seen. Bain & Co expects China's luxury goods sales to drop by as much as 4% this year.
However, the situation is much brighter over the longer run. Economic growth should contribute to a demographic shift in China in terms of income; the coming decade will see a steady increase in affluent households with the purchasing power for luxury goods.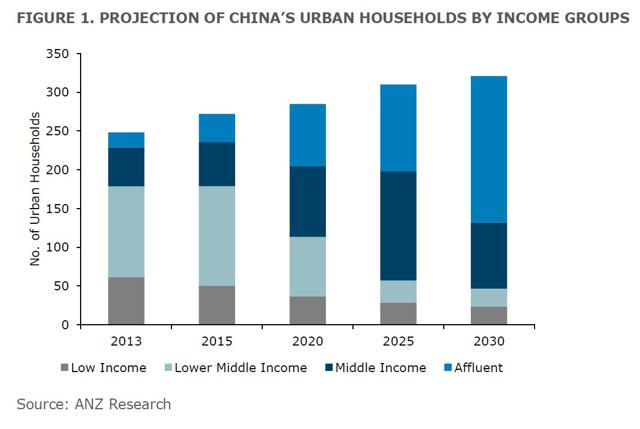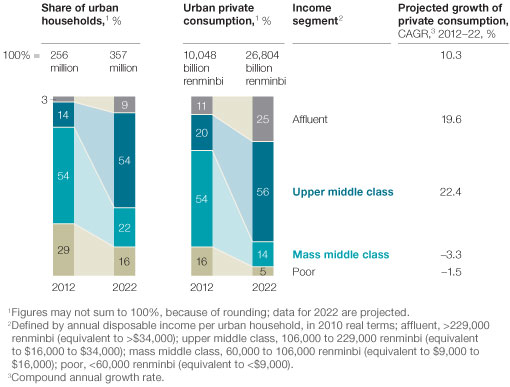 Source: Jing Daily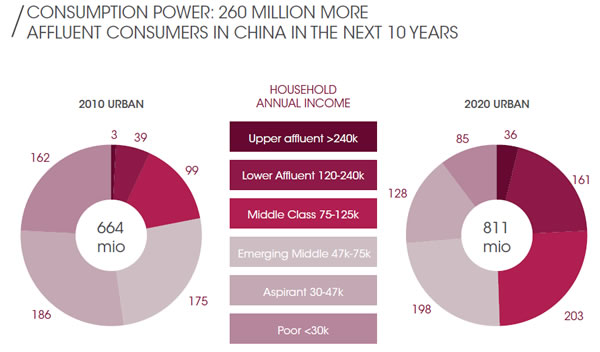 Source: Red Luxury
In 2014, China rose to second place for the country with the most millionaires at 213, second only to the United States.
A report by the Economic Intelligence Unit sponsored by Citigroup projects China's wealthy will have double the assets of their American counterparts within five years. By 2020, the financial assets of Chinese worth $100,000 to $2 million will reach $53 trillion, compared to $27 trillion in the United States, according to the report
All this suggest that Chinese luxury demand is on an upward trajectory, not just from consumers trading up but by the sheer number of people being able to afford luxury purchases.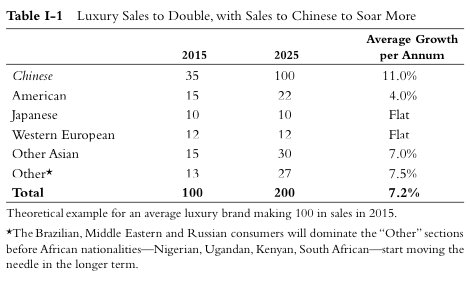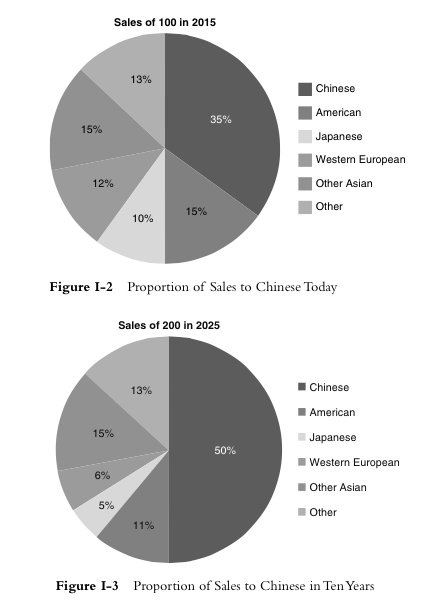 Source: The Bling Dynasty: Why the Reign Of Chinese Luxury Shoppers Has Only Just Begun
Therefore China's recent economic problems are likely to be just near term headwinds and the country's increasing wealth should translate into long run growth for Chinese luxury demand. Tiffany's brand recognition in China (the company recently won the 'Best US Luxury Brand for Chinese Luxury Consumers') suggests Tiffany is poised to take advantage (all else being equal) of the long term growth prospects in Chinese luxury consumption.
Disclosure: I/we have no positions in any stocks mentioned, and no plans to initiate any positions within the next 72 hours.
I wrote this article myself, and it expresses my own opinions. I am not receiving compensation for it (other than from Seeking Alpha). I have no business relationship with any company whose stock is mentioned in this article.