Background
The Generation Portfolio is a fund of stocks that I manage for others. I described its origins here, and wrote about previous buys here. Essentially, it is a portfolio being assembled from scratch beginning in late August 2015.
Previous Buys
I usually make several buys every week, with every account position comprising roughly 2-3% of the liquid assets of the portfolio. The account began with a large position in Ford Motor Company (NYSE:F), along with a few other minor positions that I will eventually liquidate at a good time. Previous positions in the account were:
All together, these purchases represented roughly 10% of the liquid assets of the Generation Portfolio.
Additions
During the week before Labor Day, I made the following additions to the Generation Portfolio:
The total holdings now comprise 16.85% of the available cash of the fund, leaving about 80% (taking into account a continuing cash return) to fund.
Total Holdings
Just to have everything in one spot, here are the holdings as of the end of the week of 31 August 2015:
Ford (legacy position not included in calculations)
Wells Fargo
Disney
Bristol-Myers Squibb
MFA Financial
Omega Healthcare
Procter & Gamble
Chevron
CYS Investments, Inc.
The aim of the Generation Portfolio is preservation of capital and income, with moderate growth. One could slap a handy label on it such as "Dividend Growth Investing," but my strategy is to have a core of very stable Quality Stocks as I have defined them previously, with more speculative securities that provide high cash flow orbiting around them. Thus, the stocks will not have just one characteristic following any set formula, but different characteristics that hopefully will complement each other. I like REITs due to their built-in tax advantages and cash flow generation, so they will comprise a substantial subset of the overall portfolio.
Strategy
The overall strategy of the Generation Portfolio is to be opportunistic. I will be adding on market sell-offs and general market weakness. The dividends will be taken in cash, so even after the initial tranche is fully allocated, cash flow should provide continuing opportunities to add new positions (or add to current ones). The aim is to hold for the long terms, so few sales are contemplated. Buys will be stretched out over many months, in order to diversify both with stocks. One way to look at it is as a modified dollar cost averaging strategy.
My typical purchase strategy is to pick out a level at which I wish to add a stock, set a limit order, and wait. There is no rush. If a stock gets away from me, there are plenty of others.
Reasoning Behind the Additions
I have written about OHI previously. It completed a large merger earlier in 2015 that it is still digesting. OHI also is suffering along with other bond equivalents due to fears of rising interest rates. I like OHI because it has been steadily raising its dividend and is in a sector of the healthcare field that should be very stable due to demographic changes.
I wrote about CYS here. As discussed in that article, it is one of my favorite mortgage REITs, and I own some in my own personal accounts. CEO Kevin Grant is tops in the field, and his conference calls are usually quite informative about prospects for the REIT sector as a whole. Confidence in management is a basic requirement in choosing a holding. CYS has suffered along with other REITs this year, but its earnings remain healthy.
PG is intended as a core holding. It is off over 20% from its $93.89 52-week high. Since PG is one of the most discussed stocks on Seeking Alpha, there is little point to going into an extended discussion about it. It received an upgrade from Neutral to Buy at Suntrust Robinson Humphries after my purchase, so others appear to be recognizing its value after its steep decline throughout 2015. The yield is close to 4%, and this is a Warren Buffett-style "razorblades" purchase that I feel confident will recover in time.
Chevron is what I call an "Apollo 11" buy. The story goes (and it may be apocryphal, but it is a good story) that when Neil Armstrong first set foot on the Moon in 1969, the very first thing that he did was to reach down, grab some dirt, and throw it into the Lunar Module. That way, if some problem developed and they had to leave in a hurry, NASA would at least have something tangible to show for their journey.
Oil prices have plummeted throughout 2015, and they easily could drop further. Everybody talks at length about oil and its prospects, so once again there is little point to repeating that sort of analysis here. CVX pays a solid dividend that appears sustainable and is off about 40% from its 52-week high of $125.79. Given the volatility of oil prices, it seems prudent to start building a small position in the oil sector while energy prices remain depressed. I was eyeing Exxon Mobil (NYSE:XOM), and that will likely be my next addition (of several) in the sector.
Review of Buys
So far, the standout purchases have been Disney and Wells Fargo, and the laggards have been Bristol-Myers and OHI. Overall, the Generation Portfolio is net positive, but that could change depending upon continued market volatility. In any event, short-term gains in a long-term portfolio are only good for bragging rights, and that is not the goal. I would be happiest if there is continued market weakness, at least until the Generation Portfolio is 50% allocated.
List of Prospects
Just as a general guide to the types of stocks under consideration, here is a list of top prospects.
TOL
LMT
MMM
JNJ
NKE
ABT
UNH
XOM
RDS/B
RIG
PG
PSX
UTX
EMR
PEP
GILD
UNP
KMI
CAT
KO
T
STWD
OXY
COP
KKR
NFLX
WMT
PANW
MO
HD
PBY
EMR
PEP
EV
SCG
DLR
KSS
BPL
OHI
PFE
GIS
KMB
CAH
FCX
NLY
O
General Discussion
As mentioned in my last article, September traditionally is the roughest month for the stock markets. What is fascinating about this tendency is that it is not just a US phenomenon, as illustrated in the below graph of the UK stock market.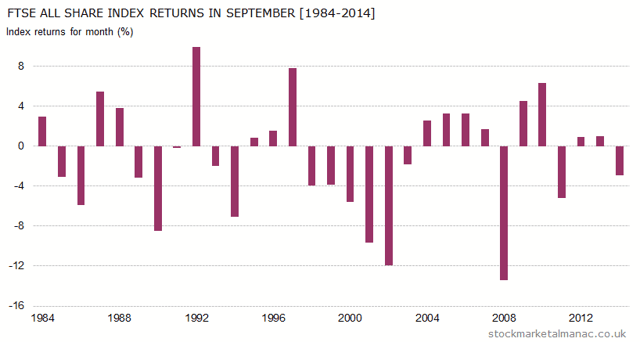 While, roughly speaking, the number of "up" Septembers are about equal to the "down" ones, the down months are usually much worse than the up months are positive, both in the UK and the US.
This being the stock market, analysts dig even deeper into the month.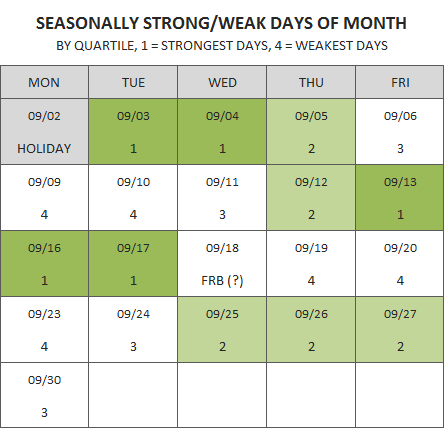 Source: MarketSci Blog
Looking at the relative strength of the days, one can see that the month of September is volatile. The periods of weakness appear to be concentrated roughly in the middle of the month, though the exact mid-point is relatively strong. That happens to be the date in 2015 of the eagerly anticipated Fed meeting, which takes place on 15/16 September this year. The volatility appears to abate during the final days of the month, so waiting to add positions too long could lead to fewer opportunities.
I have written about the impact of Index funds (and the growth of ETFs in general) here. I think that impact should be part of every investor's thinking when contemplating purchases, because Quality Stocks increasingly are moving as a herd during periods of volatility. September also seems to be the prime month for the "bandwagon effect," where individual investor all decide to dump their shares on the same days, or buy on other days. Steeling your nerves and buying on weakness in September usually pays off in the long run, and this trend should only increase due to the growth in index fund investing and the herd-like buying and selling that accompanies it.
The main factor looming over the market at present is the Fed meeting. There seems little doubt that the market is not looking forward to a rate increase. As I wrote recently here, the economic data do not really support a rate hike in September 2015, but the Fed may go ahead anyway. As the date increases, there easily could be more of the volatility for which the month of September is notorious. However, if the Fed does raise, it may include soothing language that actually could inspire a stock rally. Thus, I will be looking for buys in financial assets such as banks and REITs both before and after the Fed announcement.
Actionable Ideas
I am keeping an eye on the financials, which are most affected in the short term by Fed announcements. I also am looking at good dividend-paying staples such as KO and T. If oil returns to the $30s, I may add a position or two in that sector. In the technology sector, Apple remains on my list, but it has heavy Chinese exposure in several different ways and I prefer to wait and see if its recent weakness continues before taking a position. AAPL isn't really a dividend play, which is a focus of the Generation Portfolio, so there is no urgency to adding it despite its attractive growth prospects.
Conclusion
The Generation is off to a good start, with a growing core of Quality Stocks in a variety of sectors. I am continuing with this series because I think it is useful to show as close to real-time as possible how a conservative portfolio is assembled from scratch. It is easy to throw out bromides about "buying on weakness" and the like, but few commentators actually illustrate this while the volatility is in progress. Hopefully, this series will prove helpful to those following along, and I welcome comments or suggestions for additions (or deletions) to the Generation Portfolio.
Disclosure: I am/we are long CYS.
I wrote this article myself, and it expresses my own opinions. I am not receiving compensation for it (other than from Seeking Alpha). I have no business relationship with any company whose stock is mentioned in this article.
Additional disclosure: While I personally do not own many of these securities and have no interest in them, the portfolio does own the stocks indicated.