Rail companies are usually considered conservative investments. In North America, rail is primarily used to transport materials, machinery and other heavy goods. Rail is an economical method of transporting, requiring far less energy to move cargo than through trucking.
For many years, rail transportation was out of fashion, but within the last decade rail has once again become a preferred method for moving basic materials, machinery and other freight within the United States and Canada. Much of the reason for this is due to rising oil price increases and improving rail efficiencies.
Below are the current yields, as well as the 2012-to-date, 3-month and 6-month equity performance rates for the three large-cap American railroads, CSX Corp. (NYSE:CSX), Norfolk Southern Corp. (NYSE:NSC) and Union Pacific Corporation (NYSE:UNP), and two large-cap Canadian railroads that are traded in the United States, Canadian National Railway Company (NYSE:CNI) and Canadian Pacific Railway Limited (NYSE:CP).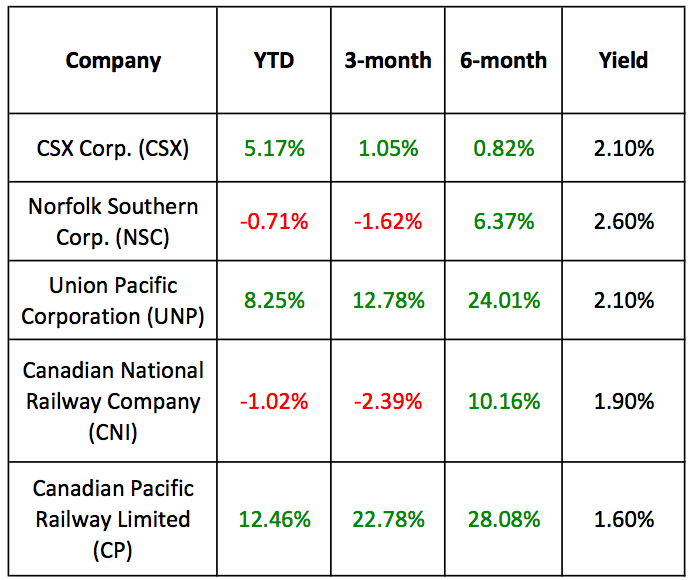 And below is a 1-year equity performance comparison chart for these five railroads:




Most of these rails were performing well during the first half of 2011, but the group fell along with most other equities during the third quarter. In the fourth quarter of 2011, most rails performed exceedingly well. So far in 2012, the group has had mixed equity results.
Just a few years ago, Warren Buffett purchased Burlington Northern Santa Fe Railroad and absorbed the large cap American railroad company into Berkshire Hathaway, which already owned a large portion of the company. After acquiring it, only a handful of large cap rails remain publicly traded.
Disclosure: I have no positions in any stocks mentioned, and no plans to initiate any positions within the next 72 hours.
Disclaimer: This article is intended to be informative and should not be construed as personalized advice, as it does not take into account your specific situation or objectives.