Investors are often hesitant to pick up a stock that is trading at its highest price over the last year. The most common adage is buy low, sell high. However, there is just as much money, if not more, to be made by buying high and selling higher.
Buying a stock at lows makes sense on some grounds, like if it's fairly well known that the stock is due for a rebound and the underlying company is very strong. For example, I was a fan of Disney (NYSE:DIS) in September (up 25% since) and a fan of Corning (NYSE:GLW) early last week (up 9.2% since). But these are huge companies with decades of solid performance, at artificial lows due to outside market forces. A number of the other stocks that you would find at near record lows are there because they can no longer keep up with the rest of the market. A good example would be Radioshack (NYSE:RSH). Any non-investor would be able to notice that the number of Radioshack locations is going down and that they are losing sales to online outlets. The drop below the $8 is justified and I just regret that I never got around to shorting it last year.
The circumstances are completely different when you buy a stock near a 52-week high. These stocks are generally there because they have come into favor with the market on a broad scale. There is some risk that the market could swing the other way and these could come down harder than the average since their runs up have exceeded the overall market. But I think this is a risk worth taking. As the 4 stocks below will show the only time to buy them is near their 52-week highs and waiting for a drop could be very costly.
Apple (NASDAQ:AAPL)
I'm sure you are all very aware of Apple's last earnings report; it was fantastic, coming off the one quarter in recent history that didn't blow analysts out of the water. iPhone and iPad sales are good. Macs still have a strong market share. iPod sales are decreasing but that's okay since they make up less than 1% of Apple's worth. Most importantly, Apple is still sitting on a massive pile of cash that could buy the majority of public companies out there. There is also the impending announcement of the Apple TV. It looks like this could have a huge impact on Apple as a stock, but this company is known for its risk taking and innovation so I'm sure that all of the proper precautions have been taken in planning for its release.
The chart below shows how impressive a run Apple has been on over the last year. In reality a five-year chart would have looked the same, but it would show a 450% gain in price. In the last year, Apple is up around 30% and pull backs have been short-lived. The consensus one-year price target is over $550, which would yield about 20%...not a bad return for the biggest company in the world.
(Click charts to expand)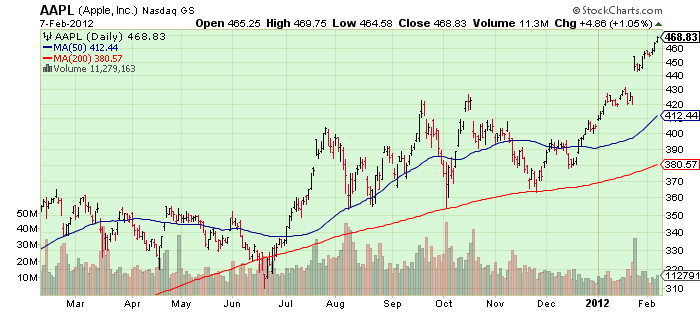 Chipotle Mexican Grill (NYSE:CMG)
I've been a huge proponent of Chipotle over the last two years and its price appreciation has proven me right time and time again. A plethora of "short Chipotle" articles are out there and I don't feel bad for those who have actually done it. It's very easy to see why this company is so successful. First, it has a premium product that is fresh and relatively healthy. Chipotle consumers are health conscious, which is why they will take a fresh burrito over a cheeseburger and fries. Second, Chipotle is eco-friendly. It promoted its "Food with Integrity" initiative, which details all of its farming techniques, 100% recycled material napkins, and so forth.
What I feel is the biggest part of Chipotle's success is its refusal to franchise. This reads like a basic economics lesson, but Chipotle is responsible for scouting the locations of its restaurants so it can pick out where the upper middle class is going to be willing to spend $7-$8 on a burrito (and somehow you break double digits with a drink and chips). This is part of the reason why growth is not as fast as some would like. It takes time to do all of this market research and train soon-to-be managers from within. At Chipotle's recent conference call it said it plans to open 155-165 locations in 2012, on top of the 1,230 it already has. The counter argument would be that the market is saturated enough with 1,230 Chipotles, but there are only two in Europe and with all the economic problems over there, it could use some burritos.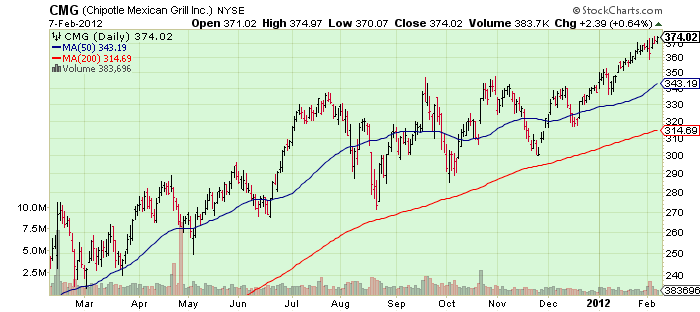 Nike (NYSE:NKE)
One of the themes with the stocks on this list is that they are an industry leader in the sector. Nike has a stranglehold on athletic footwear and apparel. In addition, its casual shoe line is strong enough to cause riots or sell for thousands for charity on eBay.
Looking at the graph, Nike has been a bit more volatile than the others, but since the summer there is a definite up trend. Long-term it is up from just over $60 two years ago, and $40 at the bottom of the recession. Despite this Nike's P/E is still only 22. And it pays a dividend that is yielding 1.4%, but growing.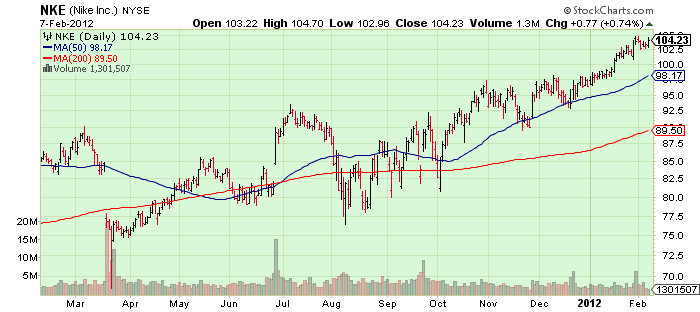 Yum! Brands (NYSE:YUM)
Yum is probably my favorite stock on this list and it could be because the Beefy Crunch Burrito is the greatest thing to hit a dollar menu since the Burger King recession special double-cheeseburger. It may seem odd that Yum and Chipotle are both on the list, but in reality they are not competitors and merely operate in the same broad sector. Chipotle is a fast-casual restaurant that I like to think is more of a "destination" location than a "driving by at midnight" location. Moreover, I think Chipotle gets more "sit down" customers and families than Taco Bell. Lastly, and most importantly, Yum pulls the majority of its revenue from overseas and Chipotle only has two restaurants in Europe. KFC is all the rage in China and you'd be amazed by how many Pizza Huts are in India.
Yum's earnings were released on Monday and warranted the run that they have been on since October with revenue up 15% year over year. It was quite impressive for a company that still has so much room to grow overseas. Yum's dividend is not too bad either. If a pullback were to come it could bring the yield up to 2%.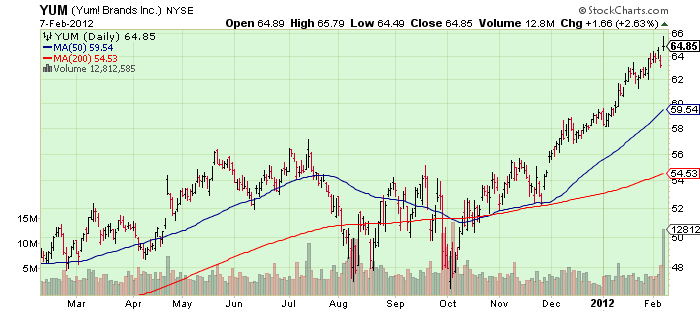 There four stocks have been making investors money for years and a majority of them did not buy these stocks when they were at lows a long time ago, but when they realized that their price growth was not going to stop. All four are transparent companies so it's not difficult to see where their profits come from and it's easy to gauge consumer sentiment. None of them has fallen out of favor or is likely to do so in the near future so if all goes well these gains will continue to rack up.