Crude oil rallied nearly 4% on Thursday (9/10/2015) despite the release of the EIA Petroleum Inventories showing that crude oil inventories in the US increased by 2.6M barrels, above estimates of a buildup of 0.9M barrels. While normally the headline oil inventory number would take center stage, the markets now seem to be digging deeper. Indeed, the focus has shifted towards fundamental data such as supply and demand, with sentiment now seemingly turning bullish for the first time in ages.
A look at the data
When looking through the EIA report, it becomes obvious that the fundamentals are improving for crude oil. Let us start with the supply side.
Domestic production in the Lower 48 came in at just 8.683M bpd, down a massive 208K bpd compared to 8.891M bpd last week. For Alaska, when adjusting for pipeline maintenance, which took out over 100K bpd, oil production from that state has actually declined ~25K bpd from its 2015 average of ~477K bpd. Combined, total domestic production of crude oil was just 9.135M bpd.
The new data now means that US oil production has over 500K bpd from its 9.7M bpd peak in April 2015. This is a very sharp rate of decline and well above expectations. If this rate continues, the US would lose all of its 2015 oil production gains by November. Given just how low rig counts are, I do not see this trend reversing anytime soon.
As for demand for crude oil, the story continues to be led by the refiners.
Due to increased demand for cheap gasoline, refiners across the US have been running at near record levels. Consumption of gasoline, a typically stable metric, has surged 6% Y/Y, despite improving gas mileage. Furthermore, crack spreads have remained high for most of the year. This has led to record refinery utilization rates for months now, with gasoline stockpiles typically below their 10-year averages based on days of consumption.
Though, the recent EIA data does indicate some softness for gasoline demand, with summer over, many refineries are starting their fall maintenance programs, which will result in lower utilization rates. Throughput fell by a large 280k bpd week over week, with the amount of crude oil being processed now below 2014 levels.
In addition, gasoline consumption also fell week over week due to the end of the summer driving season. However, gasoline stockpiles remain below 2014 levels, with regions such as the West Coast near decade lows. This has resulted in much higher gasoline prices in California than in the rest of the country, even when adjusted for taxes.
Price action indicates continued short covering
Lastly, a few words on the price action seen in crude oil. As I have noted in the past, we are seeing major volatility, with today's 4% rally just another example.
During late August, crude oil prices surged 25% higher, the biggest move in 25 years. However, while that move was caused by an actual war (the first Gulf War), this recent move was apparently caused only by short covering.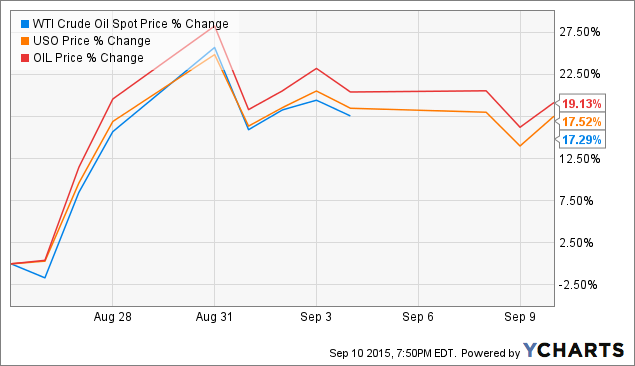 WTI Crude Oil Spot Price data by YCharts
However, even with this considerable rally, the short position is still absolutely massive. Hedge funds still held estimated short positions equivalent to 136 million barrels of oil as of September 1, down just 17% from the recent high of 163 million barrels three weeks earlier.
It is very likely we will see further rallies in oil as these short positions are covered. The last time the short positions were this large was in March when oil was in the $40s, which was soon followed by a 40% move higher in crude oil to above $60 per bbl.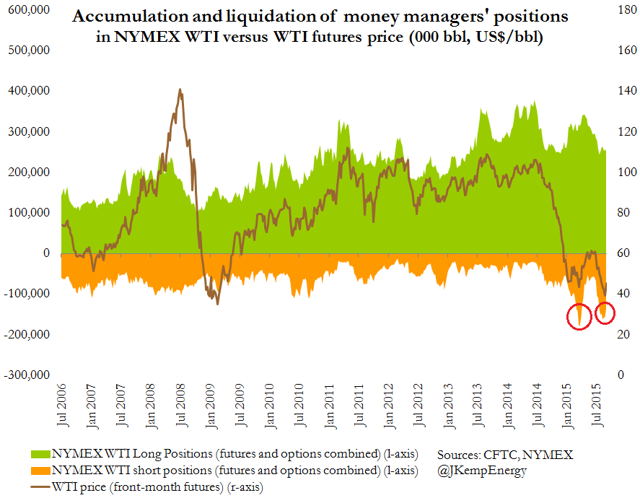 Source: Reuters
The best way to play higher crude oil prices?
Besides some of the risky ETFs/ETNs such as United States Oil ETF (NYSEARCA:USO), the VelocityShares 3x Long Crude Oil ETN (NYSEARCA:UWTI), and the iPath S&P Crude Oil Total Return Index ETN (NYSEARCA:OIL), I believe the best way to play higher oil prices is to own oil majors.
These include Exxon Mobil (NYSE:XOM), BP (NYSE:BP), ConocoPhillips (NYSE:COP), Chevron (NYSE:CVX), Royal Dutch Shell (NYSE:RDS.A) (NYSE:RDS.B), among others. Not only do these names carry less risk, but they are also extremely generous in terms of dividends with yields ranging from 4% to 7%. Many oil majors also have refining assets, which remain very profitable even if crude oil stays low.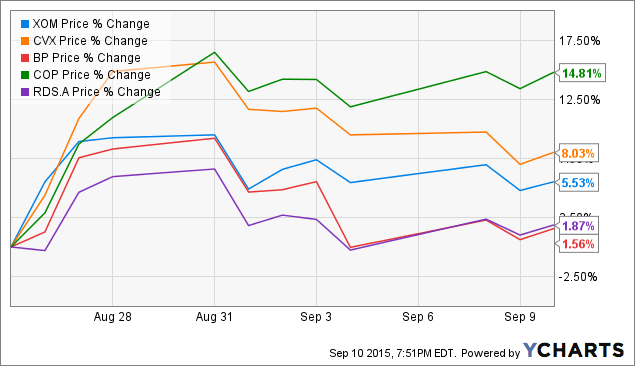 XOM data by YCharts
Disclaimer: The opinions in this article are for informational purposes only and should not be construed as a recommendation to buy or sell the stocks mentioned. Please do your own due diligence before making any investment decision.
Disclosure: I am/we are long COP.
I wrote this article myself, and it expresses my own opinions. I am not receiving compensation for it (other than from Seeking Alpha). I have no business relationship with any company whose stock is mentioned in this article.