What's up?
Lululemon (NASDAQ:LULU) announced its Q2 results this morning. They included a 16% increase in net revenue versus Q2 2014, and an 11% increase in comparable sales. In spite of this, the stock is down nearly 15% today. I'm sure some are saying, "what gives?". Along with their gains, Lulu stated it expects Q3 earnings to fall by as much as one-sixth vs. last year.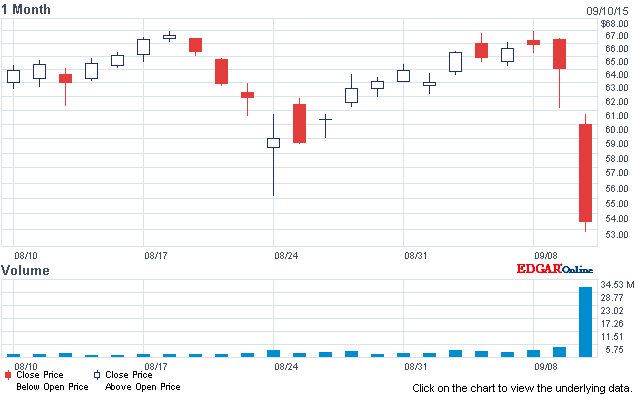 (Source: Nasdaq.com)
A company announcing its own weakened guidance is never great news. Nevertheless, CEO Laurent Potdevin advocated the company's determination to keep on track.
"Looking to the remainder of the year, our team is laser focused on meeting our strategic key goals: grow our global collective, relentlessly innovate our product lines and continue to create transformational experiences for our guests," Potdevin said.
Short pullback or long term trouble?
I'm sure a lot of people are looking at this dip as a buying opportunity. I'm going to go against the current here. I think there are some real concerns to take into account when looking at Lululemon as an investment. Principally, their pricing is not competitive versus competitors. Lulu is already taking heat on price increases from $72 to $88 on some crop pants. Being a guy, I don't buy yoga pants, but if I did..I would definitely have a problem with a 22% increase in price, and go look elsewhere. Personally, I don't like paying $88 for any piece of clothing. Alas, women seem to have a different opinion on this area than I, so I consulted one of my closest friends (who is a fitness junkie by the way. 87% of the time I see her she's wearing workout clothes.) on whether she deems paying $98 for Lululemon yoga pants a worthwhile endeavor.
Our conversation:
Me: "So I'm writing an article on the Lululemon's slipping earnings estimates and can I just say that it's absurd that a woman would pay $98 for yoga pants."
Her: "OMG I know right. I think even if I was rich I wouldn't pay that much. Forking over $35 for a pair at VS is expensive to me. I like old navy bc they're only $15-20 lol."
Since she's a part time personal trainer, I consider her opinion to carry a little bit of weight on the subject. She is also correct, Victoria's Secret's comparative pants are in the $60 range, well below Lululemon.
The Competition is getting fierce
Consider Lulu's pricing relative to competitors. If you go through their main lineup of woman's yoga pants, the average price I see is $98.
Athleta, a Gap Inc. (NYSE:GPS) brand, has its crosshairs on the Lululemon market. The brand, which is entirely aimed at athletic women, has its pants ranging from $31-89.
Under Armour (NYSE:UA), no slouch by any means, has its pricing for women's yoga pants averaging in the high $60's. Again, I'm a dude and don't/never will wear yoga pants. I do however own Under Armour products and I must say, I don't see how lululemon could possibly be making a product of such higher quality that it justifies charging 100 bucks. Also, Under Armour is running in 6th gear in terms of advertising. The influence gained by having athletic women such as Misty Copeland and Lindsay Vonn in their adds cannot be overstated in terms of bringing in market share.
Nike's (NYSE:NKE) products seem to be in the same pricing area as lululemon, but they are still a threat.
Even Dick's Sporting goods (NYSE:DKS) is hopping into the women's activewear market with its own fitness store to challenge Lululemon.
Bear in mind, I only checked out the yoga pants. The competition in things like hoodies, running jackets etc. is just as heated.
Athletic clothing is a competitive industry, plain and simple. Lululemon's advantage seems to be that they're credited with being the first to promote wearing gym clothes everywhere you go, and they're trendy. This won't keep them from losing out competitors. With everyone getting in on the action, their market share is going to take a hit. Especially if they're one of the most expensive brands.
Iffy Margins?
On top of pricing competition, Lululemon's costs have grown hampering margins. Part of the slump hitting the stock today is it's declining margins that are apparent in its Q2 results. Higher freight costs, markdowns, and store renovations have all been cited as items hindering their gross margins which dropped to 46.8% from 50.5% last year. These margins should be a continued concern in the back our minds going through Q3 as the company warned that margins are likely to stay around 47%.
Conclusion
When considering Lululemon as an investment, the aforementioned problems need to be considered. The stocks 1 year earnings per share growth rate is performing well below the 5 year trend, their future guidance is not as appealing as it once was, and their rising competition from competitors is bound to start hitting them where it hurts. This could hold especially true considering how much the competition is undercutting their products. I'm in no way implying that lululemon is going to bite the dust, but it seems that their supremacy in the activewear market could be coming to a crossroad.
Disclosure: I/we have no positions in any stocks mentioned, and no plans to initiate any positions within the next 72 hours.
I wrote this article myself, and it expresses my own opinions. I am not receiving compensation for it (other than from Seeking Alpha). I have no business relationship with any company whose stock is mentioned in this article.