As someone still involved in the creative services industry, I opine that the $499 Surface 3 from Microsoft (NASDAQ:MSFT) is the better productivity tool than the $799 iPad Pro from Apple (AAPL). Even though the Surface 3 comes with a smaller 10.8-inch display (iPad Pro has 12.9 inches), its ability to run industry standard software makes it a clear winner.
The Atom-powered Surface 3 is already a proven decent gaming machine than runs most PC games at acceptable frame rates. The good performance and portability of the Surface 3 also makes it ideal for wider adoption in thebusiness, educational, and creative markets.
Aside from its competitive edge that it can run full versions of Microsoft Office 2013/Quicken, the basic Surface 3 model comes with a bigger 64GB internal storage, full size USB 3.0 port, and a microSD card slot for easy storage expansion.
The $799 iPad Pro doesn't have expansion USB/microSD ports and only has 32GB of internal storage. Microsoft also sells the Surface pen for $50, while the Apple Pencil for the iPad Pro retails for $99.
The Surface 3 doesn't have the Core i5 of the Surface Pro 3. However, the $35/tray Atom x7-Z8700 processor inside it is capable enough to run all the most important image editing and vector illustration programs. Creative Director Loc Nguyen already proved that the cheaper tablet from Microsoft can handle Photoshop CC, Illustrator CC, Autodesk (ADSK) SketchBook Pro, and Mischief.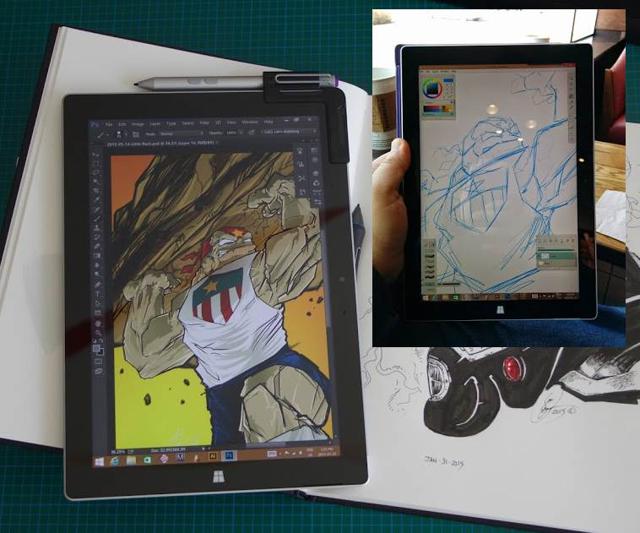 (Source: Luc Nguyen/ParkaBlogs)
The A9X SoC of the iPad Pro boasts a GeekBench single-core score of 2090 and multi-core score of 5101. These scores are obviously higher than that of the Surface 3's Atom x7-Z8700.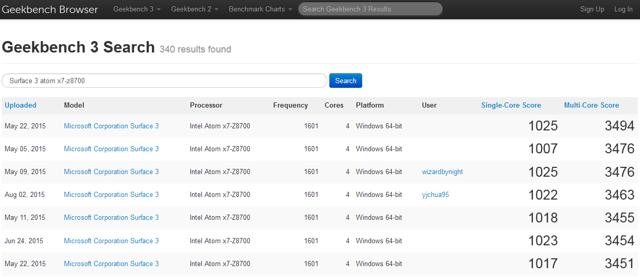 (Source: Primate Labs)
However, the real world utilization of the iPad Pro remains handicapped by the limitation of iOS apps. Sure, there are now some decent iPad drawings apps but they could never equal the usefulness and general usability of a native x86 graphics software like those from Adobe's (ADBE) Creative Cloud.
No iOS iPad Pro developer can emulate the Surface 3's compatibility with the very powerful and popular software, Photoshop CC.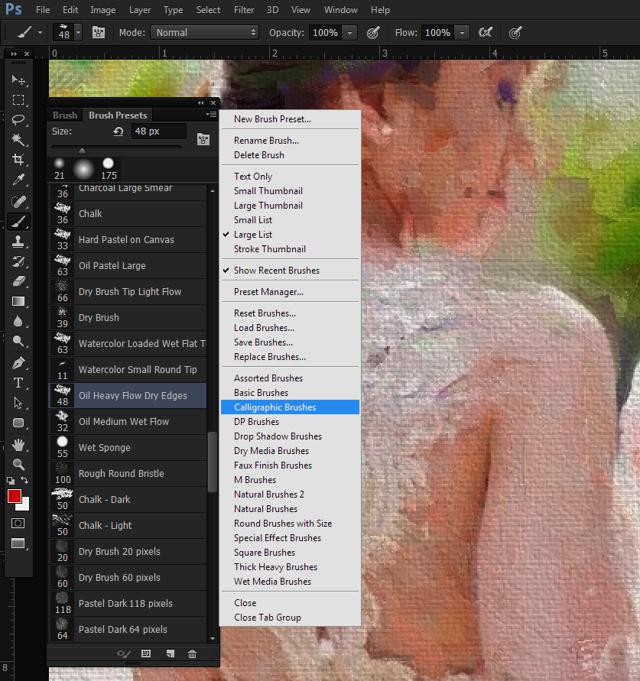 (Source: Alcaraz Research)
ADBE trades at a momo valuation of more than 100x P/E ratio precisely because millions of creative professionals and freelancers are dependent on Adobe products like Photoshop CC and After Effects CC. Unlike the Surface 3 which can replace the MacBook Air, Apple instantly made the iPad Pro unattractive to millions of potential buyers that depends on Adobe and AutoDesk software.
The iPad Pro will also be less appealing to people who made Logic Pro X, Final Cut Pro, and Quicken 2015 the three top-grossing software on the Mac app store. Enterprise/Educational market bulk purchasers of the iPad Pro will likely have to spend more money for Virtual Desktop Infrastructure (VDI) from VMWare (VMW). VDI will enable these expensive iPads to serve as more than just Office 365 tools/email communication gadgets.
The iPad Pro's future might echo the commercial failure of Samsung's (OTC:SSNLF) 12.2-inch Galaxy Note Pro. An enlarged Galaxy Tab or iPad, without the ability of VDI, are just glorified tablets that are best suited for light productivity - not professional heavy-duty work.
Final Thoughts
Sales of the multi-purpose Surface 3 will continue to prosper among value-conscious consumers and enterprise clients. Apple, perhaps in order to protect its core MacBook business, effectively made the ARM-based iPad Pro a mere optional (not a necessity) companion tool for design professionals.
The Apple brand is a luxury status quo symbol for vain professionals but the much cheaper $499 Microsoft Surface 3 clearly offers greater out-of-the-box usability than an iPad Pro.
The new reseller deal for the Surface with Dell and Hewlett-Packard (HPQ) also helps Microsoft negate the threat of IBM (IBM) assisting Apple marketing the iPad Pro to business users. Dell and HP's combined global enterprise presence is certainly as big as IBM's.
MSFT is a Buy. The hedge fund big boys are currently positive with their outlook for Microsoft. Small retail investors are often safer (and rewarded) in riding the bets of deep-stack hedge fund managers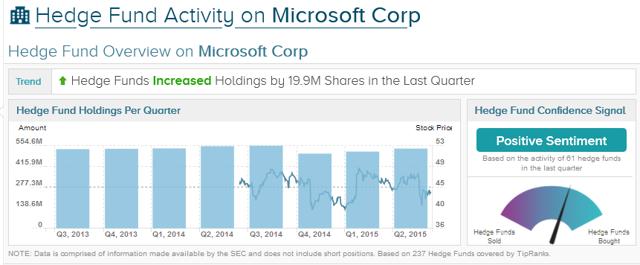 (Source: TipRanks)
I Know First Research also has a positive 24.16 score for MSFT's 12-month algorithmic forecast.