Investing in microcap public companies requires special attention to the incentives of insiders (and in some cases, considering potential conflicts of interest). By assessing incentives, investors can align their capital alongside insiders with a mutual interest: a higher valuation for the stock.
To that end, I was surprised to learn in a regulatory filing that the Chairman of Radcom's (NASDAQ:RDCM) Board of Directors ("BoD") - Zohar Zisapel - relieved himself from the position after 30 years at the helm. Mr. Zisapel co-founded Radcom and owns 29% of the company as well. His domestic partner, Rachel Bennun, was appointed as Chairwoman and has been a director of Radcom since 2012, helping the company navigate its dramatic turnaround over the last 3 years.
After reading the filing, a reasonable question to ask is why would Mr. Zisapel hand over the Chairman role? What was his incentive to do so? Or is he potentially conflicted given his roles on various BoDs and economic interests in the event of a corporate action?
It could be that Mr. Zisapel - now in his late 60s - wanted to reduce his workload and focus on other activities. However, I think there is a much more logical answer, given Mr. Zisapel has been the Chairman of the Board since 1985.
The Chairman's Role
Generally speaking, the principal role of the Chairman is to manage and to provide leadership to the Board of Directors of the company, and to act as a direct liaison between the BoD and the management of the company. The Chairman should be independent from management and free from any interest or other relationship which could interfere with the Chairman's independent judgment.
Given those facts, I find the new Radcom board composition a very interesting case of incentives. Was Mr. Zisapel no longer able to act independently?
To wit: Mr. Zisapel also happens to sit on the BoD of a very natural buyer for Radcom (he is the Chairman of the Technology and Innovation Committee), a very well-capitalized $10 billion market cap Israeli telco software player with over $1 billion cash on its books, Amdocs (DOX).
Could Mr. Zisapel's decision to step down as Radcom Chairman be an indication that Amdocs is preparing to make a buyout offer?
Amdocs Is A Natural Buyer
In addition to Mr. Zisapel sitting on the Amdocs BoD, Amdocs is also Radcom's go-to-market partner in the North American market as Radcom competes for various tenders which the company recently described as a "different scale of opportunity."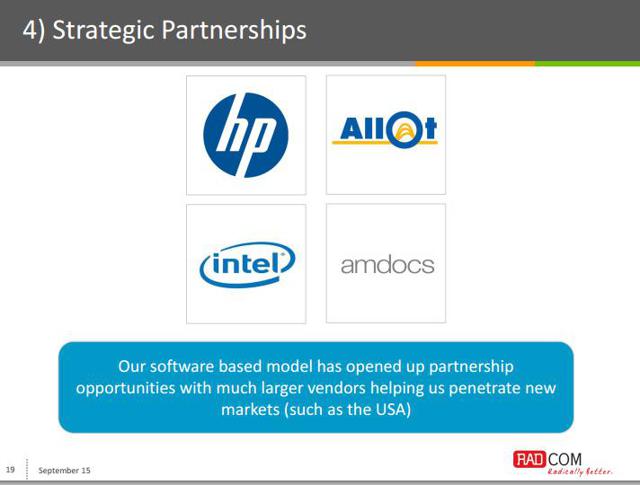 My understanding is Amdocs has a long-standing (20-year) relationship with AT&T (T), the network operator with the most ambitious virtualization plans over the next several years with network analytics being on the near-term strategic agenda.
To that end, Amdocs CEO Eli Gelman was quite upbeat regarding network visualization software in the Q2 conference call.
Amit Singh - Jefferies

All right, perfect. And just quickly if you could - you have previously highlighted network optimization as one of the avenue of growth. And I believe a few quarters ago you had even said that it could be about $100 million plus revenue this year. So just wanted to get a sense of how that business or the growth in that business is playing out and what is your expectation going forward from here?

Eli Gelman - President and Chief Executive Officer

So network software in general, including network optimization, is moving along well. Its lumpy, because the deals there are not so smooth I would say in terms of the deals, the deal flow, not the execution. So we see progress. We actually expanding the offering, so it's not only specific in the network optimization, it's not only around that product that we acquired we are now talking about more services, a broader view of the problem, not only the red optimization other network optimization as well. And as we talk about that we are also trying to make our first moves into the network visualization which is the even the bigger potential in this network software space.

But it's slow, its - we are executing on some development, we have some dialogue with some customers. But these are completely new topics. So the ones that we have already are progressing well. The new ones are a big unknown. And what we are learning is that it is lumpy as many other projects.
It is my belief that Mr. Gelman was referring to Radcom's MaveriQ software solution when discussing network visualization, and that he believes it can be bigger than a $100 million per year business. For that reason, acquiring Radcom's technology and selling it to its extensive customer base makes a lot of sense, given customers might rather deal with a larger vendor with a full suite of solutions and balance sheet strength. Note that Amdocs completed the acquisition of certain Xura (MESG) (formerly known as Comverse) assets for $273 million in July. The rationale provided for the deal was to broaden Amdocs' customer base. Mr. Gelman also stated on the Q2 call that Amdocs makes strategic and technology-related acquisitions as long as the company expects it can integrate the new businesses effectively. In my view, Radcom already is profitable on a stand-alone basis, so it would be a pretty easy bolt-on from an integration perspective.
In terms of the size of potential Tier-1 contracts for NFV-based customer experience management, NetScout (NTCT) disclosed a greater than $50 million project with a Tier-1 operator on its Q2 call which was awarded to Tektronix prior to the NetScout/Danaher (DHR) deal earlier this year. No other details were disclosed (length of deal, etc.), but my understanding is the project related to NFV-based customer experience management solutions.
If Radcom were to win a deal of similar size over 3 years, its revenue run-rate would jump to over $40 million at 80% gross margin and would be meaningful enough to yield incremental top line growth and significant accretion to operating income for a large cap acquirer.
Consolidation in NFV sector, Buy Now Or Buy Later?
Consolidation in the telco services/software sector continues to accelerate. The most recent example is Ericsson's (ERIC) acquisition of Envivio (ENVI) for $125 million, a 100%+ premium to the price before the deal was announced. Envivio continues to burn cash, while Radcom is a cash generator with higher margins.
If Radcom is indeed a potential acquisition candidate, Amdocs faces a dilemma: wait to see if the market adopts Radcom's MaveriQ solution, or buy Radcom before any potential contracts are secured at a lower price. Surely if Radcom secures a large contract, its share price could go parabolic given the tight float and the future earnings growth market participants would extrapolate.
So if Amdocs waits and Radcom is successful, it will have to pay a much higher price than if it made an offer in the near term while bearing uncertainty regarding MaveriQ's technological advantages.
In addition, Radcom would also likely immediately garner the attention of numerous incumbents who are trying to retain or gain their foothold in the NFV market such as Ericsson, NetScout, Cisco (CSCO), HP (HPQ), Viavi Solutions (VIAV), Nokia (NOK) and the like if Radcom were to close a large Tier-1 deal. These dynamics would only push up any premium needed to acquire Radcom in an auction.
The way I see it, Amdocs should make an offer before a potential bidding war erupts. And I believe Mr. Zisapel stepping down as Chairman of Radcom's BoD is a clue that this might happen.
Conclusion
All the facts and a sober assessment of insider incentives/potential conflicts/actions suggest to me that Radcom could soon (inside of 12 months) see a buyout offer from Amdocs.
If an offer materializes, I wouldn't be surprised to see up to a triple-digit percentage premium given Radcom would be immediately accretive and provide exposure to a substantial market opportunity.
Editor's Note: This article covers one or more microcap stocks. Please be aware of the risks associated with these stocks.