Goldman Sachs sees $20 oil as a possibility. You can never discount their analysis. They see the oversupply glut at about 3 million barrels a day.
The International Energy Agency disagrees. The IEA sees demand growing to almost 97 million barrels a day by 2016.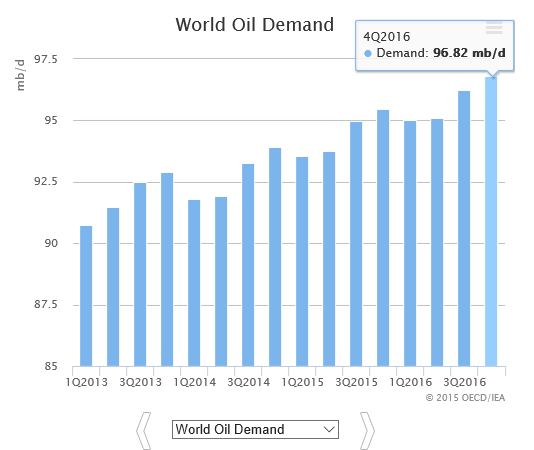 At the same time, the IEA sees U.S. production collapsing as a result of the cut in drilling.
With respect to Goldman Sachs, and with the caveat that if China enters recession all bets are off, I am calling a bottom in oil, not without some misgivings in the short term, as the extremely volatile markets try to find a stable equilibrium, but a bottom nonetheless. I believe by mid-2016, we will look back at $40 a barrel WTI and wonder why it happened and where it went.
The main reason is not news. Drilling has plunged.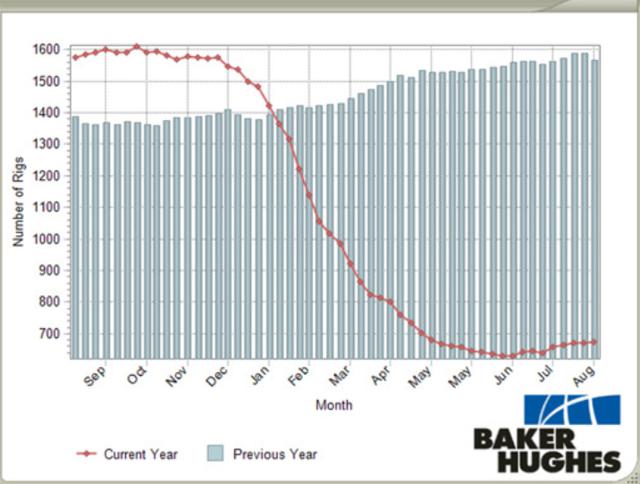 Source: Marketwatch.com
In the year to July 31, 2015, U.S. oil producers added 835,000 barrels a day to production according to EIA data. Of that, almost 700,000 barrels a day was added when there were more than 1,400 rigs working. Now that the number of drilling rigs in use has dropped to less than 700, you can expect to see a sustained drop in production.
The math here is not perfect, but it will make the point. To add 835,000 barrels a day, drillers had to first offset the decline rate, which I believe is somewhere around 20%. Last August, the U.S. producers were pumping out 8,630,000 barrels a day. At a 20% decline rate, before adding production, drillers had to replace 1,700,000 barrels a day that would be lost if there was no drilling. One thousand four hundred rigs were able to add 2,500,000 barrels a day more or less, or about 1,800 barrels a day per rig.
Using the same 20% decline rate, production without drilling should fall from 9,465,000 barrels a day to 7,500,000 barrels a day. With 700 rigs active and each adding 1,800 barrels a day, production a year from now will be 8,760,000 - a decline of about 700,000 barrels a day.
The foregoing assumes rig productivity does not change that much and I don't think it will. Drilling costs will fall, of course, as day rates fall with lower demand. But the amount of oil found will very likely follow past trends pretty closely. Advances in technology are taking place, offset somewhat by reservoirs simply being depleted and requiring secondary or tertiary recovery techniques, all of which cost more to produce less.
Since July 31, 2015, U.S. production has already fallen about 350,000 barrels a day, and the downward trend seem well-established. Demand is likely to continue to grow unless world economic growth actually enters recession. Slower growth is still growth.
The recent plunge in oil prices reflected in large part a price war between Middle East producers and the rapid growth of North American production, particularly in the United States.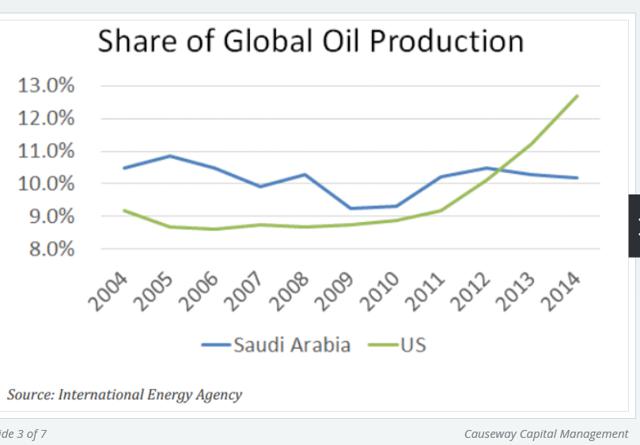 Source: Marketwatch.com
The emergence of the United States as a major producer is more of a stabilizing than disruptive force in my opinion. American oil & gas companies are motivated by profit, not nationalism or economic necessity. Accordingly, they will drill when it makes sense to drill and stop drilling when it does not. Over time, their pace of growth will reflect two factors - the economics of drilling and the world demand for their output. OPEC will no longer be the key factor in oil pricing - indeed, they have little influence today since they are producing at capacity, and cannot realistically flood the market any more than they have already done. Their only leverage today is to withhold production, which, in turn, will tend to raise prices.
In the short term, volatility will continue. Over time, the oil industry will continue its history of expanding profitably. Investors with the courage to buy into today's depressed stocks with the prudence to eschew borrowing on margin or otherwise should be well rewarded.
Over the past week or two, oil prices turned higher in sharp daily gains, approaching $50 a barrel for WTI only to fall back below $45 a barrel, showing extreme volatility. I expect that trend will continue until equilibrium is reached which I think will occur in the $60 to $65 a barrel range. That will be welcome news to oil investors and still provide a benefit to consumers who only a year ago saw oil prices north of $100 with gasoline moving in lock-step.
The key data to watch is the steepening decline in U.S. oil production. I see nothing to reverse that trend.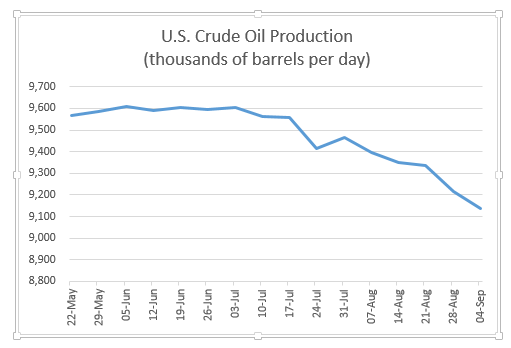 Source: EIA
A portfolio approach makes the most sense. Stalwarts like Suncor (NYSE:SU), Canadian Natural Resources (NYSE:CNQ) and Cenovus (NYSE:CVE) will do well. Leveraged producers like Pengrwoth (PGH), Penn West (PWE) and Lightstream (OTC:LSTMF) will either crater with a total loss or soar to prices multiples of their current prices. Enerplus (NYSE:ERF) could do well if it can manage its debt load without a default. Bankers Petroleum (OTCPK:BNKJF) should reward patient money if Brent crude prices move up, with the stock trading at a fraction of its recent highs and the company sporting a clean balance sheet. Whitecap (OTC:SPGYF) is my top pick combining a reasonable balance sheet with a top flight management team.
There are many sensible choices. The Western Canadian sedimentary basin is my prime shopping ground for bargains since those producers will see significantly lower costs as the currency continues to slide against the U.S. dollar and the spreads to WTI narrow as transportation costs continue on their downward trend.
The old adage is "buy when there is blood on the streets." That is currently a good description of Calgary-based producers today.
I am long PGH, PWE, ERF, LSTMF and SPGYF, and a host of others. The space will be volatile and there will be some failures. Those that do survive will very likely more than offset the failures in a prudently diversified portfolio.
Disclosure: I am/we are long PGH, PWE, LSTMF, SPGYF, ERF.
I wrote this article myself, and it expresses my own opinions. I am not receiving compensation for it (other than from Seeking Alpha). I have no business relationship with any company whose stock is mentioned in this article.
Editor's Note: This article covers one or more stocks trading at less than $1 per share and/or with less than a $100 million market cap. Please be aware of the risks associated with these stocks.