Background
The Generation Portfolio is an account that I manage for others. I discuss its genesis here. I provide weekly updates, such as here and here. In essence, it was an account of random stocks built up over decades which I liquidated (with a few exceptions) in the spring of 2015, and then began adding positions to again in late August 2015. I manage the account for no compensation, but the experience has been very rewarding.
My hope is that this series will serve several purposes:
It will illustrate the implementation of a true "buy on weakness" strategy in close to real time;
It may provide some ideas for other investors, who are searching for a strategy or purchases of their own;
Show in deed and not just in word that it pays off to buy Quality Stocks on weakness.
It is easy to talk a good game about buying on weakness, but my experience is that you usually only hear about great buys made by others long after they turned out well. This series is intended to show a specific strategy as it happens, examining both the winners and the losers, in the hopes that it will prove useful to others considering similar strategies in the future. Of course, everyone must do their own due diligence and tailor their purchases and sales to their own goals and outlook.
General Strategy
During the period of market turbulence that began in late August, after keeping the Generation Portfolio in cash for about six months, I finally began adding positions. I decided to use individual stocks and not to use an index fund for reasons (among others) that I explained here. The focus of the Generation Portfolio is to provide stability while generating steady income, which to the extent possible will be used to add other positions.
A common train of thought is that no portfolio should have more than some arbitrary number of positions. Twenty positions is a common number, but I have seen figures as low as ten or even less. The thinking is that nobody can keep track of more positions than can be counted on one's fingers and toes.
I reject that thinking. As I explained in my article about index funds, the herd mentality has taken over Wall Street. When the herd gets scared, pretty much everything moves down, and when the herd relaxes, things move higher. Sectors, too, move in herd-like fashion due to the growing popularity of sector index funds. It is more important in my view to monitor macro and sector trends and do full due diligence on new positions than it is to scrutinize every last piece of information about companies on an ongoing basis. However, reviewing ongoing data and events is imperative as long as you don't get bogged down in minutiae. More positions spread the risk and provides diversification in a healthy manner so long as they are all Quality Stocks.
Accordingly, the Generation Portfolio is planned to have dozens of positions, each with a projected weighting of 2-3%.
I believe in the importance of cash flow, so the overwhelming majority of positions will pay good dividends. I also like the tax advantages and strong cash flow of REITs, so they will form a substantial subset of the Generation Portfolio.
I also have definite ideas about the size of the ideal portfolio. The last thing you want is to bet everything on one player in a sector when you don't have to, and then some deal falls through or this or that happens and suddenly your stock crumbles while others in the sector stay strong. I've seen it too often. In a general sense, betting it all on one player requires a certain arrogance that you have it figured out, and to be honest, nobody really can foresee everything that can happen. You also run into the situation that everyone sees the player as being "the best," so it gets relatively overbought and eventually the weak hands sell for some reason or another that is blamed on "the market" or "it missed by a penny" or whatever it is.
So, I have no problem at all about investing in to companies with similar risk profiles. It's all about tactics, and bad tactics can ruin the best strategy.
Previous Purchases
During the week of 24 August 2015, I added the following positions:
During the week of 31 August 2015, I added the following positions:
I have been taking advantage of the market weakness to stock the portfolio. I do not buy on big up days, though volatile days with big intraday swings that wind up with gains can present opportunities.

Chart of (NYSEARCA:SPY). The "X" marks the first purchases for the Generation Portfolio.
Market Action Last Week
It was another volatile week, but not as much so as the previous two weeks. A rally stalled on Wednesday, and the market settled at roughly its midpoint of the range for the week.
Most Recent Purchases
During the week of 7 September 2015, I added the following positions:
The Portfolio As it Stands Now
Just to get everything in one place, below are the current holdings of the Generation Portfolio along with other pertinent data.
The Generation Portfolio: Current Holdings
| Stock | Purchase Date | Purchase Price | Recent Price | Gain/ Loss |
| --- | --- | --- | --- | --- |
| (WFC) | 8/25/2015 | 51.75 | 52.60 | + |
| (DIS) | 8/25/2015 | 98.75 | 104.45 | + |
| (BMY) | 8/25/2015 | 59.75 | 59.24 | - |
| (MFA) | 8/25/2015 | 7.05 | 7.11 | + |
| (OHI) | 8/31/2015 | 33.95 | 32.92 | - |
| (CVX) | 9/02/2015 | 77.90 | 75.75 | - |
| (PG) | 9/03/2015 | 69.95 | 68.43 | - |
| (CYS) | 9/04/2015 | 7.68 | 7.72 | + |
| (KO) | 9/09/2015 | 38.50 | 38.12 | - |
| (MPW) | 9/10/2015 | 10.89 | 11.01 | + |
| (WMT) | 9/10/2015 | 64.40 | 64.63 | + |
| (VTR) | 9/10/2015 | 52.80 | 52.66 | - |
| (KMI) | 9/11/2015 | 29.95 | 30.08 | + |
Recent Prices are as of the close on 9/11/2015. A large legacy position in Ford Motor Company (NYSE:F) is omitted.
With the five purchases made this week, the thirteen positions (less the legacy Ford position) now occupy 26.6% of the available trading funds. They are not all equal, as like most humans (but not computers) I prefer to buy in even lots. So far, I have not sold any of the new positions.
Analysis of Holdings
The holdings show a heavy weighting in REITs. That is intentional, as I think that REITs, including mortgage REITs, are in a bear market and show good value due to interest rate fears. I have several healthcare REITs because I think that is a durable sector with nice growth prospects based on demographics.
I picked up some Medical Properties Trust because I have followed it closely for several years and think it is a good value at these levels. Last December, when it was trading in the 13s, headed (briefly) higher and everybody was bullish on MPW, I commented:
I've held some shares for over a year now. MPW is a buy in the 12s, a hold/add in the 13s, look-the-other-way in the 14s. Just my humble opinion.
Well, I still feel that way, though of course it has sold off well below my target in the 12s. I think that MPW is a very solid addition around $11, with a solid dividend and minor international exposure in Germany. It would not surprise me at all to see this volatile stock back in the teens next year, and in the meantime, it pays a handsome 8% dividend.
If six months ago you told someone they could buy Ventas under $53, they probably would have placed their order then and there. It pays a very sustainable 5.5% dividend and is in the same top REIT tier as Realty Income (NYSE:O), which I always have my eye on. That is probably it for the healthcare sector for now, though.
I could not resist picking up some Kinder Morgan under $30. I like the midstream portion of the energy field, as well as the big integrated oil companies like Chevron. KMI has a lot of debt, but the oil and gas have to keep flowing, so that juicy dividend (and Chevron's) hopefully is safe. Some people think that oil has bottomed, others think it could drop in half. JP Morgan said the CVX dividend is safe and upgraded the stock; that's good enough for me for now. I may occasionally add more energy plays on weakness.
Disney has been the biggest winner so far. It is a pure play for now on the Star Wars marketing, which hasn't even gone into overdrive yet. I think the concerns about its cable channels is overblown, and, if anything, I would buy more on weakness.
Wal-Mart is at multi-year lows. I am a long-time shareholder and distinctly recall how it hung fire in the $50s for what seemed like forever. It may be headed back there, too. However, it pays 3% at these levels, and that seems quite reasonable to me. On the downside, I consider Wal-Mart to be the worst-run company among the elite that qualify for the Generation Portfolio, but you can't argue with their virtual monopoly and extremely efficient distribution network.
Stocks Under Consideration
This is a general list of the stocks I am considering. While I also watch other stocks and am opportunistic, these should give some idea of what is near the top of the list.
(NYSE:ABT), (NASDAQ:AGNC), (NYSE:BPL), (CVX), (NYSE:CAH), (NYSE:CAT), (NYSE:COP), (NYSE:CSX), (NYSE:DLR), (NYSE:EV), (NYSE:EMR), (NYSE:FCX), (NYSE:GE), (NASDAQ:GILD), (NYSE:GIS), (NYSE:HD), (NYSE:JNJ), (NYSE:KKR), (NYSE:KMB), (NYSE:LMT), (NYSE:MAIN), (NYSE:MMM), (NYSE:MO), (NASDAQ:NFLX), (NYSE:NKE), (NYSE:NNN), (NYSE:NSC), (O), (NYSE:OXY), (NYSE:PANW), (PBY), (NYSE:PEP), (NYSE:PFE), (NYSE:PM), (NYSE:PSX), (NYSE:RDS.B), (NYSE:SCG), (NYSE:STAG), (NYSE:KSS), (NYSE:SDRL), (NYSE:STWD), (NYSE:T), (NYSE:TOL), (NYSE:UNH),(NYSE:UNP), (NYSE:UTX), (NYSE:VZ), (VTR), (NYSE:XOM).
General Discussion
As I pointed out in a recent Instablog post, the market is coiling ahead of the Fed meeting this coming week.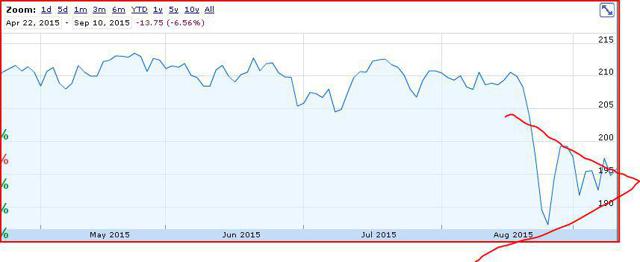 (SPY), recent coiling area indicated.
This period of indecision should conclude with a bang on Thursday, 17 September, when the Fed is scheduled to announce any action that it wishes to take. I don't see any economic reason for an interest rate hike, but this meeting has been hyped for months as the likeliest time for the Fed to begin raising rates for the first time since 2006. CNBC even set up one of its infamous Countdown Clocks on Friday, so this will be on everyone's mind all week long.
There should be extreme volatility immediately after the Fed announcement no matter what it does. The likeliest direction after everything settles down is up, because that is how all of these climactic moments have resolved for the past several years. Until then, though, the market is bound to trade in a very narrow range unless major news comes out beforehand.
As for energy prices, the Fed will help determine that as well. Higher rates will support the U.S. Dollar, which will put pressure on prices. Higher rates also might cause pain to minor players in the energy space as their debt load increases. I expect oil prices to recover eventually, so will be making a buy every so often to lock in good prices. In any event, the focus will turn to upcoming earnings once the market recovers from the Fed announcement.
Actionable Ideas
The prime buying opportunities are likely to come immediately before and immediately after the Fed announcement at 2:00 p.m. EST on Thursday 17 September. Financials, including REITs and banks, may present opportunities.

Chart of (T), showing it near its usual support level.
I want to add a telecom for diversification and yield purposes. As shown in the chart, AT&T (T) is toward the bottom of its multi-year range and close to my buy target. It yields a healthy 5.75%, so I will likely add some this week unless it gets away from me.
Conclusion
There were several good buying opportunities last week. I was able to add a couple of stalwarts ((WMT), (KO)) to the Generation Portfolio, a couple of healthcare REITs that were particularly good values ((MPW), (VTR)), and an energy play that hit my target. The market will likely freeze ahead of the Fed announcement on Thursday, but volatility immediately afterward could provide some more buying opportunities. After that, the focus will shift to earnings season which is just around the corner.
Experience is the best teacher in investing, and there are no substitutes. It is the only real teacher that I trust in this field, with all due respect to the many gurus here and elsewhere. I look at hard experience in two ways, because it affects people differently: it either bluntly chips away and reduces a weak rock - or it gradually chips away a strong stone bit by bit until forming a beautiful statue. You need to take some risks and create a fine statue out of yourself, but not so many that you destroy the rock.
Disclosure: I am/we are long CYS, MPW, WMT.
I wrote this article myself, and it expresses my own opinions. I am not receiving compensation for it (other than from Seeking Alpha). I have no business relationship with any company whose stock is mentioned in this article.
Additional disclosure: While I personally do not own all of the stocks mentioned in the article, the account owns the ones indicated.