Choice hotels International, Inc. (NYSE:CHH) could be thought of as one of the 'smaller' lodging giants in the industry. The franchiser positions itself in the budget to mid-priced range and with that comes some complications for typical lodgings operations. Choice operates under the brands: Comfort Inn, Comfort Suites, Clarion, MainStay Suites, Sleep Inn, Econo Lodge, Rodeway Inn, Quality, Cambria hotels & suites, Suburban Extended Stay Hotel, and Ascend Hotel Collection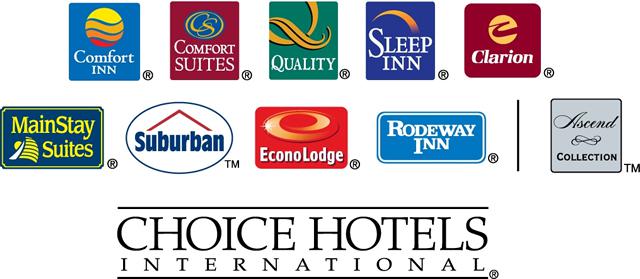 The hotel industry is among the most cyclical industries in the world. The fate of many hotel chains rests largely with prevailing economic conditions. On top of that, there is a seasonal component to business, and the stock price performance by extension due to increased customer demand in the summer and Winter holiday periods. The recent sell-off of hotel stocks due to the end of the summer rush has created an opportunity for decent entry in a number of the bigger name hotels stocks. Today we will discuss choice hotels international in the context of a long-term holding placing special consideration on the firm's long-term prospects or financial outlook, dividend and repurchase plan and discuss the general performance of the stock itself.
Financial outlook
Choice hotels finds itself in a reasonably strong financial position. The company as of Q2 2015 held $230.65 million in cash and cash equivalents and solid RevPAR growth YoY at 6.7% system-wide.

This really is a symptom of a working 'asset light' model of revenue expansion and comes in handy when you are also focusing on developing a hotel management software that can revolutionize the way management manages inventory and assigns labor. The budget to middle priced range of the lodgings industry typically poses problems for individual hotels as the high fixed to variable cost mix often leaves chains ill equipped to cope with the seasonal slowdowns in the industry. But Choice Hotel's take on the 'asset light' strategy removes the bulk of that problem from the equation. Instead of having to worry about regional inconsistencies in valuing real estate, negotiating rigid lease contracts and bearing the full financial risk of being an owner/operator Choice chooses to sign away franchise agreements with qualified investors lending them the brand, typically in exchange for franchise fee and an ongoing royalty fee. A summary of Choice's fee structure is shown below.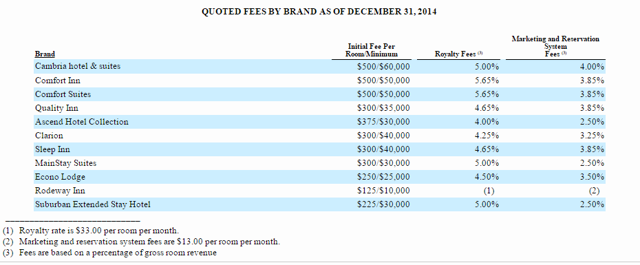 This is common practice for many of the big players in the lodgings industry and even former operators like Hyatt (covered here) are leaning to this model of growth, due to the low risk and heightened flexibility it offers as there would simply be no way for a lodging giant to develop aggressively enough to meet the growing demand for rooms in a strengthening global economy without deploying leverage which would leave it in a bind during economic downturns, particularly as property values fluctuate along with the regional real estate markets, which is, of course dictated to a large degree by the regional economic climate.
There is a lot to love about choice hotels and the way they go about their business. It's not your typical lodgings stock, they don't just rent rooms, buy back shares and pay dividends, they reinvest the relatively stable earnings from franchising into developing software. I would like to be a owner but the multiples the market currently assigned to the stock are inching on the high side and I do believe that there are other opportunities in the industry like Starwood (HOT) or Marriott (NYSE:MAR) that serve as superior prospects at capital gains and dividend growth in the long term.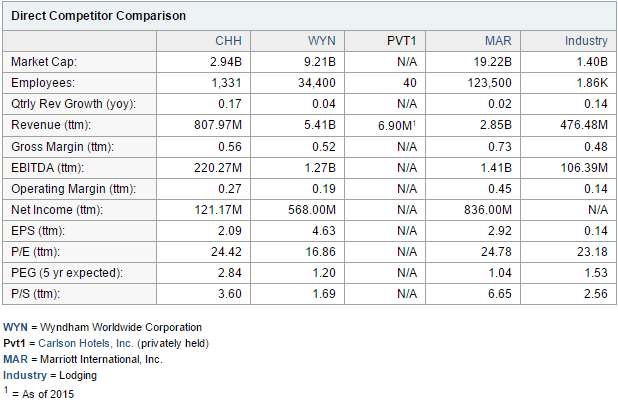 Source: Yahoo Finance
We can see that Choice is a bit expensive on the P/E side when compared to the industry average and some of its direct competitors, but when you consider the potential of the SkyTouch technology, the fact that their model is not very capital intensive and they already are in a firm financial position, I understand the slightly high valuation. I am bullish on the industry on a whole as I believe the economic recovery is still underway which bodes well for room demand, but I am concerned at what effect a rate hike will have on the general market conditions for lower yield stocks like Choice and its peers.
SkyTouch Technology
Investors currently a premium for the "asset light" approach and the SkyTouch technology, which admittedly is an exciting prospect for the chain. The SkyTouch technology is essentially a hotel management operating system to be sold to customers other than CHoice's franchise holders. It is 100% cloud-based support, and designed to make portions of hotel management like inventory management and night auditing portable and web-based, allowing the customer to save on labor and supplies. SkyTouch is marketed as an operating system designed for hotel professionals by hotel professionals. The idea is rather exciting but the OS has many of the same features offered in Choice's choiceADAVANTAGE property management system. The technology industry is also quite different from the lodgings industry as it changes rapidly and is rife with competition. It is difficult to assign too much value for a management software, when it exists in a space where it can quickly be replaced 2 to 3 years later with very little barriers to entry, killing the investment thesis and possibly significantly damaging investment principle if one were to pay above the odds for it alone. For me, the technology industry requires constant updates, reinvention and investment in research and development which can become quite expensive if the company finds itself fighting a losing battle with another developer. But as things stand I am a huge fan of the software it looks intuitive and dynamic and I see no reason to be bearish based on it alone.
Share Repurchase and Dividend Policy
Share Repurchase policy is crucial to any long term hold in the lodgings industry. Reductions to the float today help dividend yield figures later. The illustration below shows the Net Common Buyback Yield for Choice and three of its competitors in Starwood, Marriott and Wyndham, which is effectively what percentage of itself each firm repurchased over a set time frame.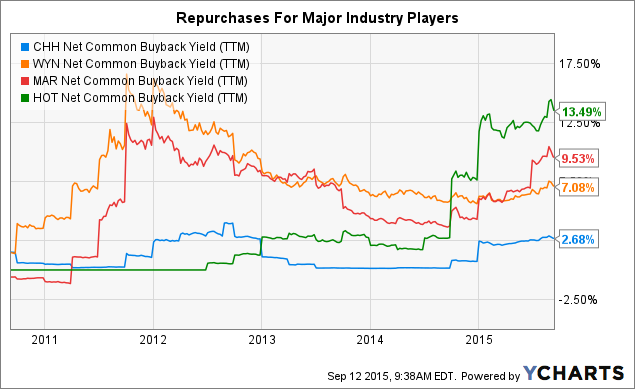 CHH Net Common Buyback Yield (TTM) data by YCharts
It is important to note that the stock has had very few instances in the past five years where it could be considered a bargain. Management has done a good job at placing greater emphasis on repurchases when the stock is cheap which is what long term holders really want. To illustrate this point, I will use the P/E ratio in conjunction with the Net Common Buyback Yield.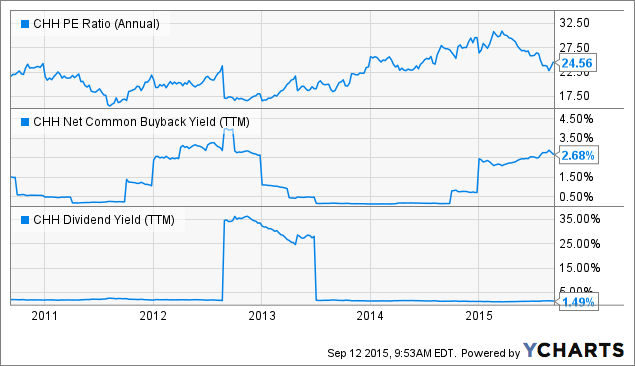 CHH PE Ratio (Annual) data by YCharts
We can also see that Dividend growth and share buybacks stalled after 2013 which was around the time the firm announced the launch of SkyTouch Technology (March 28, 2013).
Conclusion
The stock is in a slump right now, but seasonal sell-offs happen quite frequently before the winter holiday period in the lodgings industry. The seasonal nature of the stock performance was not covered in depth because of its roots in technical analysis, and the fact that it has not brought prices across the industry low enough to present any major bargains. There is also the risk that a rate hike may cause greater than expected damage to the fortunes of hotel stocks on a whole, which should be factored into any investment thesis. The company does looked poised for further earnings growth as the US economy continues to strengthen and long term holders have plenty to look forward to with the SkyTouch OS and continued franchise growth in key markets. I rate Choice Hotels as a HOLD.
Disclosure: I/we have no positions in any stocks mentioned, and no plans to initiate any positions within the next 72 hours.
I wrote this article myself, and it expresses my own opinions. I am not receiving compensation for it (other than from Seeking Alpha). I have no business relationship with any company whose stock is mentioned in this article.