I wanted to update readers on 2 posts that I have written recently.
First, January Payrolls Release Signals No Major Change. There was some discussion on the position regarding withholding tax collection for January, so I decided to some more digging. Whilst January was better by almost 11%, Zero Hedge has an article here that highlights the following:
In the fiscal year 2011 and 2012 (starting October 1) and continuing through the date of the most recent BLS update or January 31, there have been 87 official work days. This is the period which we will define as YTD (fiscal year to date period) for 2012, and will use its matched equivalent for 2011 for comparative purposes.
In the 2012 YTD period, the US Treasury recorded personal income withholding tax revenue of $592.676 billion.
In the comparable period for 2011, beginning October 1, 2010 and continuing through January 31, 2011, withholding taxes were $592.984 billion. In other words, the US Treasury collected $310 million more in tax withholdings in the first 4 months of fiscal 2011 than in the first 4 months of fiscal 2012.
In the first 4 months of fiscal 2011 the US "created" 571,000 jobs; in the first 4 months of 2012, the US "created" 715,000 jobs. More importantly, between January 31, 2011, and January 31, 2012, the US added 1,953,000 jobs. Over the same period, as shown above tax withholdings are actually trending lower in 2012 compared to 2011.
But that's not the kicker. This is:
The 130.456M workers "employed" at January 31, 2011 created a total of $592.985M in withholdings, or an average of $4,545.48 per worker over the first 4 months of the fiscal year 2011.
The 132.409MM workers "employed" at January 31, 2012 created a total of $592.675M in withholdings, or an average of $4,476.09 per worker over the first 4 months of the fiscal year 2012.
Translation: Based on the above, even as America was "creating" jobs -- 2 million to be precise (and 2.5 million between September 30, 2010 and January 31, 2012) -- the government tax revenues created by these jobs actually declined in 2012 compared to 2011, on a per job basis, by roughly 1.5%.
I also came across this analysis from Shadowstats on withholding tax collections and their implications for payrolls data. The article highlights the volatility of the withholding tax data and advises that reliance on short periods of time is unwise. However in the longer term the withholding tax data and the payrolls data have good correlation, so using one to confirm/deny the other is reasonable analysis.
These 2 articles lead me back to the original position that we are probably not creating jobs at the rate suggested by the January payrolls report. I hope that this helps.
Second, Reduced Market Volume And Its Implications. There is an update on volumes. Euronext just released volumes for January 2012, and they are down 17% (worse than the article suggests). The volumes for February are no better. February 6th was the lowest volume on the big board for 11 years. The following graph highlights the volumes: If you project the trend, there will be no volume by 2016!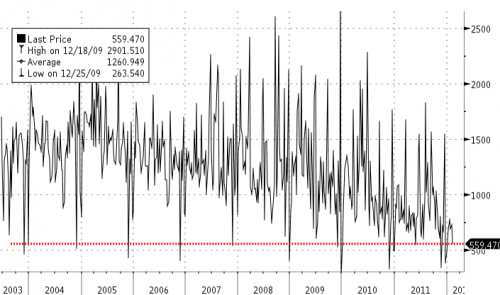 So, updates over.
ISMs for January
I have been thinking about the ISM figures for January 2012. The graphs of the 2 series are below :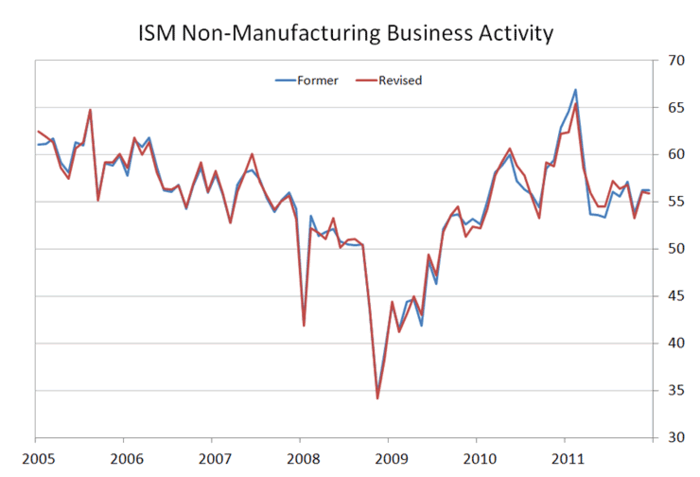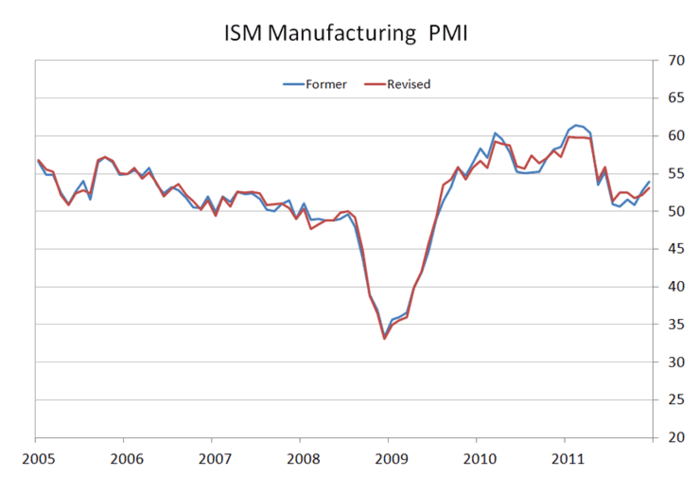 The trend since the peak in 2010 in both indexes is down (all be it with reasonable volatility). The LTRO has clearly brought back confidence to the business sector and this was reflected in both the January manufacturing and non manufacturing readings. This has been evident in the German IFO (the German business sentiment gauge) as well as the ISM series in the US. There is another LTRO at the end of February, so it is likely that the February figures will also be strong. However in the longer term these reports are not liquidity driven, they are a reflection of the underlying economic position. I would expect that as long as austerity is the norm in Europe and there is no more QE in the US the present longer-term downtrend will start to reappear after the February numbers.
Consumer Credit
Below is a table of the consumer credit numbers for Quarter 4, 2011, released on February 5, 2012:

| | | | |
| --- | --- | --- | --- |
| Category | October | November | December |
| Revolving 2011 | 794.5 | 807.9 | 827.5 |
| Increase in Revolving 2011 | 1.1 | 13.4 | 19.6 |
| 2010 comparison | -5.8 | 1.5 | 15.4 |
| Non Revolving 2011 | 1675.4 | 1683.7 | 1697.2 |
| Increase in Non revolving 2011 | 2.1 | 8.3 | 13.5 |
| Student Loans 2011 | 409.9 | 416.3 | 425.1 |
| NR -SL 2011 | 1265.5 | 1267.4 | 1272.1 |
| Increase in NRC -SL 2011 | 1.6 | 1.9 | 4.7 |
| 2010 comparison | -25.9 | -2.6 | 0.5 |
Non-seasonally adjusted, in billions of dollars.
Student loans increase can be deduced from the government holdings of non revolving credit from the G19 release on consumer credit from the Federal Reserve. The revolving credit less student loans figures give a better picture on discretionary spending as student loans are a forced expenditure. Revolving credit is mostly credit cards but does not include debit cards as these are an immediate charge and therefore not credit.
Non revolving credit is mostly car loans and student loans.
The headline numbers for seasonally adjusted total consumer credit have been near $20 billion for November and December 2011 and this has resulted in bullish headlines. From the table above, I would comment:
In comparison with 2010 figures, 2011 numbers are a considerable improvement: both revolving and non revolving credit are showing substantial year on year increases. The non-revolving numbers are in large part due to the availability of cars, now that restocking has been completed after the Japanese tsunami. There is some speculation that banks introducing debit card fees has moved people into using credit cards and is distorting the revolving credit numbers. However it seems unlikely that it explains the total amount of the change in revolving credit. The trend seems to be on the rise.
The non revolving credit increase is largely as a result of student loans. Once this is stripped out the increase in non revolving credit is anemic. However the non revolving year on year comparison is painting an improved picture.
For me it is still too early to decide that more jobs are leading to increased confidence and greater consumer borrowing. However if the data were to continue on it's present path for another couple of months this would be an inescapable conclusion.
Disclosure: I m long RWM.