King Digital (BATS:KING) really needs to expedite its expansion beyond its old match-three puzzle game formula. Unlike Paradise Bay, the recently released AlphaBetty Saga (a word puzzle game rework of Candy Crush Saga) continues to underperform.
King released this game June 3 but, as per the latest data from SensorTower, the iOS version of AlphaBetty's estimated global net gross (30% cut of Apple (AAPL) was deducted) bookings last August was only $700k. The Android version of AlphaBetty Saga actually generated more sales last month with $910k.
The lukewarm reception of iPhone/iPad gamers hints at an uncertain future for AlphaBetty Saga. The success of any mobile game is dependent on them winning enough interest from generous iOS device gamers.
SensorTower's chart below reveals AlphaBetty Saga only had net average daily sales of less than $60k. This is sub-par performance considering King's huge number of monthly active players. Unlike Candy Crush Soda Saga, this word puzzle game of King is not gaining worldwide adoption.
AlphaBetty Saga apparently gets more than 60% of its sales from the U.S.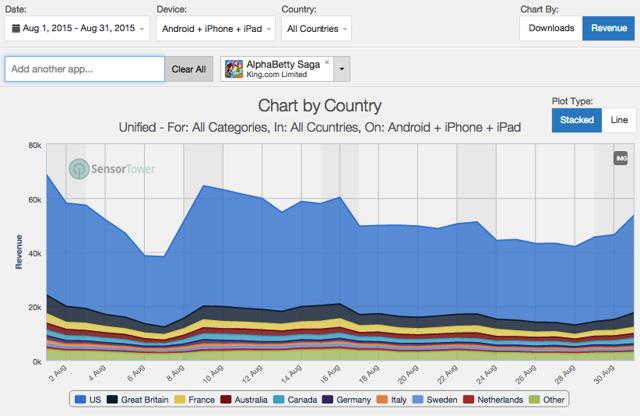 (Source: SensorTower)
September also might be disappointing. AlphaBetty saw a huge decline in the number of average downloads, especially in the United States. From a high of more than 120k/day, the average number of downloads dropped to 50k/day by the end of August.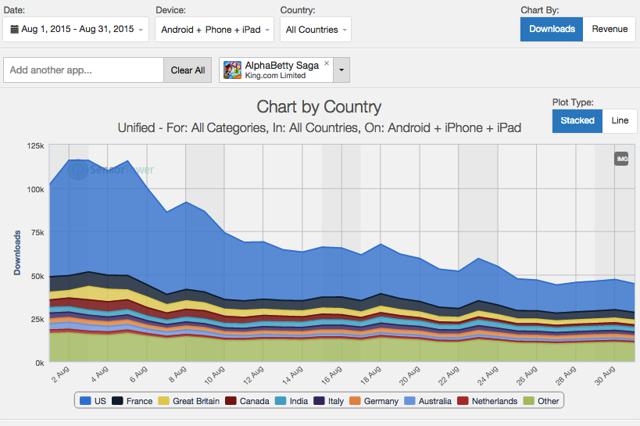 (Source: SensorTower)
The weak cash flow from AlphaBetty makes me believe that many paying players have grown weary of King's habit of regurgitating the old match-3 puzzle concept of Candy Crush Saga. It's high time for the management to focus more on other genres.
Building On The Previous Success of FarmVille
Launched only during the first week of August, the FarmVille 2-inspired Paradise Bay's iOS-only global net gross bookings already reached $3.1 million. This goes to show that making games out of old hit mobile games is a viable expansion strategy for King.
Putting a tropical island twist to Zynga's (ZNGA) FarmVille concept was a cheap shot but it worked. Zynga's iOS version of FarmVille 2: Country Escape only had August sales of $1.4 million. It was likely that bored players of FarmVille 2 defected to Paradise Bay.
King Digital's revenue stream from Paradise Bay can only go stronger since the Android version was already released earlier this month. Unlike the limited appeal of the word puzzle AlphaBetty Saga game, the simulation/city management genre of Paradise Bay has attracted most of its paying players outside America.
Only 31% of the $3.1 million came from U.S. players. Paradise Bay is positive proof of King's diversification strategy.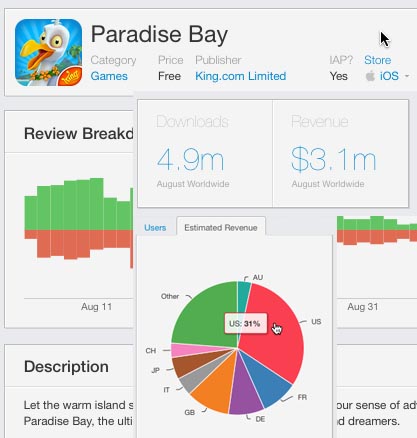 (Source: SensorTower)
I'm not saying that King should shut down the underperforming AlphaBetty. I only wish that it would put more resources on improving Paradise Bay. This non-puzzle game's momentum deserves the full attention of King's best programmers and marketers.
Z2Live, which King bought earlier this year, is responsible for Paradise Bay. But I still hope this simulation game's early success inspires King to add more manpower and advertising budget for it.
My Other Recommendation
The instant commercial success of Paradise Bay proves that King can thrive from improving on Zynga's hit mobile games. I look forward to King Digital (or its subsidiary Z2Live) to also come up with a better version of Zynga Poker.
As per the estimates of SensorTower, the mobile versions of Zynga Poker still generate more than $4 million a month. Zynga also has expanded its social casino games to include slots. Social casino mobile gaming also is under the simulation/management genre of Paradise Bay.
King Digital's future growth prospect is a lot better if it can deliver games that can compete with top-grossing Big Fish Casino Slots and DoubleDown Casino mobile games. Big Fish Casino's August global net gross sales were $13.6 million. DoubleDown Casino-Free Slots made $15.6 million last month.
There are far more people who prefer wasting their time (and money) playing casino games than solving word puzzles on their phones/tablets. King's management would be remiss if they do not consider the obvious opportunity in social casino mobile games.
Conclusion
The $45 million acqui-hire gamble on Z2Live is now gradually paying off with that studio's hit Paradise Bay game. Alpha Omega Mathematica only rates King as a hold. However, the current low valuation of King makes it a bargain compared to Zynga or Glu Mobile (GLUU).
Unlike Zynga and Glu, King is highly profitable. X-Fin's long-term forward intrinsic value calculator also is very favorable for King.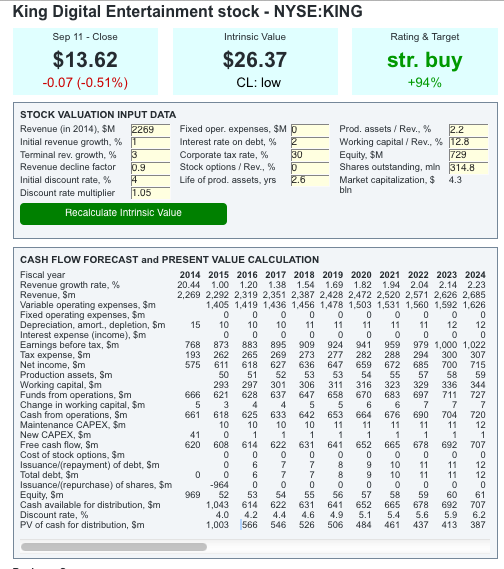 Source: X-fin