Barrick Gold's (NYSE:ABX) shares show a significant downtrend YTD, thanks to the gold market volatility. With this company pinned down heavily based upon its high exposure to gold, the highly fluctuating top and bottom lines are beckoning ABX's management to create a better direction in the short term in order to combat lower average realized prices for gold. For now, the current environment for gold is highly negative, and I don't believe this stock has bottomed out yet.
Near Term
Let's take a look at some of the short-term catalysts for gold:
A stronger US dollar based upon a decent, strong US economy is negative for gold prices; in times of a recession, yes, gold becomes a "safe haven"; however, when economic fundamentals are relatively stable, such as low unemployment at 5.1%, investors are inclined to take on riskier assets and really have no need for safe havens. This is proved by looking at the price of gold relative to the economic conditions in 1987, 2000-2002, and 2009.
Additionally, if interest rates increase next week (and if the Fed begins future interest rate increases on a recurring basis), gold and gold-based assets may lose a considerable amount of demand; we'll have much greater clarity on gold catalysts after the meeting.
The general downtrend since February has created new, tougher psychological levels, notably the $1,165 level.
The temporary August rally for gold may help to offset some of the summer losses come the Q3 report; September has nearly erased all the gains from August, however.
Gold demand for Q2 came in extremely low at 914.9 tonnes, the lowest in six years.
If we know that ABX's exposure is per $10 change in gold, the company is going to see a $33 million loss in EBITDA and $21.8 million loss in FCF. Since the end of the quarter on June 30, gold has declined from $1,171.80/oz to now $1,103.3/oz (last record I have). That's a future loss of $67.5/oz or a loss of $222.75 million in EBITDA and $147.15 million in FCF for Barrick.
I'll say this, as a caveat, if your investing time frame is much longer than a few months, then gold may be at an attractive level with positive catalysts like future currency devaluations and increasing global government debt. I don't have the luxury of time, so I'm writing for the short term.
Here's a three-month view of what this company is working with: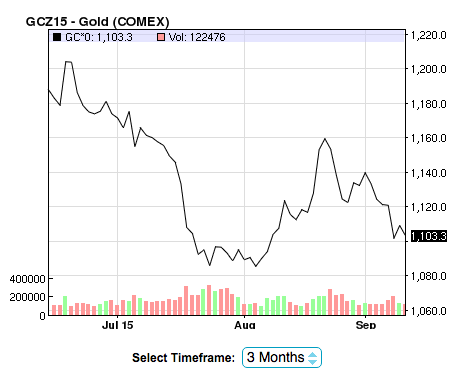 Source: NASDAQ
We also can't forget that the company does have a direct copper exposure where per five cent change in the price of copper per pound, the company will lose $13.3 million in EBITDA and $8.8 million in FCF. With the current downtrend of copper since the end of Q2, Barrick is looking at additional losses of $44.69 million in EBITDA and $29.57 million in FCF. You can view the three-month trend of copper below: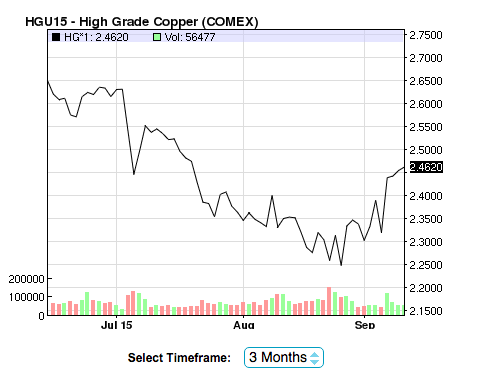 Source: NASDAQ
Don't get me wrong, this exposure would be great based upon the company's higher production volumes and decreasing operational costs if the price of gold was more favorable, but that's just not the current environment. Downward pressure on gold and copper is going to sink this stock.
Debt and Cash Flow Are Burdensome
For most commodities-based companies at the moment, capex cutting and operational efficiency increases are necessary to continue operations. Barrick only has $300 million left in its current strategy to reduce, which is pretty good considering it has now gained $2.7 billion in assets. Here's some concerning debt statistics:
$9.2 billion in long-term debt, post-debt reduction.
FCF and OCF are both low relative to historical performance for the company at $646.75 million, both for Q2.
Interest expense per quarter is currently above $233 million.
OCF in Q3 2014 was $929.3 million, and with 2015 Q2 OCF being much lower at $646.8 million, it's very likely a significant YOY loss will be posted next quarter.
A coverage ratio of 1.54 compared to Goldcorp's (NYSE:GG) 12.35; its serviceability is questionable at best, right now.
With the production cuts being made at the Montana and Nevada mine locations, top-line growth is going to begin to retract, which isn't helpful for keeping up with a large debt load.
The company cut its dividend to $0.02 quarterly already, showing a lack of faith in being able to pay short-term liabilities.
Can you realistically invest in a company where management is selling off, the dividend growth is negative, the debt toll is rising, and the operating environment is weakening? I know I won't.
Conclusion
When I first looked at Barrick, I was concerned, and those concerns haven't evaporated in the slightest. With a general lack of positive catalysts for gold moving forward, it's going to be increasingly difficult to improve the top line. Barrick isn't sitting too pretty, and despite reducing the debt load by $2.7 billion, it still has a lot to pay off. The company has got its mind in the right domain with a debt reduction goal of $7 billion five years out, but that's still very far off, and if the commodities environment continues to weaken, it's not going to be able to cover its debt. I'm switching my call to a temporary sell unless we see a great outlook on interest rates from the Fed meeting this week.
Disclosure: I/we have no positions in any stocks mentioned, but may initiate a short position in ABX over the next 72 hours.
I wrote this article myself, and it expresses my own opinions. I am not receiving compensation for it (other than from Seeking Alpha). I have no business relationship with any company whose stock is mentioned in this article.