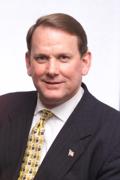 Sam Stovall is U.S. equity strategist at S&P Capital IQ.
Harlan Levy: What's happening with equities?
Sam Stovall: I think the equity markets are resembling someone attempting to hold their breath for too long, in return, initiating an erratic heartbeat.
Investors are obviously on hold until the Sept. 17 Federal Reserve announcement as to whether they will begin their first rate-tightening program in nearly 10 years or whether we will have to continue this guessing game until either the October or December meetings.
Q: So what do you think the Fed will do, and what's the likely effect on stocks?
A: Most Fed watchers expect the Fed to do nothing at this meeting and most likely start raising rates slowly and deliberately with the December meeting. I say December over October, because there is no press conference scheduled after the October meeting and Fed chair Janet Yellen has gone out of her way to placate markets by promising a very transparent rate-tightening program.
I would be very surprised if the markets sold off when rates go up on the realization that the rate hikes have begun. The reason is that nobody should be taken by surprise by this action. In fact, I think the markets will begin to rise as investors breathe a sigh of relief that the uncertainty is now over.
Q: When do you think the current correction will end and where will the S&P 500's bottom be?
A: The S&P 500 started its correction on May 21 when it closed at 2,130.82. As of Aug. 25, the 500 declined 12.4 percent. I don't think that we are done retesting that 1,867 level. In fact, I believe we will go even lower before this correction has run its course.
One reason is that the price-to-earnings ratio on earnings going forward for the coming 12 months declined to the median since the year 2000. Normally, market moves cause P/E ratios to overshoot to the downside or upside, not to the long-term average.
Second, the S&P went 44 months without a decline of 10 percent or more, versus an average of 18 months since World War II and was the third longest period between corrections. A 12.4 percent decline was little penance to do for such an extended stretch.
The median decline for all correction periods that lasted longer than 30 months was a shade below 20 percent. So I think that the S&P 500 will decline to some technical support levels around 1.820 or 1.740, representing declines of 15 and 18.3 percent, respectively.
Q: What's ahead for stocks?
A: I think we're in for additional volatility during this traditionally vulnerable month of September. And while the correction could end this month, history would imply that October is a more likely bottoming month, since five of the last 10 bear markets ended in October, and the near-bear market of 2011 concluded in early October.
Plus, it would be consistent with historical averages in which corrections have taken five months to materialize. That said, once this correction has run its course, investors should be prepared for a fairly swift attempt at getting back to break-even. Since World War II it has taken corrections an average of fewer than four months to recoup all that was lost in the prior correction.
Add to that the fact that the fourth-quarter of any year is historically the strongest of all quarters, and investors may begin to feel optimistic that an anticipated end-of-year rally could be at hand.
Q: What sectors of the market do you like and dislike?
A: I point to history. Once this correction has run its course, investors may want to bit the bullet by purchasing the sectors that were hit the hardest during this most recent correction. Indeed, during the six months after corrections and bear markets since 1997, the worst-performing three sectors gained an average of 32 percent, versus an average of 26 percent for the S&P 500.
If investors were willing to go against the crowd, they may want to consider energy, industrials, and materials, so far the worst-performing groups in this correction.
I'm still not a fan of utilities. They are a bond proxy that could feel pressure, once rates start to rise. Plus, since they were such strong outperformers in 2014, they still sport stretched valuations, according to history. By that I mean that utilities are trading at a 15 percent premium to their 20-year median relative P/E [the sector's P/E relative to the P/E for the market] which is the most expensive of all 10 sectors.
Q: How is the U.S. economy doing?
A: The economic picture continues to improve here in the U.S. If you recall, first-quarter Gross Domestic Product was expected to have taken a beating, declining because of poor weather across the nation and the strike at the West Coast ports.
The first revision of second-quarter GDP pushed the initial 2.3 percent reading up to 3.7 percent, and it is anticipated that the final reading will push it over the 4 percent threshold and revise first-quarter numbers from red to black.
While our current reading is for about a 2.5 percent in Real GDP [GDP not counting inflation] this year, it appears as if further revisions will be taking an upward track.
Q: How's the job situation?
A: The jobs numbers, especially when you look at the unemployment rate, continue to encourage politicians and economists. Our belief is that we are approaching full employment.
Q: How is consumer confidence?
A: Because of the improvement in the employment picture, combined with the still-attractive gasoline prices, consumers in general are feeling pretty good. As a result, confidence levels are likely to remain elevated and even climb further, which would further support overall economic growth.
Disclosure: I/we have no positions in any stocks mentioned, and no plans to initiate any positions within the next 72 hours.
I wrote this article myself, and it expresses my own opinions. I am not receiving compensation for it (other than from Seeking Alpha). I have no business relationship with any company whose stock is mentioned in this article.