Many investors like stocks which pay high dividends, or it's often the case some fund managers need to include a few of them in their portfolios to meet a specific mandate. Dividend paying stocks provide a "relatively stable" income while they allow for potential capital appreciation. The stocks that we came up with in this analysis through a stock screener offer a combination of high dividend yield, low valuation, high profitability, revenue growth and they are considered defensive for a market like the Athens Stock Exchange.
The stocks we analyze are three well known Greek players which appear to be attractive and worth investor consideration.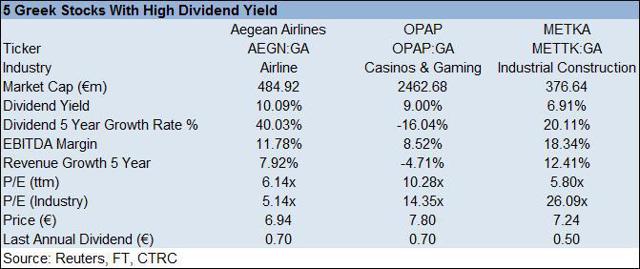 Aegean Airlines (OTCPK:AGZNF)
Aegean Airlines engages in the provision of aviation transportation services for passengers and commodities on both domestic and international routes. It operates through the scheduled and charter flight segments and its business models lies between network and low-cost carriers. Despite the Greek economic crisis, Aegean acquired Olympic Air in 2013 and now has a near-monopoly in the domestic market.
The company has benefited from the growing tourism industry in Greece and the prospects of traffic growth remain high which allow the company to keep profit margins high (EBITDA margin 11.8%). The dividend yield is way more than decent with a dividend yield of 10.1% based on the last annual dividend and it is expected to remain above 10%, at least for the foreseeable future.
OPAP (OTCPK:GRKZF)
OPAP SA is an Athens-based company that exclusively operates and manages numerical lottery and sports betting games in Greece and Cyprus. OPAP is Europe's biggest betting firm. OPAP used to be a state owned company until 2013 when Emma Delta acquired the 33% Greek state. The Greek gambling monopoly was one of the perquisites of the deal although the EU Court has continually argued whether it's legal.
The company has experienced a significant decline in revenues since the Greek crisis but sales started recovering at quite impressive rates the second half of 2013. The company introduced scratch cards last year and sales since launching scratch cards exceeded management's estimations. OPAP also launched its online sports betting products in June 2014 and it is expected to add further options to its online product.
OPAP has lots of new games to introduce the next few years. The most promising one is the VLTs which is expected to be launched by the end of 2015/early 2016. In addition the company also has won the production and distribution of state lottery tickets starting in 2014 and the development of horse racing games. Among the risks faced by the company is the Greek economic growth (as the company's revenues come mainly from Greece) as well as the cannibalization that is possible to occur due to the introduction of the new games. Looking forward, the company has the right to develop sport betting games only until 2020 making it almost impossible to forecast the impacts a liberalization would have on OPAP's profits. On the positives, we believe that the company will distribute some amount of the cash it has either in the form of a dividend or a capital return as availability of cash reserves allows for such an action and management has expressed its intentions to distribute up to 90% of profits to shareholders.
The last period's dividend came at €0.70 indicating a dividend yield of 9%. In addition, OPAP trades at a 28% discount relative to the industry's average trailing P/E which suggests that the company is undervalued and it has the potential to offer some capital appreciation.
METKA (OTCPK:MTKAF)
METKA SA is a leading international engineering contractor and industrial company specializing in large-scale projects in the sectors of energy, infrastructure and defense. The company's main activity is the construction of large power generation plants. International sales in 2015H1 accounted for 82.2% of total sales while Greek sales represented only a 17.8% of total sales. Metal Constructions of Greece SA is a subsidiary of Mytilineos SA.
METKA offers a dividend yield based on the closing price on Sept. 10th and last year's dividend of 6.9%. Our FY2015e net dividend yield is 4.14% which is well above its peer DY median of 2.68%. The dividend payout ratio has been above 35% during each of the last four years. In addition we expect management to return some cash to investors in the form of capital return or special dividend as the cash position is growing fast and it now represents 66% of the company's market cap.
METKA also seems to be undervalued as it trades on a 77% discount to the industry average based on the trailing P/E but the low P/E is justified by the lower forward earnings estimates and the company's backlog.
Note: Trading in AEGEAN, METKA and OPAP is extremely illiquid and the best liquidity is found on the Athens Stock Exchange where there is sufficient liquidity.
Additional disclosure: The author does not guarantee the performance of any investments and potential investors should always do their own due diligence before making any investment decisions. Although the author believes that the information presented here is correct to the best of his knowledge, no warranties are made and potential investors should always conduct their own independent research before making any investment decisions. Investing carries risk of loss and is not suitable for all individuals.
Disclosure: I am/we are long GRKZF.
I wrote this article myself, and it expresses my own opinions. I am not receiving compensation for it (other than from Seeking Alpha). I have no business relationship with any company whose stock is mentioned in this article.
Editor's Note: This article discusses one or more securities that do not trade on a major U.S. exchange. Please be aware of the risks associated with these stocks.