Spirit Airlines (NASDAQ:SAVE) has been one of the worst performing airline stock in 2015 and has lost almost 40% of its value since I first recommended it. Factors like low customer satisfaction rate, falling unit revenue, and reduced guidance margin have contributed to Spirit's fall. However, I think the stock is currently oversold and is hovering near one-year lows. Given that Spirit's revenue and earnings are still expected to show double-digits growth in the upcoming quarters, I find the sell-off a bit surprising. Hence, I think investors can average down their positions while the stock is still under $50 because in the long-term, Spirit's prospects still look bright.
Customer satisfaction is a not a major
Spirit has established itself as one of the most hated airlines in the U.S.A. Travelers have often complained about issues like delayed flight, rude staff, less leg room etc. Spirit Airlines needs to work on improving customer experience. While Spirit's reputation isn't going to change overnight, the company is definitely moving in the right direction.
According to the U.S. Department of Transportation, Spirit flights were late roughly 31% of the time in July. The average for airlines was about 22%. While Spirit had the most late-arriving flights of 13 main airlines in July, the carrier's on-time arrival improved significantly from June, when only about 49% of all its flights were on time.
Spirit may be the most hated carrier, but the company will still witness revenue growth due to the fact that it offers the cheapest tickets. As per a recent study, price is the first thing that passengers consider when buying an airline ticket.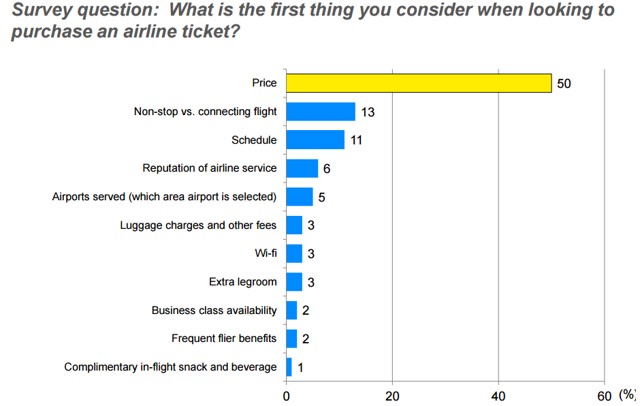 Source: Spirit Airlines
Clearly, people who want prefer price over comfort and convenience will continue traveling with Spirit Airlines. Thus, I don't think the carrier's bad reputation will hurt its growth going forward.
Oil price is still a tailwind
Lower oil prices are a big tailwind for low-cost carriers like Spirit. The company was spending roughly 40% of its revenue on fuel expenses in mid-2014, and given the massive decline in oil prices since then, airlines are enjoying record profits. In addition, oil prices are expected to fall further. As per Goldman Sachs, oil prices can fall to $20 per barrel in the next few months. The firm recently revised its price target for crude oil downwards and said:
"In fact, the oil market is even more oversupplied than we had expected and we now forecast this surplus to persist in 2016 on further OPEC production growth, resilient non-OPEC supply and slowing demand growth, with risks skewed to even weaker demand given China's slowdown and its negative EM feedback loop."
Lower fuel prices will also help Spirit counter the negative effect of falling air fares. The company had to revise its pre-tax margin guidance downwards twice in the last six months, leading to the 40% crash. The fare environment is expected to remain weak as the Bureau of Labor Statistics recently confirmed that airline fares fell 3.1% sequentially in August to follow up on a 5.6% decline in July. With fuel prices considerably lower y-o-y, airlines can afford to marginally reduce fares in order to attract travelers while enjoying record profits.
Conclusion
Spirit Airlines is currently hovering near its one-year lows, and I think investors should use this opportunity to average down their positions. The stock is currently trading at 13x trailing earnings and given that Spirit is expected to show double-digit earnings growth for the upcoming quarters, the stock is very cheap, making it a strong buy for long-term investors.
Disclosure: I/we have no positions in any stocks mentioned, and no plans to initiate any positions within the next 72 hours.
I wrote this article myself, and it expresses my own opinions. I am not receiving compensation for it (other than from Seeking Alpha). I have no business relationship with any company whose stock is mentioned in this article.