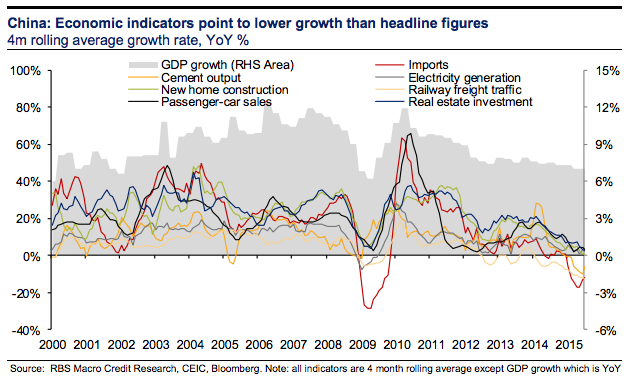 Source: Royal Bank of Scotland
Despite what the government figures show, current economic activity in China is much slower than expected and a lot slower than the government admits. Imports have collapsed in recent months, and when cross-referenced with local trading partners (ASEAN exports) most likely shows an even worse picture. Car sales too, are contracting meaningfully year on year for the first time in many years. Furthermore, railway freight traffic has been awful throughout majority of 2014 and 2015.
Finally, nearby economies, such as Hong Kong (where I spend a lot of time) are showing considerable economic slowdown. There is a decent amount of commercial shop fronts for lease, some in prime central locations too. As a very good businessman and a friend recently wrote to me: "the mood is depressed, especially among business people. Negative expectations about future growth and mall (retail) activity is down considerably."