Are you thinking about a stock with a consistently increasing dividend payment? Are you excited that it is one of most admirable franchise businesses in the world? And are you paying closer attention to this stock when its January sales beat Wall Street's expectations? If so, you may be focusing on McDonald's (NYSE:MCD).
A few hours ago, MCD reported a better-than-expected rise in January sales worldwide. All analysts were expecting the growth of 5.7%, and its sales growth was as high as 6.7% globally. This overall growth has been made up by each region's strong growth, with the U.S. up 7.8%, Europe up 4% and the rest (Asia/Pacific, Middle East and Africa) up 7.3%. The growth in the UK has been driven by four main countries including the UK, Russia, Germany and France. And the growth in the third geographical segment, the rest of the world, is led by China, which enjoyed the benefits in part from the Chinese New Year.
Patient shareholders of MCD who have held onto the shares since 2003 will be extremely happy. Its share price has risen from $12.8 in March 2003, to $100 now, with the annualized return of 25.7% for the last nine years. In the beginning of 2011, it traded at $74. That implies the rapid advance of 35% for more than a year. In addition, MCD is a constant dividend payer. In 2011, it paid out $2.44 per share. Thus, with the current market price of $100, the dividend yield is 2.44%.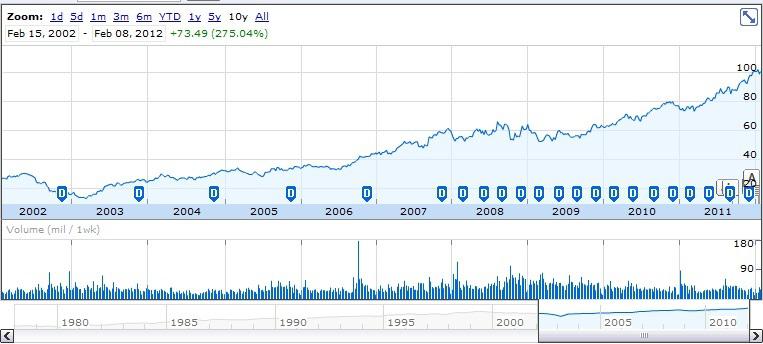 At the time of writing, the market values MCD at nearly 20x earnings, 7.7x book value and 15x operating cash flow. Those multiples are quite compatible to the company's historical valuations. However, in comparability, MCD is trading lower than its peers. Yum Brands (NYSE:YUM) is trading at 25.4x P/E, 15x P/B and 14.5x P/CF, and its dividend yield is only 1.6%. Starbucks Corporation (NASDAQ:SBUX) is trading at more than 29x P/E, 7.6x P/B and as high as 26.5x P/CF, and its dividend yield is 1.2%.
Regardless of the current financial depression, MCD continues to show its strong growth in any geographical segment. I personally believe that MCD has the strongest moat in the restaurant industry, with a super strong global brand and international growth opportunities.
Disclosure: I have no positions in any stocks mentioned, and no plans to initiate any positions within the next 72 hours.