By Fathom Consulting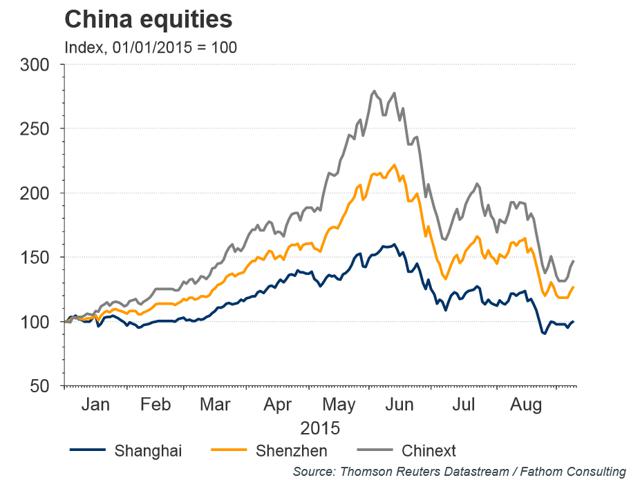 The recent reductions in China's official rates of interest and reserve ratio requirement were merely the latest policy manoeuvres in a long line which have failed to quell concerns over the health of China's economy. This is evident in the country's still-volatile stock markets, which resumed their descent just days later, as investors were spooked by a weak Manufacturing PMI for August.
Even though stocks are believed to comprise less than 15% of household assets, to the degree that such a drastic correction hits consumer confidence, and with it consumption, this runs counter to China's ambition. In other words, this volatility serves as yet another impediment on China's long road to adopting a more consumer-led economic growth model.
Indeed, we find very little evidence to suggest that the country is successfully transitioning away from investment and export-led growth toward consumption. Instead, multiple alternative measures of Chinese consumer demand have deteriorated, and investment still accounts for the bulk of Chinese GDP - at just below 50%.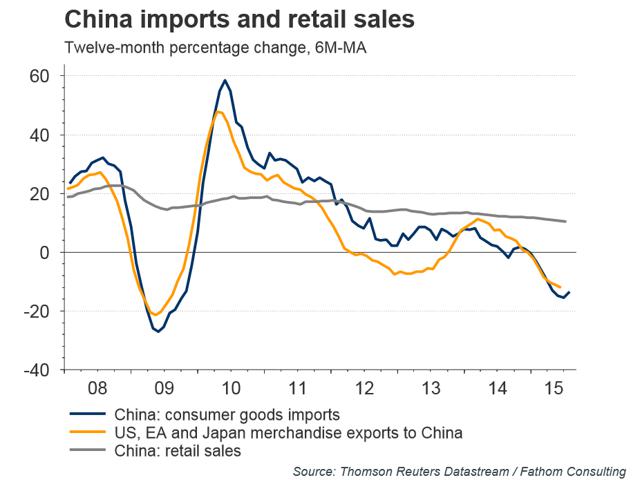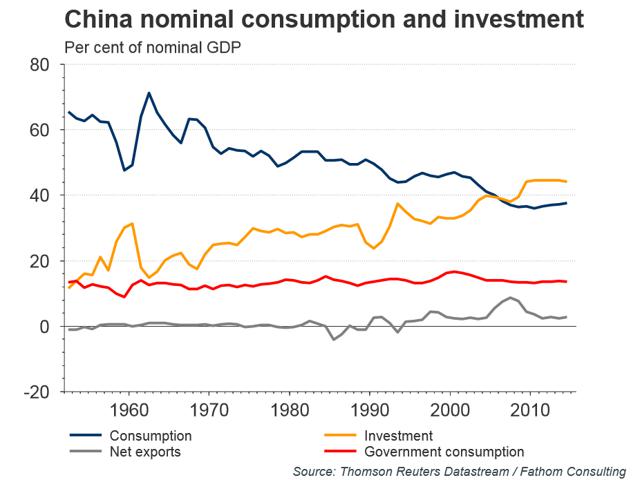 This week's trade data confirmed China's loss of appetite, with the value of its imports plunging 14.3% in the twelve months to August in renminbi terms. Exports also fell, but by less than imports, resulting in an improvement in the country's trade surplus between July and August.
July's CMI falls to 3.0%
Our own measure of China's economic activity (our China Momentum Indicator) fell further in July, suggesting that the country's economic growth could now be as low as 3.0%. Until late 2013, our measure tracked that reported by China's National Bureau of Statistics. The two now diverge wildly. The same is true of China's own indicators, with a wedge between China's official PMI data for the non-manufacturing sector and that of overall economic growth having opened up.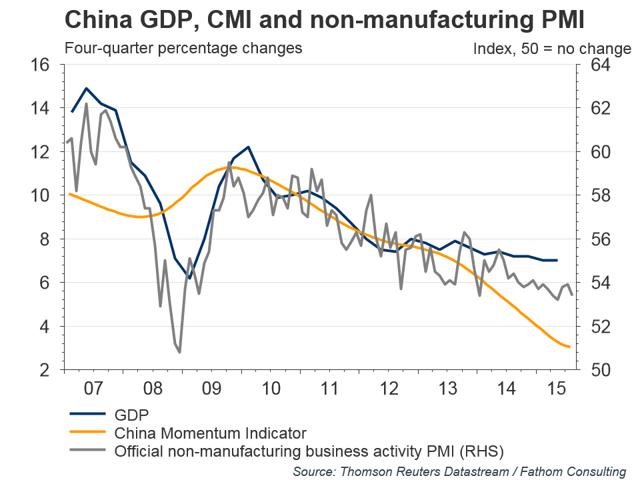 In a bid to gauge the country's underlying economic activity, our China Momentum Indicator combines nominal bank lending, rail freight volumes and electricity production. While nominal bank lending has remained remarkably robust, the other components (rail freight and electricity production) have deteriorated markedly since end 2013, when the divergence between the measures first materialised.
The latest data reveal that both electricity production and railway freight volumes contracted in the 12 months to July, down 2.0% and 11.0% respectively. Meanwhile, nominal bank lending growth firmed, up 15.7% in the 12 months to July, and the largest annual percentage increase since late 2012.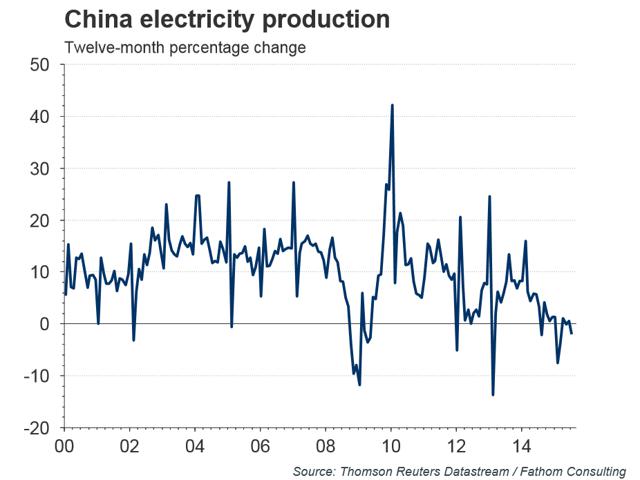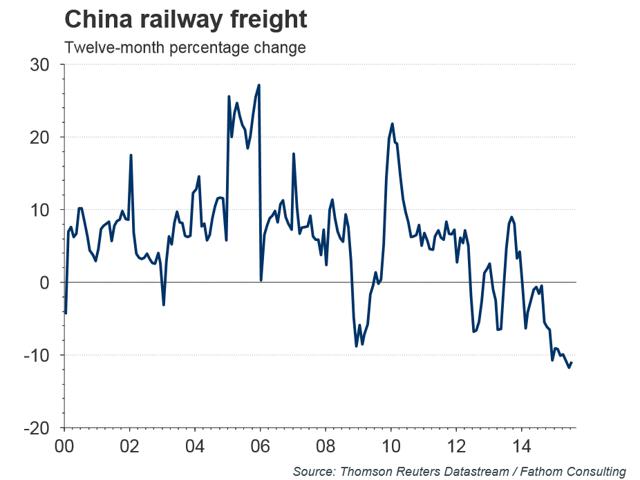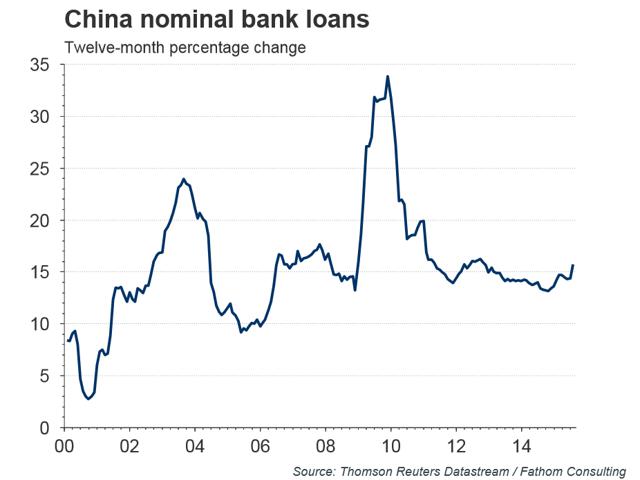 The quickening in bank lending growth is perhaps unsurprising, with banks having been instructed to lend to local government projects, and encouraged to do so through repeated reserve ratio requirement cuts. But despite this heavy-handed intervention, bank lending growth remains insufficient to offset the reduction in shadow-based financing. Accordingly, the amount of monthly net new credit supplied to the economy (as measured by total social financing) has come off its peak.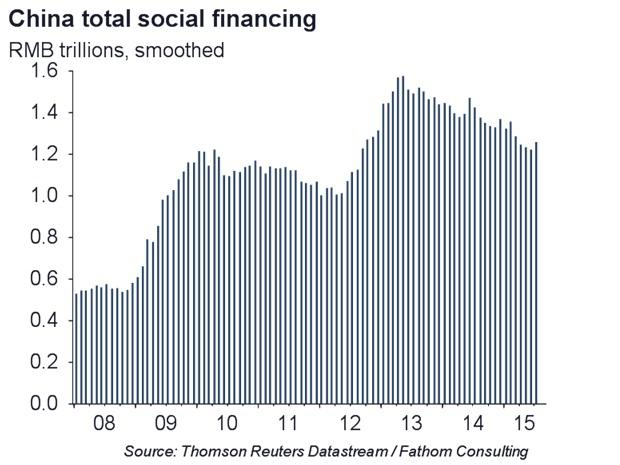 With the Chinese economy having exhausted its ability to effectively utilise credit, the rising stock (albeit at a slower pace) of total social financing remains a concern. It is unlikely to secure higher average living standards for China's citizens, and is at risk of aggravating the country's non-performing loan ratio. In a bid to kick-start the economy, China is at risk of perpetuating its already deep-seated problems.
Further to fall
In summary, the Chinese authorities' inability to calm the financial markets, combined with their disorderly depreciation of the renminbi, has shattered investors' faith in the Communist Party's competence. Without favour, gaining policy traction is likely to prove that much harder. And thus far, their approach has proved insufficient to combat the country's mounting economic woes.
Accordingly, as China's policymakers continue to grapple with the slowing economy, we expect the policy response to be ratcheted up. Both the renminbi and the benchmark interest rate have further to fall from here. And by the end of next year, we expect China to have joined the zero-interest rate club. Both the US and UK started off slowly too at first!
Disclosure: I/we have no positions in any stocks mentioned, and no plans to initiate any positions within the next 72 hours.
I wrote this article myself, and it expresses my own opinions. I am not receiving compensation for it. I have no business relationship with any company whose stock is mentioned in this article.