Overview
Albertsons' (NYSE:ABS) initial public offering is still one to watch for, even if the stock market has let some air out of valuations with recent volatility and the drop in market prices. The grocery store operator possesses a strong line on recognizable brand names, including Safeway stores, and is the largest chain in many major U.S. metropolitan markets. Name-brand IPO investors tend to outperform obscure, not well-known companies because they attract more investors. People are more likely to invest in businesses they are familiar with. Investors should expect the same sentiment to be true for Albertsons. Investors who shop at anywhere from Safeway to Jewel Osco to Acme and Vons will be interested in this IPO. Based on Albertsons' historical growth trends, fueled by its acquisition of Safeway, the company should be able to justify some very lofty valuations. Investors should closely watch this IPO and consider buying in if the price is right.
Acquisition Timeline
Fueled by debt and private investors led by Cerberus Capital, Albertsons has been on a very aggressive acquisition roll. The company acquired both NAI stores, including several brands and unaffiliated Albertsons-branded stores from Supervalu (NYSE:SVU) in March 2013. In December 2013, it made a large purchase of grocery chains in the Texas area. And culminating the acquisition year, the company finalized the acquisition of Safeway in January 2015. As part of the Safeway deal, the company was forced by the FTC to sell or close 168 stores.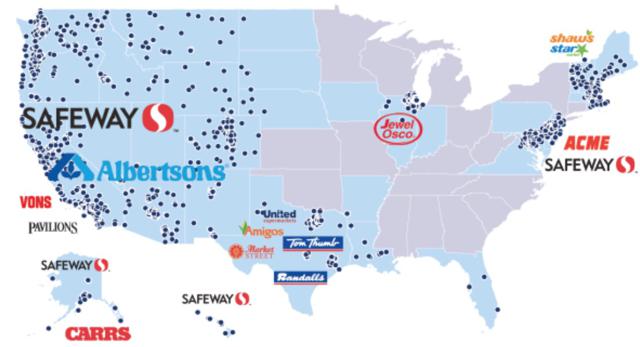 (Source: Albertsons S-1)
Improving The Acquisitions' Performance
Following Albertsons' acquisition of grocery stores, the company has been able to drastically improve same-store sales metrics. These improvements lead to better store margins and sales growth. Following acquisition of NAI brands and unaffiliated SVU Alberstons stores, the company has successfully turned negative same-store sales trends into major positive rates in just a couple of quarters. Given the recent timing of the Safeway deal, investors will need a few quarters to evaluate Albertsons' management impact on Safeway's performance. In any event, Albertsons has been very successful in integrating and running acquired stores and brands.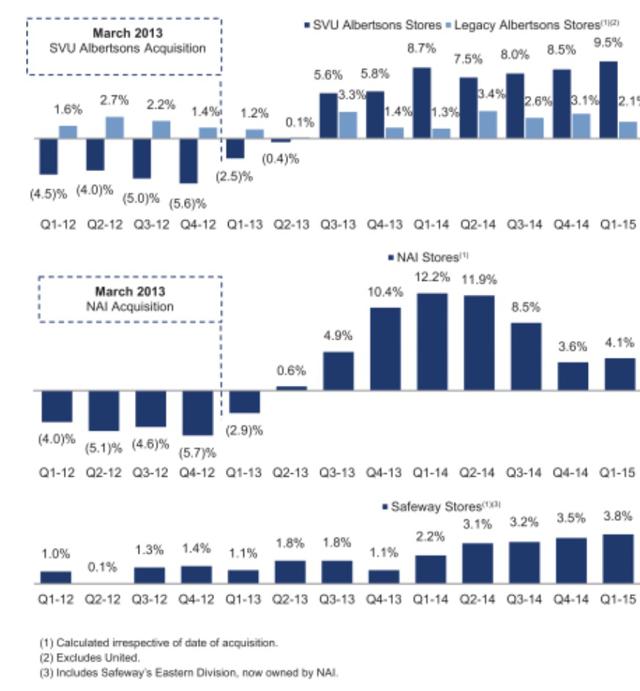 (Source: Albertsons S-1)
Growth and Finances
Albertsons' financial statement is a bit of a pro forma mumble jumble, given so many recent acquisitions. Looking at the long-term growth trend, the company has grown revenue from $3.7 billion in fiscal year 2012 to $58 billion for the trailing twelve months ending June 30, 2015. In less than 4 years, the company has increased revenue more than 15x through acquisitions. What gets lost in the details is organic growth from actual store operations. Comparing pro forma projections for first quarters of 2015 and 2014 show more modest growth. The company only grew revenues by about 2% on a quarter-over-quarter basis. Throughout all of these acquisitions, Albertsons has continued to post net loses. A large contributor to the poor earnings performance has been the large interest expense of nearly $1 billion annually. The IPO proceeds are expected to help repay a portion of the outstanding debt and reduce this expense item in the future.

(Source: Albertsons S-1)
Valuations
The company could command a very large valuation, given comparable peer metrics. On average, comparable grocery chains trade at a 0.4x price-to-sale multiple. At this multiple, Albertsons could be looking at a $23 billion valuation. Any IPO price below this market valuation would indicate a great opportunity to buy. Investors need to be wary of a potential IPO pop, which could price out investors that have to wait until the stock begins trading.

(Source: Google Finance)
Summary
Albertsons is a recognizable name brand in the grocery store industry. It has successfully made many large acquisitions in the past few years. Early investors might be able to get this one at a great value with some growth potential left. Investors should note that the current debt levels do pose some risk if the company isn't able to improve profitability.
Disclosure: I/we have no positions in any stocks mentioned, and no plans to initiate any positions within the next 72 hours.
I wrote this article myself, and it expresses my own opinions. I am not receiving compensation for it (other than from Seeking Alpha). I have no business relationship with any company whose stock is mentioned in this article.